Rab say 510g, but at an impressively fat looking 470g for a size Large, in for test is Rab's new Infinity Down Jacket. Microsite here .
The big story is the new Pertex Quantum shell fabric, at 25g/m² it's the lightest Pertex fabric yet made.  Still downproof, and "virtually" windproof, which says to me that it's great for insulated jackets and sleeping bags but won't be quiet as sexy in a windshirt?
It's a lovely fabric to handle, soft and not in the least shiny. The water repellency might be better than we think too, I stuck the hood under the shower for a second and all I got was some impressive beading on the surface, no absorption. I wonder how that'll last in the field?
It looks awfy nice, and one Glasgow Rab retailer I spoke to said they weren't stocking it as it looked a little too "lifestyle", I have to disagree there, it looks clean and functional. Insulation shouldn't be shapeless, fitted and neat mean better performance, and it that makes it look good, then it's a Win all round yes/no?
The devil is in the detail, and he's been working hard. The chin/mouth area is lined with microfleece which as well as being comfy will stop damp breath going straight into the down. The zip baffle is insulated and sewn into mini-tubes to makes snagging an unlikely event. All the zips are reversed (less abrasion from them flat side), and the main one is single ended, but the jacket isn't overly long so getting to your fly in a hurry shouldn't be a hassle or mean you have to undo the whole jacket.
The zipped pockets are well placed, high enough to be above hipbelt or harness, and deep enough to bury your hands behind the fat stitch-through baffles of 850 fill down.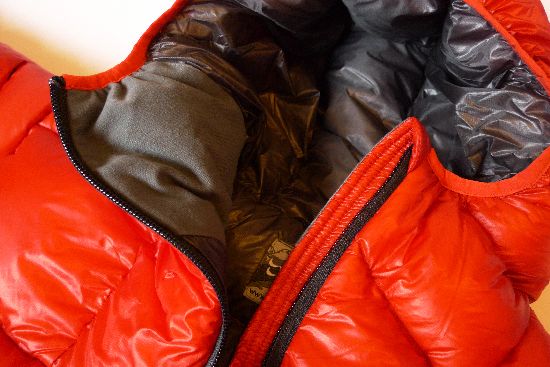 The hood is fixed (Hurrah!) and is a simple affair to keep faff and bulk to a minimum, no adjustment, no rollaway shenanigans, just a form-fitted shape with a soft lycra face edging to pull it in.
Inside there's a little zipped pocket, with the weightless stuffsack poking out below. The cuffs are simple self-fabric elasticated and the hem has bungee adjustment at both hips.
The fit is just-right on me, not too slim and not oversized for layering. This should work over light layers as well as over a shell.
I saw this in Tiso and didn't think much other than, ooh, nice colour. Then the press release came in and I went Ah…
In some ways lightweight is on trial here, the lightest fabric, high quality down fill, the minimalist stitch-through construction, the lack of unnecessary features.
It'll go one of two ways. The jacket won't cut it and I'll end up taking something more reliable to winter camps, or it'll totally rock and all the heavy overcomplicated kit will be shuffling in the corner hoping that no one asks it any questions.
Updates as we go.