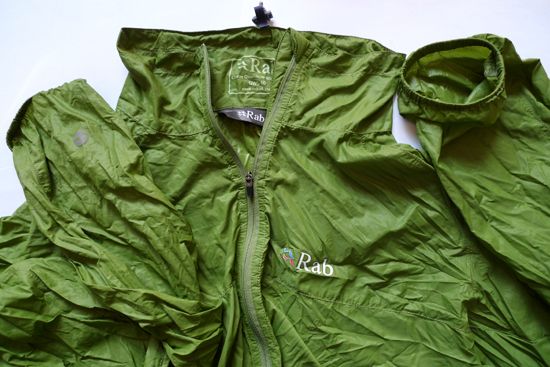 I've had a Cirrus sample on the go for months now, and it's high time I had an update.
You really can't argue with the weight, 76g is weightless for all intents and purposes. I carry the Cirrus in the hip-fin pocket on most packs which gives you  just how small this thing packs down.
But weight without function is pointless, and I was very happy to discover that there's nothing missing here, no corners have been cut at all.
The body is nice and long, with quite a trim-cut torso. The arms match nicely, even stretched out on a bike my wrists stayed covered. There's no creep-up here either, the arms are well articulated at the shoulder and the cuffs have covered elastic to seal the gap, but they'll also so pull up to my elbow for easy cooling.
The hem has an elastic drawcord with a captured cordlock at your right-hand side.
The zip is a good length, with a little baffle behind which grows into a chin guard/zipper garage at the top. The collar is nice and high, and it too has a drawcord with a captured adjuster.
The fabric is the new non-shiny Pertex Quantum, it's soft, comfortable, layers well, keeps the wind out  and breathes incredibly well. It dries fast too, I took it off at a rest stop once and watched the damp patch on the back shrink and disappear like a breath cloud on a window.
It's been through trees, against rock and ice, and it's been off the bike at least once, but it's still looking fresh.
The light fabric has it's limits when it comes to wind strength and temperature, but even into winter it takes the sting out. Spring to Autumn, it's all you'd need.
There's no pockets, and I haven't missed them, I like the clean lines as-is, so it's not an issue. Rab do have a pocketed full-zip version if that's where you're at.
Truth be told, I think it's a great bit of kit and I love it.
Product Information
Weight: 76g for size large sample
UK Price: £50
Fabric: Pertex Quantum
Made in: China