It was late when I left… Never has that been more accurate or applied so many times to just one trip.

My most recent ague has made a mockery of all my plans, leaving me much to and into negative figures of time to do it. I wasn't going into Fisherfield unless the weather was half decent, one because I needed shots and two I wasn't keen on covering all those miles just to look at drips of rain falling past my nose off the peak of my hood.
So would it be Friday, maybe Saturday? Sunday was a problem as I really had to be somewhere. I hummed and hawed, skipped from one foot to the other, had another cuppa, had a panic attack and flung my already packed rucksack into the motor and took the backroad over Flanders Moss to hit the fast road to all places north, the A9.
The road was kind, the weather was good and I swung into Pitlochry feeling the pressure slip away. Escape Route would be first for a coffee and a swatch at some gear and then I'd pick up some supplies in town. The coffee machine was broken, I was folorn. I rummaged the sale room upstairs and was tempted by stuff but left empty handed, not even a Stoats Porridge Bar for my efforts, they were out of them as well. As was the Scottish Deli up the road, however they made me up a beautiful wheaten roll with mozzarella, fancy chicken and plant stuff. I leisurely enjoyed that with a coffee and hit the road again feeling fresh and almost in holiday mode until the traffic stopped dead just after Bruar. Two hours to get to Dalwhinnie, it's a busy road anyway, but add all the Rockness festival traffic (half of which was buses, and many of those were filling all the laybys, spraying teenagers into the bushes where they pissed relievedly and smoked desperately) and the timing for the 30 foot long carriageway repair that stopped all the traffic in both directions seemed a little wide of the mark.
I was now a little concerned as I looked at the clock and decided to look at the map to seee what my options were. The map was in the boot. Bollocks. I knew the road, I pressed on past Aviemore and Inverness, a town which now seems such a familiar sight, and into the wild country that I love. I passed the cut-off for Gairloch, which I should have taken and took a left later on at Braemore. Two junctions that lead back to each other around the edge of a huge peninsula, it's just that the one that I chose took the long way around to my destination. I realised this as soon as reached the Aultguish Hotel, but what the hell, it's a road of pure delight. The coast was bathed in sunlight, a deep blue sea stretched from my side to a jumble of islands and I found so many places I know and have neglected for too long. An Teallach looms and then is lost, there's beaches where I've slept and lit fires that bring smiles and cottages where I've crashed on the floor that make me wince at the memory. Oh, there was a lifetime of Highland adventures before I ever started this place, and I'm writing about none of it.
Laide, Aultbea, Poolewe, thank Jimmy. I could have used a cuppa, but there was no time. I pulled on a waterproof as a shower had come in, and looked at shoes. I took my old favourites for when it's looking wet underfoot, they haven't actually been waterproof for a couple of years, but the grip's still good and the mid-height ankle always helps with keeping ticks out. I hadn't worn them since the Rannoch to Spean Bridge trek earlier in the year, but they're always brilliant.
I left Poolewe at 1800 with 23km ahead to get to camp.
Tha rain stopped after a couple of km and I stopped to pack away my shell and found myself wriggling my toes as well. My shoes had been in the boot of the motor for months, they're just settling in again I'm sure.
The walk by the River Ewe is lovely, trees line the road with water, rock and sky visible through all the gaps. It's still tarmac though, and it feels like a long time til you're pulling up the hillside and away from the tail of Loch Maree. It's still farmland, and very neat farmland too. For somewhere that's supposed to be a great wilderness etc, it's well looked after. Kernsary estate looks like it should be on the urban fringes of a city rather than miles from anywhere, neat fences, painted buildings and happy animals. The setting is pure Highland though, add some wailing women and Redcoats setting fire to the thatch and it would be perfect.
The track onwards is very pleasant, I climbed through some forest and onto some high moorland where the sun beat down and the views of the ragged skyline of Torridon dominated to the south. I took a drink and padded onwards. I can see Torridon… I shouldn't be able to see Torridon… I stopped and pulled my two sided laminate of the route from my pocket. Ah shite, I'd missed the track junction and wandered about a mile northeast. I should be in or by now right through that forest below me.

My feet were hot. I sat on a rock and had some oatcakes and cheese. I couldn't deny it was a brilliant view, but it was still a pointless extra two miles and the sun was definitely getting lower in the sky. I'd never get through the forest, so I headed back down. I found junction and the gate, it's a little subtle looking I will say in my defence, and headed into the trees. The track has the soft edges and feel of an old forest track with the silence that tall trees keep on a windless day. It was warm too and I sipped as I walked. There's some hellish erosion in a couple of places that means a diversion into the trees but the final stretch is a narrow track covered in brown pine needles that soothes any worries before the abrupt end of the forest throws you out onto the moorland. Now I was in the wilds and I knew it. Ahead a high, broken and unfamiliar skyline rising over miles of moor, patches of grey cloud shedding light rain drifted from peak to peak as the sun played on the slopes inbetween. Awesome.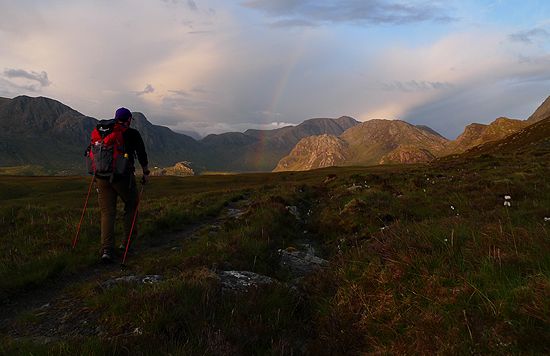 The track is brilliant, not eroded, just well used and it flows across a landscape that would suck the life from your legs otherwise. It carries you by the rather intimidating Beinn Airigh Charr with it's huge rockfall. Boulders the size of houses jam together under the pale, smooth rock faces where they once clung. That would have been something to see when it let go.
The track curves south to take you to Letterewe via Strathan Buidhe but also swings back, and there's a more recently built shortcut over the river, all nicely gravel coated too. It passes a very odd little thing, like a well or a cell or something, built into the slope by the water, it's very old indeed, not on the map and I wonder what it was? A track from it leads around to a ruined cottage also not on the map. Bless Ordnance Survey and their "ballpark" map making.
Now Fionn Loch flows in front of you, A' Mhaighdean climbs darkly from the water below and the low sun warmed the scene though a veil of smirr that shot a rainbow from the waters of the loch skywards.
I looked at my watch and laughed out loud. If I was camping at the bealach as I'd planned I'd be climbing the hill until after midnight. I was too tired, too hungry and I could see a few spots around the head of the loch that looked as if they had shorter grass that I could pitch on. Tender feet tramped onwards and downwards to the lochside. So much rock here, Beinn lair just rears up at you, some of the finest cliffs I've seen and everywhere else you look there's crags thrusting out of the earth, pushing each other, battling for space. But to my left the expansive quiet waters of Fionn Loch were the ultimate contrast, the sun was sinking into the ribbon of land many miles away at the tail on the loch. The sky was a patchwork of broken cloud catching and reflecting the ever changing colours, the grey rock to my right glowed deep orange and the landscape came together in a silent celebration of another day finished with a flourish.

I crunched around the beach and saw where I was stopping. I though the causeway might have been better, but that could wait until tomorrow, where I stopped was just perfect, huge crags guarding the rear, miles of loch outside my front door.
The tent was pitched in about 90 seconds and just emptied my rucksack inside and picked out my cook kit. I took the few steps onto the beach, set up the stove and left it to boil as I just sat. The stove seemed quiet and there was no wind, the sky was growing bluer and the air was growing colder. I snuggled into my jacket and pulled my beanie over my ears as I ate my pasta with a mix of joy and relief.
Time just stopped dead, I had a cuppa and a danish pastry and sat some more. A tiny light breeze had rise, just enough to send a shimmer across the water and keep the midges away. Fish bobbed out of the water, tiny splashes that sent ripples into infinity.
I was so tired. Reluctantly I ambled back to the tent and got ready for bed. I looked at my feet, wiped them down with damp socks and decided to deal with it in the morning.
I slipped into my sleeping bag and checked the time, 23:34. I put my head down and went out like a light.