"What the hell is that?"
I got that a lot from walkers on the West Highland Way heading North as I headed South from Kingshouse to Victoria Bridge. Some folk just looked at me and others were very interested and we stopped an talked about it. Most folk liked the idea of not having a pack on, and looking at some of the knee crushing 90L monsters being carried, I could understand that. But the idea is often very different from the reality.
The Wheelie comes from a company in Holland called Radical Design, and Hubert van Ham the man behind the designs kindly sent one to the UK for me to test.
It's a lovely bit of kit, very simple and easy to assemble. There's some adjustment in the straps for height and walking position and also at the wheels, both in tyre pressure and track width for coping with different terrain. You wear a large comfortable hip-belt to which the Wheelie attaches and the large quick-release buckle at the waist is your entry and exit point, just as in a regular rucksack. The storage area is like a huge seat-wedge that you get on bikes, but this will take all the kit you need for an extended trip with scope for external extra stowing. It comes with a raincover and there's also a hidden harness so you can carry the whole thing if needs be.
The first few steps were strange, with a definite seesaw effect between me and the Wheelie, but as I got into my stride it settled down quickly and I found that on most terrain I didn't need to use the handles which curve forwards at your hips, and I was hands-free for most of the time. On very rough ground the handles aid stability and also a wee pull from the wearer helps with momentum over obstacle and also keeps the Wheelie from getting too much stress at its moving and linking parts.
My pace was very good indeed, I had 40 litres of camping kit in there and I couldn't feel it at all. With no weight on my back, there was no sensation of a load. What you have is a sensation of resistance, not like walking into a strong wind, or even like someone holding onto your belt from behind. It's different. I'm not saying it's without effort, I found it to be a very good heart and lungs stretcher, and the next day my legs were telling a tale of time and distance worked.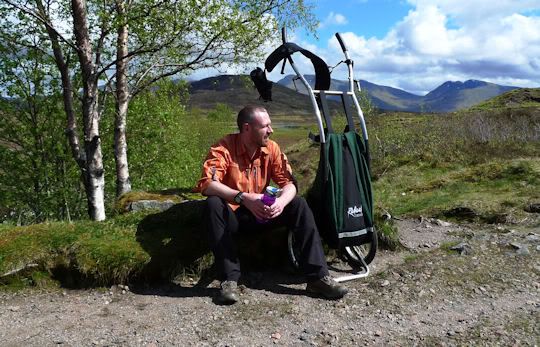 I got to Ba Bridge feeling fresh and happy, the sun was shining, I had no pack on and consequently a dry back, and it's just a lovely spot to linger at.
As I drank some Banananuun (tastes like Irn Bru, brake fluid and banana skin) I reflected on the other new kit I had on while I was here. As I was leaving home a courier lorry pulled up with a box of Haglöfs test kit and I had a quick rifle through. Throwing caution to the wind I stuck on a pair of Lynx pants, a Jura shirt and a pair of Escape Ventlator shoes with the new Sole insoles in them. I had some revelations using this kit, especially as it was just out of the box.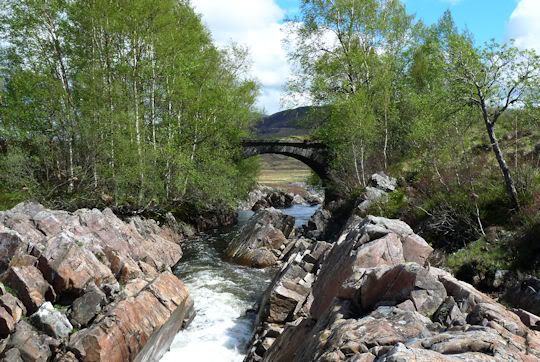 South from Ba Bridge is on Telford's cobbles. I will not lie, it's harsh. The hardest part of the West Highland Way for me, but in trail shoes and without any weight on my back I made remarkably smooth progress. I had set the tyre pressure quite low, trading speed for shock absorption and it was quite bearable.
There's not much in the way of accessible pockets here, but I had attached a bottle pocket (also from Radical Design) to the hip belt and was sipping juice quite happily. Unclipping to access the pack section is no more difficult or time consuming than taking off a pack, but I think if I was going a longer distance I would maybe wear a bumbag or attach another accessory pouch to the hipbelt.
I didn't know what the hell to expect. But, it was really good fun, it was so nice not to have a pack on, but still to have all the kit with me. The Wheelie is very usable, very comfortable and not at all strange once you're on the trail. I know it's limited in its scope, open hillsides would be beyond it and having to cross obstacles that mean taking it on and off constantly would annoy, but on Long Distance Paths I think it's in its element. Folk with injury or disability might find trails accessible with one of these as well. 
It has a practicality and an "otherness" that I like and I would have no problem taking this the whole length on the WHW. Thank goodness for different.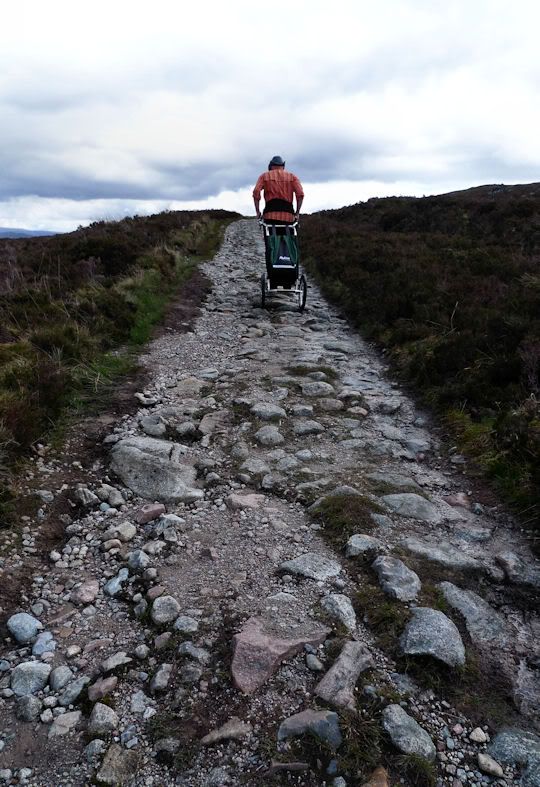 And how did I manage to do this one-way walk without doubling back? Well, Joycee dropped me off at Kingshouse and met me on the trail heading down to Victoria Bridge. Wheelie in the motor, and off the the Real Food Cafe.
Alright!