Logistics? That's just "plan" with a velvet jacket on. But, we had to work to a plan with deadlines, availability and weather standing across the door with their arms folded.
And then of course…it was late by the time I left…
The journey up to Kintail was a bloody nightmare. I spent more time on the right hand side of the road than even the farthest travelled commuter on the European mainland. Stupids driving north with the same predictability and sense of direction as a sack of tatties emptied down a stairwell, roadworks on smooth sections of road and none where you'd expect them to be because the surface there means it's not too dissimilar to driving along a disused railway track.
Still, with white knuckles and clenched teeth I turned right into Morvich and looked at the oh-so familiar sights of the steep slopes and ahead and the pressure began to drop. When I pulled up horrendously late behind the camper van I was looking for at the Countryside Centre and stepped out into the sunshine, one last exclamation of frustration and I was back to normal. Probably a "Hello" would have been better as my first words though.
I was meeting top photographer Tim Glasby who would be shooting our trek, and as it was a bit of a hike North he and his partner were taking the days either side of our trip for a bit of a gad about. His partner is Lucy Creamer, Britain's top female climber and when we all set off on the trail (also with wonder-dog Kodo) a question a dear friend asked me a while ago came to mind "So, have they found you out yet?".
I'm a heating engineer in trail shoes indeed.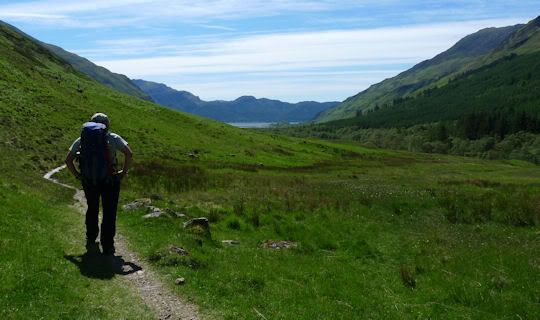 The walk up Strath Croe and round into Gleann Chòinneachain is on a lovely track through lush grass, bluebells and woodland with the deeply gullied shoulder of A' Mhuc ahead hinting at more mountainous times ahead.
Once into Gleann Chòinneachain the atmosphere changes, from a wide lush meadow to a narrow and steep sided glen, with a skyline now broken by shattered crags. The first goal is the high pass of Bealach an Sgàirne, and as we walked onwards the wind died, but the sun kept beating down and the temperature rose to the mid 30°C's and stayed there for the next two days as long as the sun was unobstructed by it's nemesis, The Cloud Army. Who were very thin on the ground, there could be a convention somewhere, they might be planning new shapes to give meteorologists a chance to think up some wacky new names.
Ice cold water tumbled far below the track, in places deep enough to plunge but there are burns running down the back of Beinn Fhada too, and the water was welcome both in temperature and taste, fresh mountain water free from any man or sheep made evils. I soaked my cotton cowboy hat at every opportunity, the drips from the brim and the slow evaporation soothed where there would have been only sweat and distress. Every spot of exposed skin had sunblock on it, unusually for me I had a short sleeve t-shirt on, and just as well. I had my new Ruggeds (all-black, alright!) on, and I think the only time the vents were closed was when I put them in the washing machine when I got back.
We stopped for a breather just before the final ascent to the Bealach where the Allt Coire an Sgàirne and Allt a Choire Chaoil join forces and rush past on their way to Loch Duich. Fresh rain from earlier in the week mixed with snow melt, bottles were filled, faces splashed and that was the last water we saw that didn't need to be boiled until the later the next day.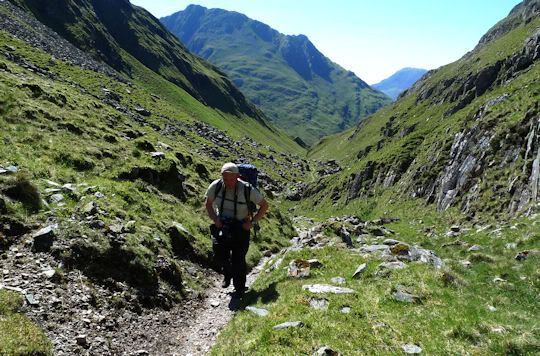 The entrance to the Bealach sees another change, you're high up and looking higher to rugged peaks and far down to the river below, it's like standing at a 20th story, high-rise block window to the Highlands. But, when you turn around there's no woodchip and magnolia, there's a dusty track meandering through a boulder strewn pass with crags looming over your head.
It's a wonderful place, the whole track to here is wonderful. I'll go back with the girls and walk to the bealach on its own for a picnic, like Glen Nevis or Kinloch Hourn to Barrisdale, it's proof that mountains aren't the be-all and end-all.
Reaching the high point of the bealach reveals Loch a Bhealaich  250m below, indigo blue and calling to us all. We stood for a while to enjoy the breeze that flowed gently through this notch in the scenery.
The ascent had taken a lot longer than planned, not because of faffing around, or setting up shots, but because of the heat. The constant 3-bar electric fire held over our heads had been sucking the tank dry.
I felt for Tim as he was carrying his overnight kit as well as his camera kit and looking at my watch, my water bottle and my map I started thinking about Plan B. There was no way we were making Mullach na Dheiragain in daylight, or with enough water for comfort or safety.
As we reached the banks of the loch to make a brew and rest up we changed the route and we'd camp on either Beinn an t-Socaich or Sgurr Gaorsaic. I knew that only one of those had guaranteed water on it and I resigned myself to not getting onto Sgurr nan Ceathreamhnan that day, but as we climbed the steep grassy slopes from Gleann Gnìomhaidh I didn't care on little bit. This was different, rather than being annoyed at not making a goal, I was looking forward to standing on the overlooked Corbett of Sgurr Gaorsaic.
Lucy and Kodo had left us below and had headed onwards to take the track round to Gleann Lichd and back to Morvich, which turned out to be an unexpected five-hour adventure. Kodo has lost her pink rubber ball by this time as well, a pink ball she found by the loch-side. Bloody hell, what were the chances of finding a pink rubber ball on the walk into glen Affric?
It was a horrendous climb up steep grass. We were both so hot, I was really hungry by now, and Tim was suffering, we just wanted to stop.
We crept over the edge of the wide south ridge of Sgurr Gaorsaic at the 800m contour and that was when the mood changed.
We both looked at each other and grinned.
By accident we'd ended up in the ideal spot, a skyline of peaks better defined by our meagre height of 839m, a rocky plateau full of camping possibilites and a lochan full of fresh rainwater ready to be transformed in cuppas and dinner. Packs off, cameras out.
It was beautiful, just beautiful.
The tents went upand the sun went down, and by the time we'd done all that we needed to do it was after 2200. I scooped up some water from the lochan and the stove was on. Tim crashed out in his wee Marmot one-person tent and I was on my own.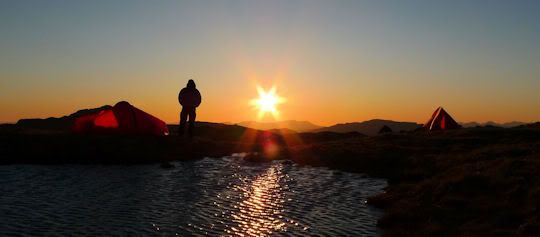 As my chicken tikka was rehydrating I folded my stove windshield into a hotplate and as the the horizon burned orange and the temperature eased down, I dipped a lightly toasted naan into my foil bag of tastiness. Sitting there cross legged in my sleeping bag I turned over a lot of things in my mind, the trip was working in ways that I hadn't expected, as inspiration and motivation, as a showcase for the way I head into the hills, as a reinforcement, even validation? All that will be said at another time and in another place, but what I felt when I sat there was a rightness, the balance between wants and needs, and acceptance of what I'd found, it had all returned to normal.
I lay there after midnight with my iPod on as the tent rattled in the strong winds and I was happy.
I woke a couple of times through the night to see a mist fall and the temperature rise, I was roasted in my PHD Minim 300 and spent the second half on the night unzipped with bare arms crossed above my head.
It never got dark and when I decided it was breakfast time the clouds that had descended were breaking up and the sun was streaking through in increasing strength. Tim had been cutting about taking some shots and we had a brew and a bite before setting up some more stuff, breaking camp and heading west back to the loch. There was no question of carrying on to do the original route, there weren't enough legs or water bottles between us to get the job done. I didn't give a shit, I looked up at the summit of Sgurr nan Ceathreamhnan and it looked fine, but I had just been there a few weeks ago and I still had no desire to go straight back up. I don't feel cheated anymore, I remember scrambling that summit ridge through the cloud, descending with frozen hands and with a few weeks gap, the pointless frustration I'd felt at the time has gone.
We had spent the night on a trackless rocky plateau surrounded by mountains, and I think we got more than we would have had we not had to change the plan. Time will tell.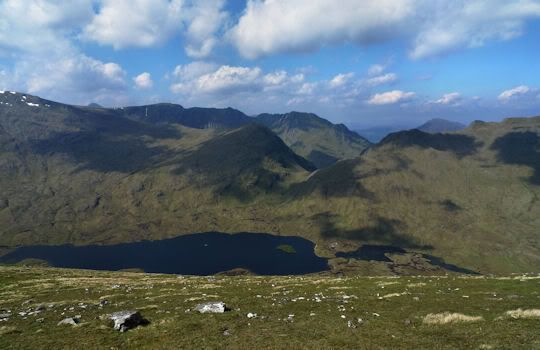 The breeze had kept us cool, in fact I'd been wearing my down jacket until we set off, but heading down the painfully steep slopes in just a windshirt and t-shirt soon became too much and when we stopped at the lochside for rest (and a chicken Cup-a-Soup for me) it was back to cowboy hat, bare arms and sunblock for the rest of the day.
We retraced our outward journey, but in even hotter temperatures than before so we were in no hurry. The light seemed to be better that the day before, so there was photies agogo and when we reached where the rivers meet, it was packs off and heads under the running water. We lingered a while, but the stillness lets the sun fire its beams straight at you and it soon felt like I was sitting under a grill. It was nice to stop, but nice to be on our way again.
We reached the motors about tea time and immediately drove to the garage up the road for some cold drinks as the bottles of steam in my boot did not represent an opportunity to quench our drouth.
When we got back, Lucy and Kodo arrived from their galavant up to the Falls of Glomach, too late for a cold can of Irn Bru but they'd made the most of the day.
We said our goodbyes and I headed down the road, once again really hungry (I didn't make it to the Real Food Cafe, too far. McDonalds in Ft Bill it was, oh dear…), and I reflected on how lucky I'd been.
I'd been hanging out with great folks whose company I'd enjoyed, a night on the hill with a complete stranger is a bit of a gamble, but it was fantastic. It was all banter and at no point did it occur to me that we were there to do a job, and that was a vital discovery.
When I got home and was taking my shoes off in the porch, I could hear Holly through the door "Oh Daaad, Daaaad…". It was late but she couldn't sleep, and I walked through the door like a superhero to save the day.
Perfect.