I'm rather pleased to have been asked to be a ranger for the Woodland Trust at their Lang Craigs site in the Kilpatrick Hills.
It's a volunteer post (so you can sit back down taxman) and one that I'm more than happy to dedicate time and effort to. The Kilpatricks look safer right now than they have done, the Woodland Trust might be making a mess, but they're thinking of the future and I want to do something to help along the way. These hills have given me a lot and it's time I gave something back.
I might know the place like the back of my hand, but I've still got stuff to learn about what grows and lives there, whether it's got legs, roots or wings. So this will be good for me, but what else will I be doing? We'll see about that soon.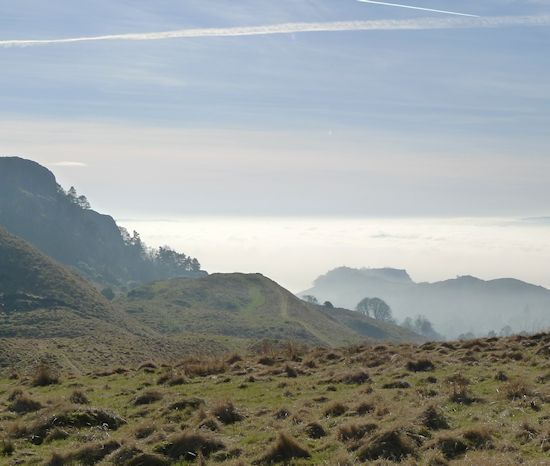 Update
I've done my first day on the site which was a community tree planting day. The weather was awful, wet and windy, which for me just meant what colour of shell to chose, but for the public that came along, to me it just showed how engaging the Lang Craigs is becoming to people that they still came out to plant trees.
700 trees went in, quite high up too, so we were quite exposed and still folks in their casual gear, kids with runny noses, pensioners and the rest all got knee deep in mud and got the job done. I was impressed and heartened.
I did my best to be helpful to the visitors in my hi-viz vest and had to learn quick which I think I did, got a lot of new information of which I have retained a good bit. Got a lot of exercise too, up and down the hill all day with spades, trees, bags of this, that and a big bloody flag which was like a parachute in the wind.
When I got home I was covered in mud to my waist, I was tired and I was grinning from ear to ear. This was one of my best hill days for ages, I think I'm going to enjoy this.
Rocking on its sump with one wheel idly spinning over the water below, the willow man's Landy was an early casualty of the conditions.