It's not that I've run out of things to say or new stuff to write, indeed I'm still hoping to get Haglöfs 2014 clothing up before we head off to The Mournes as well as a bunch of other gear stuff that truth be told can just wait. Nah, it's just finding so many happy wee moments hidden in the countless pages of my online photiebucket.
There's a real joy to this. The face I'm seeing doesn't seem like me anymore, it's like I'm looking at an old friend and it stirs emotions, smells, sensations and memories that no doubt I'll have captured in confused and badly spellchecked text somewhere in the endless, indexless pages on this blog.
Maybe this is what blogging is all about, it's like having a big pot of memory soup that you can stir and watch as the tasty bits bob up to the surface. In which case these photies are nice big bits of tattie. Or chicken chunks if it's chicken soup. No carrots though, carrots should always play a minor part in blogging.
Edit: Just added some captions below each photie.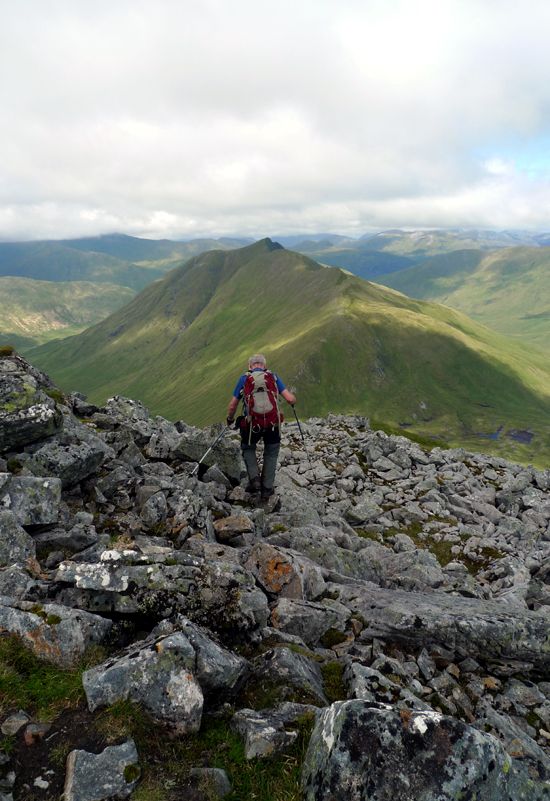 Looking towards Ciste Dubh from Sgurr an Fhuarail in Kintail. The bloke was a stranger and no overly chatty I recall. He viewed my lightweight stove setup with some disdain as well.
A lovely day on The Easains by Loch Trieg. Took a meandering route and had a glorious day. I remember the descent especially, it was late and very quite and I was surrounded by evening birdsong from nests on the ridge.
Pulling Wheelie up to Loch Etchachan before climbing Ben MacDui the next day. I have nothing but happy memories of this trip despite my grimacing face above, the hail and sleet were soon wiped away and a hot dinner made it all fine again. Then there was the visit by, well, no one really. I don't believe in ghosts.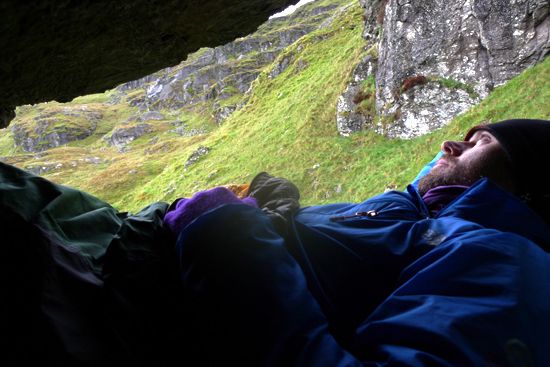 Sleeping under a rock on Ben Vorlich. I punctured my sleepmat within minutes and spend the night on jagged rocks while the rain feel just past my nose. Worth it?
Probably.
Proving that wild camping isn't informal in the view of Ben Lomond. A press trip that made an equal amount of friends and enemies for me.
Easter sunrise over Gleouriach. A fine trip in snow and sunshine with friends. Hillsound crampons UK debut as well one this one I think?
Gales over Beinn Fhada in Kintail. The next day was clear and calm and that tent was too bloody short.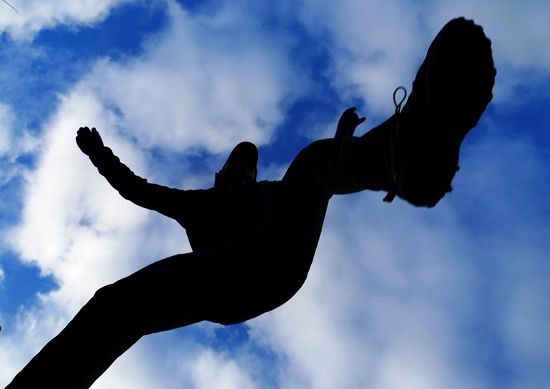 Kilpatricks fannying about. Always liked this one.
Creag Meagaidh with Bobinson, who by the way is not estranged, just busy. Looking forward to finally getting on another camp with Phil, been way too long.
Got to love playing with cameras.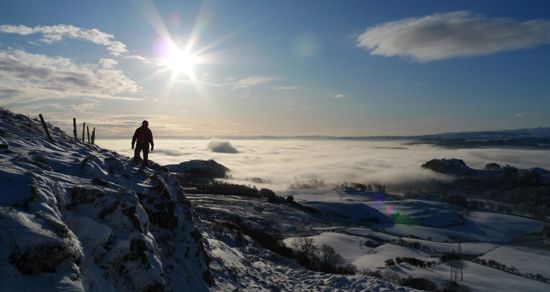 The Kilpatricks are never a second choice. That plume in the middle is rising right out of the Clyde.
Above and below are from the Grey Corries. A perfect trip in every way except I lost a purple Nalgene water bottle. Still a mighty Win.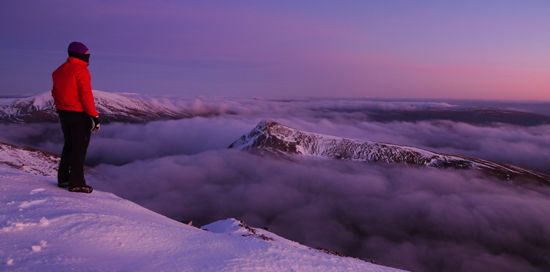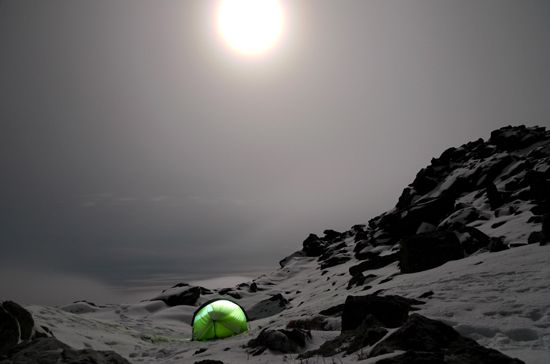 Beinn Narnain is the hill that keeps on giving. You'd never know that I could see the lights of Glasgow and Stirling from where I took this.
The Kilpatricks again. And again. Waiting for the fog, it'll come again soon enough.
About to ride down the Devil's Staircase at Glen Coe. This trip is so long ago that I just remember the good stuff, riding through the wonderful scenery and eating a McDonald's at Milngavie at the end. The premise of it and the disastrous execution of it are long forgotten. Really.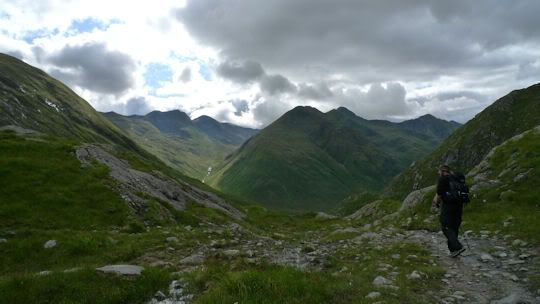 The Five Sisters of Kintail from the back. I'll never forget this one, I went in with a twisted head and came out with a straight one. Straightish anyway. Wonderful trail down Glen Licht, it should be walked by all.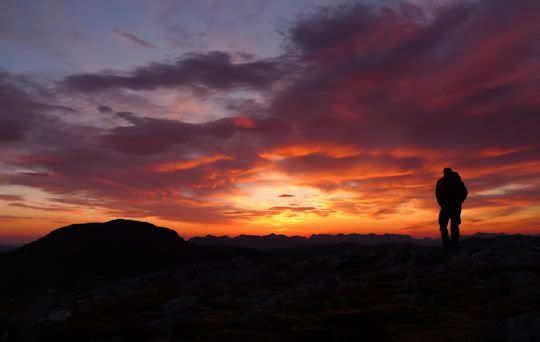 Sunset on Lurg Mhor. A perfect moment. I got cooked on the long trek out the next day under a blazing sun on an estate road.
When my phone signal came back I had two messages from a press agency asking why I hadn't included their client in some lightweight thing I'd done. The can of Irn Bru in the cool bag in the boot of the motor was as upset as I was.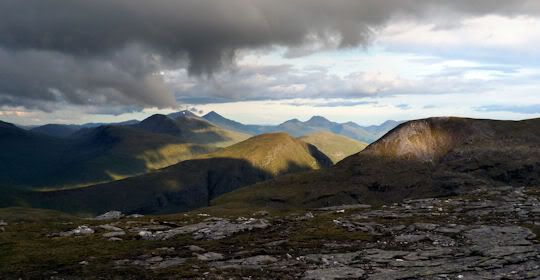 Wild camp with Phil above Bridge of Orchy. We belted down the hillside the next morning to try and get back for some work thing. Did we? Can't remember. I just remember this bit.
Repeatedly not getting Sguff na Ceathreamhnan did throw up some nice alternatives like this night by a lochan on Sguff Gaorsaic. My hottest day ever in the hills in the way in, 34C in the glen where snowmelt running down a rock face saved our souls.
Oh, she's so wee here. My girl.
Auch looking uncharacteristically pretty.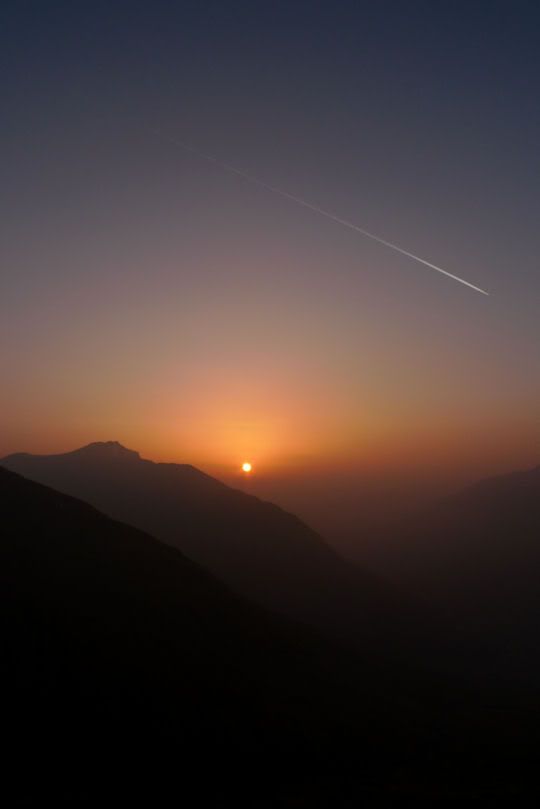 View from Ben Ime on the way to camp where I caught ecoli from sheep shit (we think). Two weeks on a toilet floor was worth the perfect sunset.
The Cobbler and Beinn Narnain from the back. Night time is the right time. For the Kilpatricks below too.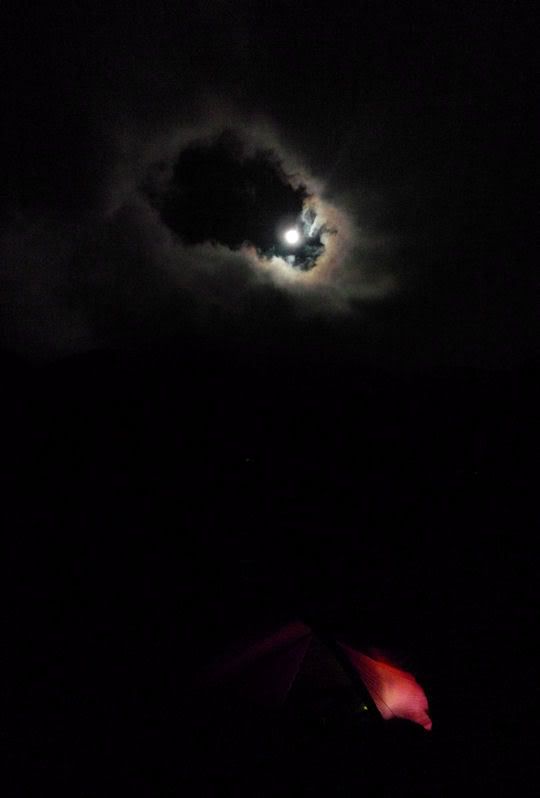 Two tents were maimed that night under Stob Ban. It pissed down the next day and we all ended up at the cafe in Glen Coe without getting to a summit. Happy with that.
Below is from somewhere on the Lawers range on the first trip I ever took my LX3 on. I took a bunch of sunset shots on sunset setting and said "Ooh, look at that…". It all changed from there.