It was foggy. I had things to do, but it was foggy, what the hell did you think I was going to do?
I could have gone to the Kilpatricks, but I know that Conic Hill's wee summit usually just pokes through an inversion and it's not too far away at all. I quickly packed some bits and pieces and I was off.
The lochside was clearing, I could see some islands, I was too late. I pulled into the back of the Balmaha carpark, could I really be arsed now? Ach, I was here, it's a lovely wee walk. What the hell.
I kept the pace up, it was still pretty thick above after all and the forest was eerie as the tall straight trunks faded to grey high above. I gasped past two girls as panic set in after I realized I had a shot at a view above and my legs pushed past the point my lungs and heart could power them. The weeks of avoiding all the things the physio said I had too has ruined me. I've rarely felt so unfit. But, I'm not waking up every half an hour during the night as my shoulder punches me in the face with a mittful of pain so it was worth it. I'll get it back.
Met a couple of fellas coming down, "Lovely view" they said. I pushed on and walked out of the cloud just below the knobbly summit ridge. Joy, grinning at the scene I know well but thrills and inspires me every time. I through my pack off and rimaged for the camera. I couldn't feel it, I opened up the pack and looked inside. No camera, no camera bag.
It was back at the car. Well, that's what I thought, actually is was sitting in the middle of the living room floor back home, so it's just as well I didn't go back to the car to get it.
What the hell, the phone will do, all I need is a memory jogger and it'll manage that just fine.
Met a happy pair slipping down the icy track from the summit and then I had the place to myself. Down jacket, hat gloves, cuppas and sammidges from the garage. Bliss.
I heard the girls voices below me, they were wandering past the summit on the West Highland Way route, I felt like shouting something about how nice it was up here and didn't they want to see the view, but bloody hell, I know just how bad that would have gone so I went back to my flask and gazed around some more.
The top clouded over a few times, but it was mostly clear to the horizon. There was high level cloud with a sun trying to burst through, so it was all a little muted, an understated beauty rather than the obvious glamour of the blue sky above. It was perfect as it was.
I heard the girls again, they were making for the summit after all and were enjoying the iced track. This time I did shout, "It's easier after that bit" That seemed to be well received and they were soon with me.
New to the hills and climbing the local peaks for the first time, the joy and enthusiasm from the two of them was wonderful to witness. I remember that feeling, the first times are different and special and they'd done this first in style today. We blethered away, more cuppas all round and I tried and failed to hold back my usual flow of useful information. They were kind and didn't run away and it was great to have company. Moments like this deserve to have an audience, nature putting on a show and most folks are unavoidably detained under the clouds which carpeted our view as far as we could see in every direction.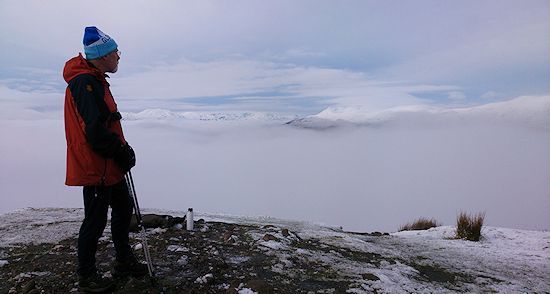 It wasn't long until there were four of us, another pair of experienced feet and accompanying bearded chin arrived to claim a slice of the communal win. More chat, more excuses to stay as if I needed that.
But, Holly needed fetching from school and I had to go. I was still the last to leave the top though, it looked like the sun was breaking through, perfect Brocken Spectre conditions, but it wasn't to be.
I followed the ridge down into the cloud, so much to enjoy on this wee hill, and caught the girls up in the fog and they were still all smiles. It was an infectious state of mind. What a good idea it was going there today.