Kev was right, go the other way. 
I'm not going to talk about the A82, I don't want to look back on this in times to come an just read about how close I kept coming to having a stroke behind the wheel. Let's just say the journey north was harrowing and leave it at that. Harrowing.
I stopped in Ft Bill for a couple of bits and pieces, a mini naan from Morrison's, and some Nuun from Ellis Brighams. Morrison's was easy, they even had rucksack-sized yumyums. Entering EB's after the "boot incident" just isn't the same. I can't quite put my finger on it, but maybe it's a bit like EB was the smart arsed kid in class, who when asked "What's the capital of Peru?" answered "The Factory Act of 1833". They're stuck with that one defining moment of stupidity in my mind.
I was fingering through the racks of stuff and came across those 150 weight Icebreaker t-shirts and it occurred to me that maybe I would be better in one of those than my nice checked shirt. I dunno, a moment of distraction we'll say. But pulling at the corner of the t-shirt was a big magnetic swing tag which immediately caused me to raise an eyebrow. Still, I took it the the checkout where said tag was removed and I said "Thanks, let's have a look…" and held it up to the light to see the big hole where the tag had been. "Ach" says I. At which point someone more senior homed in this potential loss of sale.
"That's fine"
"No, there's a hole it"
"It's next to the hem"
Sigh…"Do you have one round the back without a hole in it?"
"No, this one is fine"
"No, there's a hole in it, why don't you put the tag through the label?"
"People will cut them off with scissors"
Sigh…"So I have to have a t-shirt with a hole in it because…look, never mind, I'll take the Nuun thanks"
"You're not taking the t-shirt?"
"No, there's a hole it"
An hour later I was in 914 Outdoorin Dornie and was breathing a sign of relief at a wee shop jammed with kit and staffed by smiling folks. They had the 125g Rekri8 gas canister which brought me great joy, and minutes later I was pulling into the thoughtfully provided walkers carpark at the entrance to the Attadaleestate by Loch Carron. It's beautiful country up here, half mountain infested wilderness, half Balamory. It should be visited by all with extreme haste.
1710hrs when I left the carpark, even for me that's leaving it late. Especially considering I was supposed to be camping on one of the (if not the) remotest peaks in the UK. In baking sunshine I wandered through the estate on old-time tarmac, there's gardens to visit and holiday cottages to rent, very pleasant.
My right shoe's is a little loose, I should tighten it.
It's pretty much estate track until you reach the slopes of Lurg Mhor, but it's not the too-familiar bulldozed scars of elsewhere, what we have here is old, wear-hardened tyre-tracks, often with a grassy mohican in the middle. It winds through forest and by lochans, high into the hills and far away. Without the track, covering this distance would be much harder, but there is a trade-off. It's hard on the feet.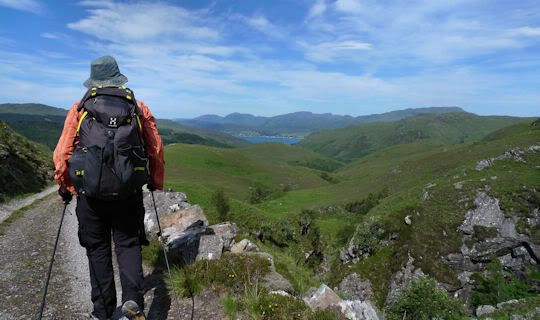 My right shoe's is a little loose, I'll need to tighten it soon.
There's a big meander to the left which does take you higher than you were expecting at at nearly 350m, and it's here you leave Loch Carron behind and first see where you're going. And it's really far away.
Bidein á Choire Sheasgaich and Lurg Mhor look very different from this side than they do from the regular point of view on the ascent over Beinn Tharsuinn from Craig to the north. In fact, when does Lurg Mhor actually even get into the photie? It's always that same shot with the lochan on Tharsuinn and Sheasgaich's summit. I really wanted to see what was on the other side. Miles of track as it turns out, and as I wandered along I kept imagining what this empty land would be like in winter, scary I think. I never saw a single soul while I was in there and it's holiday time, I don't see it being any busier in the first week of February.
My right shoe's is a little loose, I'll tighten it at the bridge.
Bendronaig Lodge and bothy is remote, it feels more remote than the recently visited Altbeithe, and also more deserted. Apart from some heilan coos which ran away, I've never know heilan coos to run away.
The track splits and then I was suddenly in the mountains. The sky became a strip walled by crags and I knew I was finally getting somewhere, but the sun was sinking, I was hungry and a little tired. The heat just sucks the life out of me. I stopped by Loch Calavie and had some munchies, including the now vital chicken Cup-a-Soup. The sun was out of view behind Sàil Riabhach, but the light spilling over the the other hills was golden, I was running out of time and I still had 600-odd meters of ascent.
My right shoe's is a little loose, I'll tighten it up when I get to the ridge.
The slopes of Lurg Mhor are flooded with flowers. I lost count of the different colours, shapes and sizes as i slowly climbed towards the skyline. I could see the clouds start to catch some colours at their fringes and there was a breeze whipping up. The day was shutting up shop. Curse my lateness, I was going to get the finish line and take an expected left turn to the icecream van like an idiot and miss out on the mighty prize.
I made it onto the rocky plateau with the lochan below Lurg Mhor's summit to see Bidein á Choire Sheasgaich blocking the sun as it hit the horizon. Now it looks like an eclipse of sorts, at the time I was just shouting "Bastard, bastard, bastard…" and trying to get to the summit cone of Lurg Mhor before I missed out completely.
As is often the case, it's when the sun goes down that the sky really lights up. I saw the tiniest glimpse of the sun as it sank from view and the clouds just exploded. All the miles in that heat, all the cleg bites that I'm sitting here scratching, all worth it.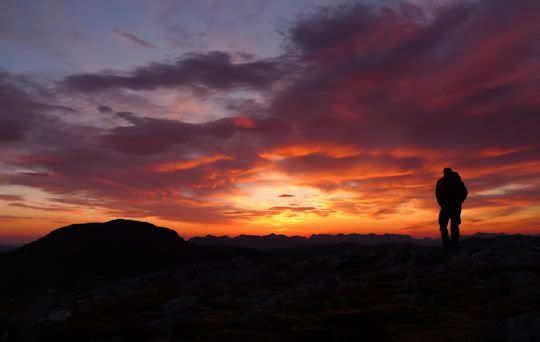 My right shoe's is a little loose, no point in tightening it now, I'll be camped soon.
The summit of Lurg Mhor is a fine spot with a very fancy cairn. The hills in view are the superstars of Torridon, Skye and Kintail, and there's the scary steep and deep coire just beyond the cairn. I lingered and enjoyed, it was 2230 and it was bliss.
I would have camped right there, but I needed water and the lochan below was calling to me. It's a pity, there's a flat patch of grass 10 feet from the cairn that was perfect. But I needed cuppas in abundance, and dinner. Hopefully before midnight.
My right shoe was a little loose, I should've tightened it.
My first blister since the West Highland Way, my own stupid fault. I sat in the bivy shaking my head. Clean socks on and I felt much better, hot food and drink and I was quite happy. There was still birdsong, and the sky glowed to the north as the sun took a shortcut just under the horizon to spring back up in the east in four hours.
I was comfy all night, but I never slept much because of the brightness. In the bivy it was a bit like sleeping inside a space hopper with a desk lamp trained on it. I watched the sky light up sometime after 0400 and within an hour I gave up and had the stove on again. I never saw the sunrise, I was just too tired to get shoes on and run over to the other side of the ridge. It was cold as well, and very windy, but I was snug and happy in my sleeping bag with my proper coffee from a Lyon's bag.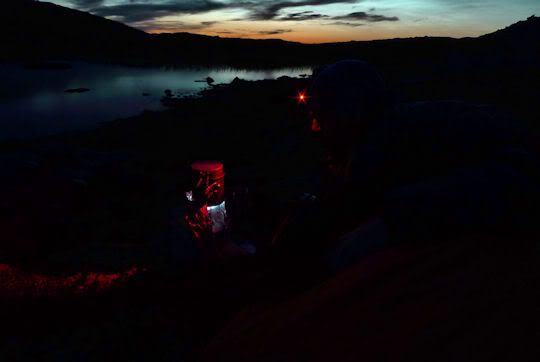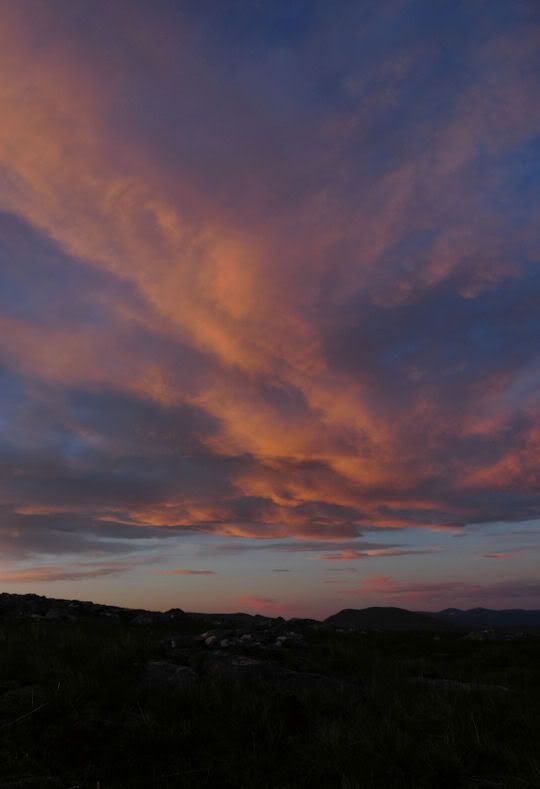 I was breaking camp around 0600 and was away. It wasn't a vintage camp spot, but at 2300 and being waterless, my needs outweighed the picturesque and it did give a great starting point for day two.
Bidein á Choire Sheasgaich isn't too far away. It's a rocky descent to the bealach and then straight back up, and when you're onto the summit ridge itself it really is an "Alright!" moment. It's got a little exposure to the west and absolutely stunning views everywhere. Walking the ridge past the summit (with its amusingly small cairn) you can look down on the regular route. Sod that, huge amounts of ascent, descent, re-ascent and possibly even a little traversing and re-traversing.
The wind was whipping across the top which threatened to tip the camera and tripod over the side, so I ended up sitting by a rock just looking and grinning. I started down about 0715, it was a long trek and I wanted to get some of it out of the way before the sun was too high above me.
I soon passed all the places that I should have camped on Sàil Riabhach's ridge, this is wonderful ground right here. I could have walked the ridge all day, but the steep descent was soon upon me and I was back on the track too soon. I stopped by a deep pool and had a brunch of sorts, and adjusted my layers. I'd been wearing a powerstretch top since I broke camp, but it was time to be back in my shirt and daft hat. The heat was creeping up and I was back in trek mode, as opposed to mountain mode. But I'm not actually sure there's a difference as such.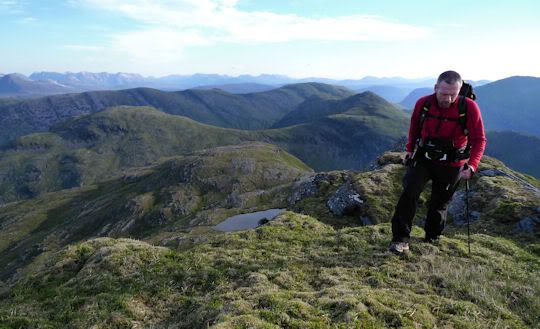 I reached and passed the bridge over Uisge Dubh's beautiful gorge and started the climb out of the glen. It was now roasting and lack of sleep was beginning to tell on me. I stuck my iPod on and set my legs to automatic. My iPod seems to have had a nervous breakdown. I like "Shuffle Songs" on the move, but it picked Rush's Hemispheres, 2112 and Cygnus X-1 one after the other, an hour to get through three songs. Then it hit me with Tone Loc straight afterwards, which just felt odd. I could have pressed skip at any time, but I loaded the songs, so I'm not letting the iPod know that I didn't want to hear it, it'll undermine my authority over it.
I was happy to be desending again and it's very different here in amongst the trees and lochans, dragonflies of all colours swooping past, butterflies chasing each other around like confetti in the wind, birds, frogs all were out and not afraid to announce themselves. Wildlife had been a feature of this trip, the stag that had bellowed at my arrival on the slopes of Lurg Mhor had unsettled me a little, but he soon gave up and left the hill to me. The other creatures were then divided into those which delighted and those which saw me as food.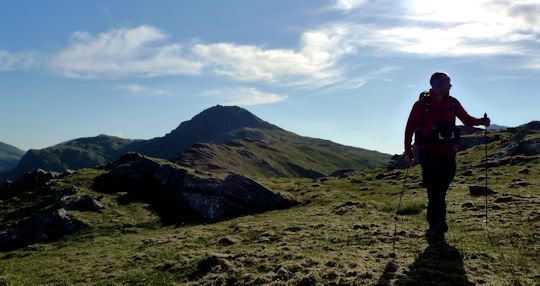 It was 33°C when I hit the estate tarmac. My steps were slow, my blister was sore and I really wanted a cold can of Irn Bru.
I arrived at the motor and opened all the doors, stood back to let if cool and stripped myself of pack, shoes and clothes. Magic.
I reinstalled shorts and t-shirt and headed off to find a fridge and its contents.
Another short sharp adventure, and that seems to be the way of it these days. Truth be told I don't like being away from the girls too long anyway, Holly really doesn't like it when I'm gone too long, it upsets her a lot, so a night or two is about my limit now. I don't give a shit though, it's taken me 20 years to get around to climbing Lurg Mhor and I didn't do it in the times of multi-day trips a few years ago, so I reckon I'm making the most of my time now.
As ever I'm a bit vague about what my route was, but this one will be in Trail in a couple of months, Hey, I took notes and everything!
I will say that it's well worth doing it from this side, I saw no-one, there's only traces of a path on the hill, and I really felt like I was out there. Marvellous.