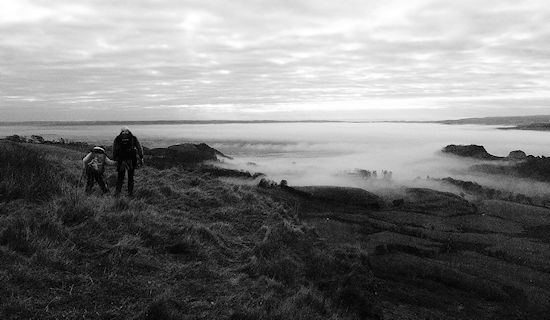 That camera dial got turned to Film Grain setting in my pocket and I never noticed. Interesting. The LX5 was a worry on the Mournes trip, the wee dial that adjusts the exposure shat the bed and jammed itself on -3 meaning that everything was dark except photies done on Intelligent Auto, that is pale washed out and flat looking setting. Playing with it back at the hotel I managed to persuade it back to zero and a bit of research back home revealed this as a common problem. Solutions seem to be tentative in their application, but after my old LX3 picked up the slack in Northern Ireland after the screen seemed to start working again, I decided to spray some RS Computer Solvent Aerosol (Many years old, the font on it is countdown…) into the wheel and see what happened. Some intensive twiddling, some more spraying and it works again. Yay. Saves me buying a new thing which I'd have to learn how to work.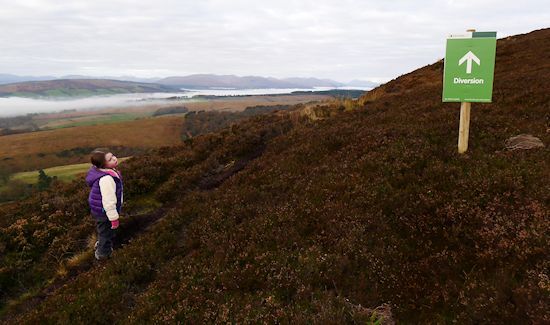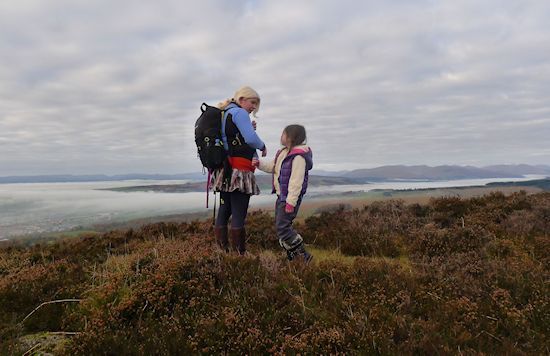 Picnic day in the Lang Craigs was fun. Holly raced up the hillside including all the wee scrambles like a natural and was much impressed by the clouds below us. This lasted whole seconds before the picnic took priority and the frantic search was on for the perfect spot.
We found this on some rocks sticking out of the heather and had a fine wee time to ourselves with turkey and cranberry wraps in surprisingly warm air. As we got ready to go a visitor arrived, my purple softshell was a giveaway he said, it was Fatwalker who has often commented on here and lives local. One thing was immediately apparent, he isn't fat at all and also, I can't believe we haven't ran into each other sooner. Magic. I'll be watching for him now I know what he looks like.
More wandering too us past the cup marked stone, or the Fairy Stone as it is now and even back at the car the day was far from done. We went across the river to cut a couple of hundred whips of willow for a project which we did today and as it got dark and then had another picnic by the river. McDonalds made this one for us though. For money, not as a favour, but I think they're like that with everyone.