Where do potatoes come from? "The shops" might be the answer you'd expect to that question these days. So with that in mind I gladly accepted an invitation to visit PHD's factory in Stalybridge to see where potatoes really come from.
A rarity these days, top-end outdoor kit designed and produced in the UK. A chance to see the processes, meet the people and learn something new.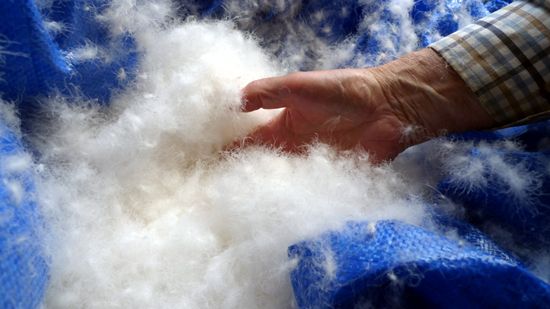 PHD stands for Peter Hutchinson Designs, and that's Peter below with the specs and beard. Peter's a legend, there's a fantastic piece here that tells you his place in the history of gear, an originator and innovator, and most importantly, still thinking ahead and developing. We saw some samples of possible new models for next year (sorry, secret for now) and there's no loss of momentum or enthusiasm at all. Peter Elliott is the fella in the short sleeves, and he's the man I've been speaking to about test kit over the past few years. He pulls the levers that keeps the company rolling and is full of enthusiasm for the kit and the people of both sides of the sale, the workers and the customers.
PHD may be a relatively new company, but the depth and the heritage in the fabric it's made from are something that no advertising budget can compete with.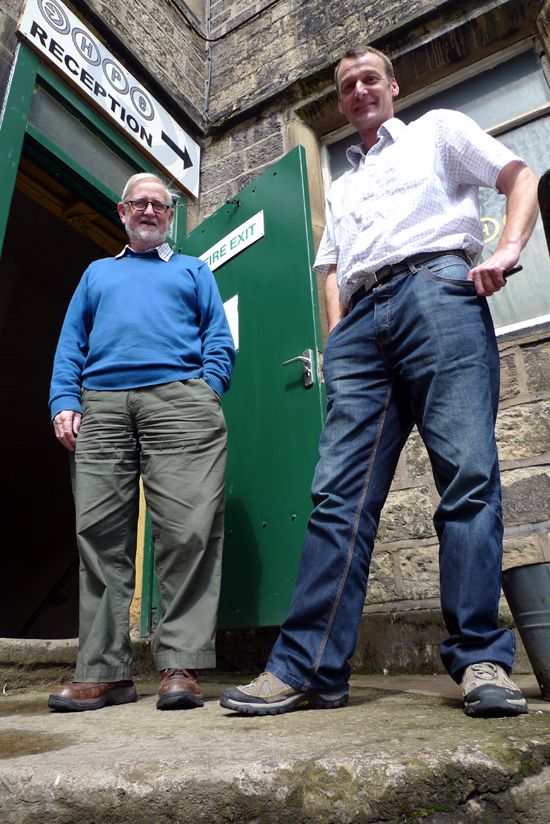 The entrance above takes you into a Victorian mill. The stairs are worn into a gentle U shape from the passage of countless mill workers, the arched ceilings are supported by iron columns and the very building feels alive with the weight of the history which has soaked into it. As an engineer this stuff means something to me, it's a tangible connection to the past. History might read like a list of kings and queens, but it's the men and women of the past two hundred years who have filled buildings like this, have toiled and have been forgotten who are the real heroes for me.
There is an up-to-date relevance here as well, carbon footprint. Existing building re-use, samples aren't flying backwards and forwards to China to get tweaked for production, then shipped in bulk to a distribution warehouse for redistribution to shops. PHD's operation is very lean, there's no unnecessary steps in there. Old school methods as a template for the future?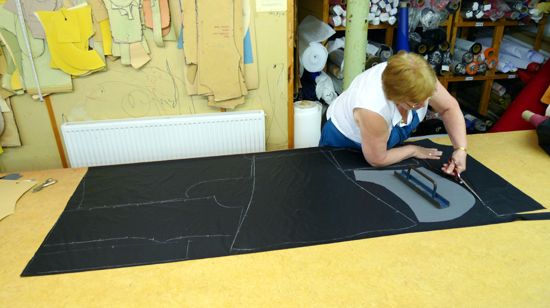 Margaret above is the very hub of operations on the factory floor. She's pattern cutting (you'll see the templates on the walls in this and other shots), after which all the bits go in a bag and are taken through to a machinist. It's the start of quality control as well, Margaret initiates every piece that's made and knows who it's gone to, and if there's a mishap somewhere down the line this is the table where it gets sorted out. It's also the start of the story of why your PHD kit doesn't often arrive the next day, it's still part of a big roll of fabric when you press "Submit" on the payment page.
Talking of fabric, there's a ton of it. The MX and Drishell are the most familiar variants, and interesting to see the reverse side of both too, seeing Drishell's inner coating it now makes sense why it's got water resistance, it's a physical barrier rather than just a treatment like a DWR.
There's some odds and ends in there too, I think the glorious teal that my Minimus jacket is made from is all gone, but I did happen upon some purple taslan Gore-Tex, which I am assured can be made into something…
Nest door is the stockroom. What's there is all there is, the Minimus down socks are a good bet for next day delivery, there's a few jackets, a few sleeping bags and that's about it. The famous bi-annual sales really don't have a pile of stock ready to go, in fact there's just three sleeping bags ready for the next one.
When there's a enough of a gap in orders coming in, Margaret might cut a batch of the more popular styles in a few sizes to get ahead for the start of winter, but as Peter Elliott said there's literally thousands of size and option combinations in the range and keeping stock of all of that is impossible.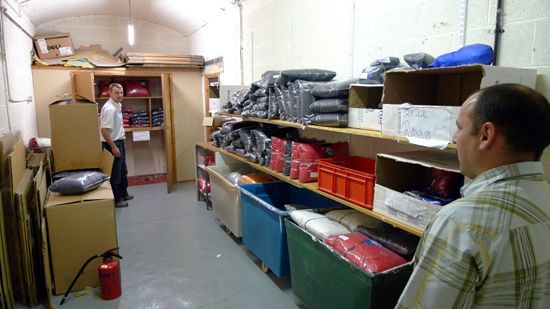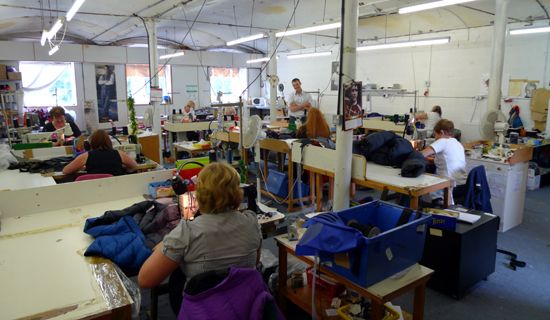 The machinists room was a hive of activity, a silent hive until the girls got used to me and Phil and the banter went back to normal. The machinists work on an individual item, the parts arrive from Margaret with a job-slip and they have a book at their workspace with all the details they need to get the piece made. It can take an entire day for one of the girls to make a bag or jacket, and that's just the sewing.
The complexity of the construction took me by surprise. I know there's baffles in there to keep the down in place, and aye, I can see stitching on my sleeping bags, but to see it ootsides-in and get a look at the bare bones has changed they way I'll look at down kit forever more.
That to me below looks something that's half way between a pile of washing and a bucket of confusion, yet with a keen eye and and deft pair of hands, a Hispar sleeping bag was growing out of a some rolls of fabric tape and some seemingly random shapes of fabric.
The fabrics really are light, the close up shot down below shows the gossamer-thin material used for the internal baffles.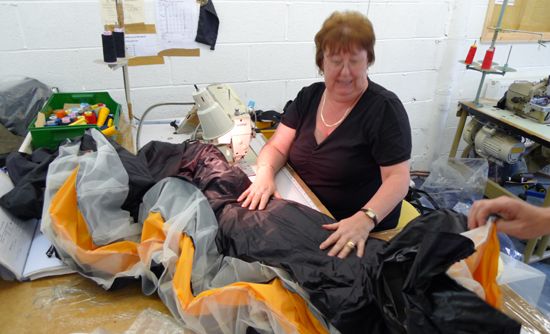 Jackets are no less complicated as you can see below. Areas like pockets looks so faffy to do, and it all has to come out as a neat, symmetrical item, so the stitching all has to be perfect. I have total respect for the girls on the machines here, these are vital skills they possess and who's picking up the torch to carry it on? The last couple of generations have all wanted to go to Uni or the street corner, if we want to succeed as a nation we have to make stuff and sell it, not sit an an office and consult about it being done elsewhere.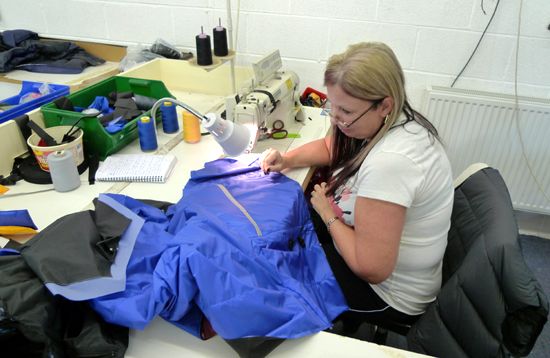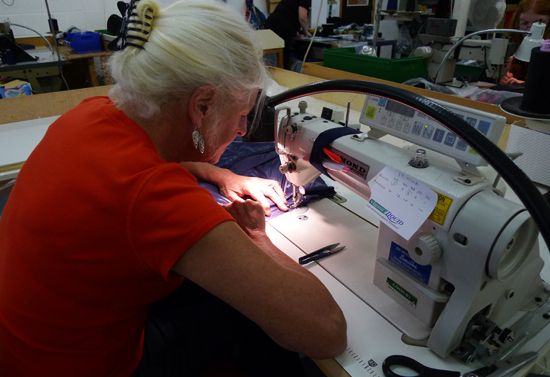 Tha gap between the customer and production is about as small as it can get at PHD, so when there's an issue or feedback comes in that something's not working, change is pretty much instant. There's no container full of stock to sell first or next season orders to try and change without incurring penalties.
But flexibility isn't absolute, there's a limit to what they can do, especially at busy times. Peter Elliott remembers an instance where the girls were working flatout to fulfill orders and a high-profile enquiry came in for a downsuit for an Everest expedition which had to be done in two weeks. The order book was already fat, and full of folk that had paid money two or three weeks ago, and they had priority, so the Everest suit was a no-go. In quiet times it could have been different, but that's the nature of business and something I totally relate to. Customers seem to think that you just sit in the house and wait for their call, and they don't react well when you tell them that you're on an installation and you'll see them in three weeks.
But the can-do attitude at PHD is strong, things can be made, adjusted and altered given enough time. I was asked about expander strips for sleeping bags and the answer was "yes" if there was demand. PHD use the same zips on all their bags, so it should be possible to make your own combi-style setup or just widen your bag to accommodate the post Christmas girth increase which many of us suffer from.
Communication in the factory seems to be a strong point, there's lots of coming and going and any issues are flagged up and dealt with. Margaret looked over a couple of items while we were there and there was no hand-wringing and umming and ahing if there was something to be fixed, it was problem-solution-execution.
Returns and repairs are dealt with too, there was an 8000m down suit getting a zip replaced for it's next trip (it had been to the top of Everest twice already). That's another thing, there's pride in what happens to the kit when it leaves, there's messages and photies sent from all over world with names we all know attached to them.
Down is a big part of the story of course (that's some 900 at the very start of the page above, fluffy isn't it?). That's what's left of a months supply below, the bales are huge, but given the nature of the uncompressed contents, not as heavy as Phil's making it look!
PHD use three qualities, 700, 800 and 900, and although we all know that a higher number is better somehow, it wasn't until today that we got to see exactly how.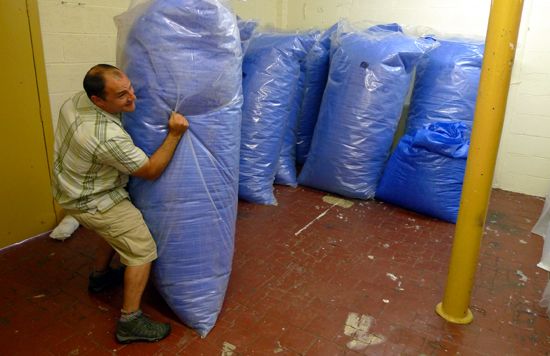 Peter Hutchinson took us through the various down processes, which starts with sourcing. PHD's down comes as a by-product of food production, no live plucking. Peter's experience is what's vital here as he flies out to meet suppliers or tests samples at the factory, always keeping an eye on the quality of shipments from his current long-term supplier and those of companies touting for business. 
The testing is all done in-house on a Lorch machine, which you'll see above and below, currently the only one in the UK. When asked what his opinions of other brands who quote fill power based on their down suppliers figures he replied that he wasn't interested, he just wants to know that his own stuff is as good as he can make it. I love that attitude, I see it as: "I don't need to fight the other guy, I know who'd win…".
The Lorch machine stirs up the down inside the clear cylinder with an air blower (which in every test we saw the samples weighed and then level out at the top of the cylinder) and then a flat plate is lowered on top of the contents. The point at which the down supports the weight of the plate gives you your fill power, the higher the plate the more loft, the better insulation, and the higher number. It's important to remember that this is UK fill power, the US version is different, using a different machine with different parameters, US fill numbers are not as good as UK ones.
We saw a current 900 sample tested which actually gave a fillpower over 900, but Peter says it's too difficult to get consistent results to perhaps claim 950 fill power. We saw another sample tested, this one from a new supplier claiming it was 900, it actually tested less than 800. I wonder just how many fill power figures are consistently checked out there? PHD test every new batch and there have been bales returned that didn't come up to scratch.
It made sense to me, I know that the Minim Ultra 900 was a revelation from the first time I used it, I now I know why, clever design and top quality tested materials.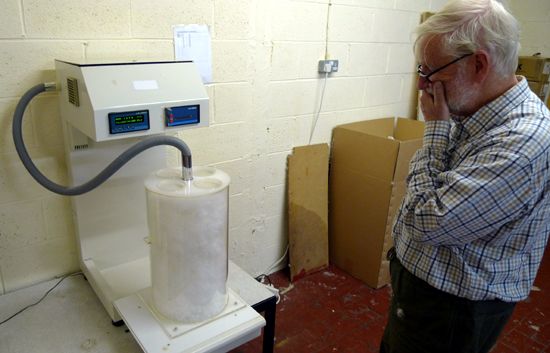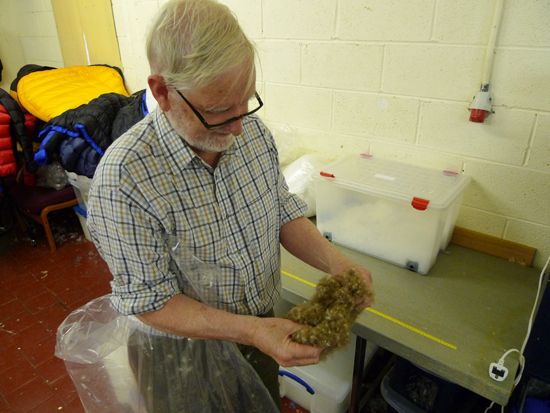 That's some eider down that Peter's saving for a rainy day, incredibly expensive and essentially a different material. If you have a real eider-filled duvet on your bed I reckon it would have cost you around £17,000. Bloody warm though.
Down is amazing stuff, it's got a life of it's own, and an odd movement to it. It's got air resistance and little weight to attract gravity, but when it flows it's like an avalanche.
One thing that comes up a lot when talking about PHD is the down fill weight of the kit, and why don't PHD quote it exactly. Well, in the fill room we found out.
There's a big table, a set of ultra-accurate scales and a book. The book has the weights for every bag or jacket, every size, every variation and every baffle on that item. The fill weights for every item they make will be slightly different, so a quote on the website will only ever apply to one variation of a given item.
Peter's worked out what needs to go where and that's what they work to. On the table below are 700, 800 and 900 samples in order. The 900 is catching the light, but you really can see the difference quite plainly, from grey to pure white.
Everything is hand-stuffed, with every handful being weighed and then item is finished off ready for final inspection and storage, or more likely shipping-out.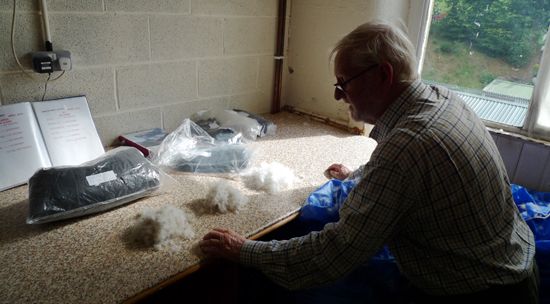 That table above is "dispatch", and that's your kit getting inspected before it gets collected by the postman.
The seams are checked for stray threads, then a compressed air gun is used to blow loose down clusters away, there's a logo printer just behind the camera (the last thing done) and a big bloke (who was off that day) to squeeze it all into a bag to ship out.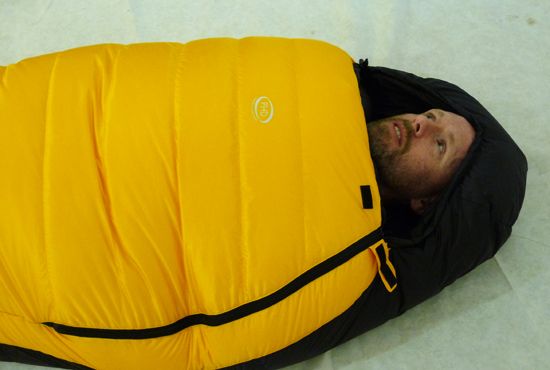 We had an opportunity to see some of the kit that I wouldn't normally be able to get to grips with, 8000m and polar gear, some of the alpine kit as well as some lightweight gear.
I've always liked the look of the Hispar, and it doesn't disappoint. It's more fully featured that the stuff I normally use, with an internal collar and er, a zip. It's plush when you're in it, it's the only word for it.
I was impressed with the fatness, but then Peter brought out the Hispar Combi which when pulled over the Hispar takes your alpine bag into the the death zone for a comfy night's sleep.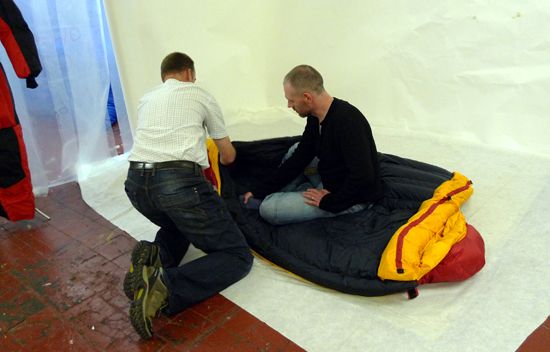 Sat next to the Minim Ultra, the Hispar/Combi definitely cuts an imposing profile. The extra detailing on these bags was good for me to see as my experience withthe PHD stuff has been with the Minims and the like. Beautifully made pieces of kit.
Phil's wearing the Alpine Ultra Jacket, a simple stitch-through jacket with a Drishell outer and two napoleon pockets. 330g and packs to nothing.
At the other end of the scale I'm wearing the 900-fill Hispar Jacket below. Rated to -25°C but only 700g, there are synthetic hoodies out there at that weight that let the cold in at zero degrees. It's a high mountain jacket, Drishell outer, huge hood, huge pockets including on internal one. Made we want to fall asleep when I was wearing it.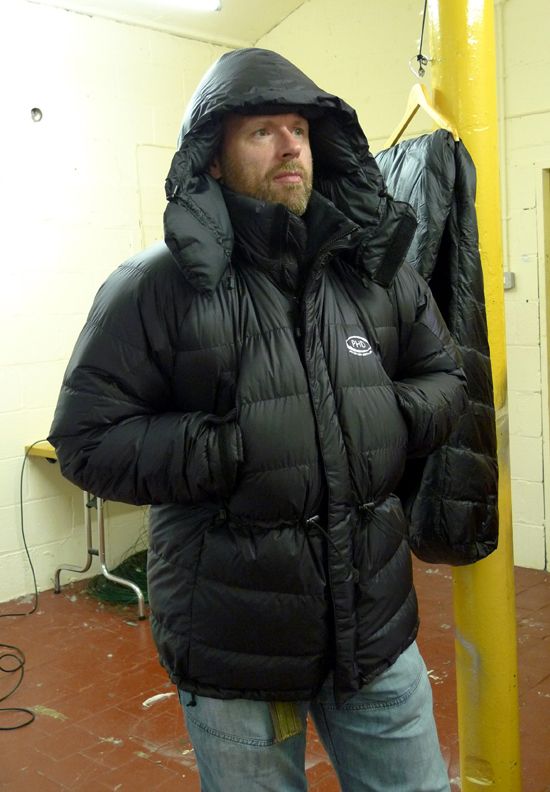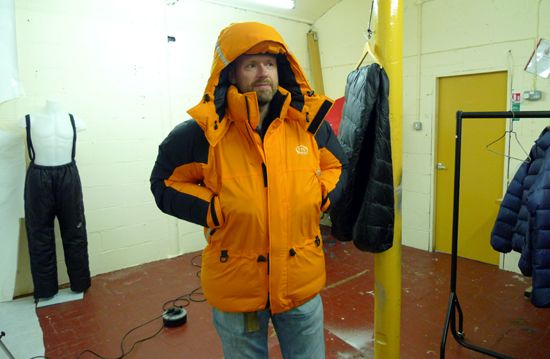 But taking it as far as it'll go is the Omega above. This a  -50°C (or  -55°C if you take the 900fill option) jacket for folk standing on Antarctica looking at the view/penguins/other people who are cold. It's waterproof, with PHD's new HS2 fabric, pockets inside and out, cut to allow the down to fully loft, a hood you could live in. I will never need this level of performance, but I want it.
The work that goes into something like this is immense, having seen the process and the methods of bringing the raw materials together to produce the finished item, it's actually rather inspiring. I like to know that we can do stuff, that people are clever and talented. A little step sideways into a new world like we had today shines a light on just those things. Magic.
Phil's got the Delta Belay Down Jacket on above. This is a lovely piece, Drishell in and out for throwing it on over a damp shell, multiple pockets for hands and stuff, hood, reflective strips (the likes of which have become so handy on overnighters), wide velcro for gloves hands. Rated down to -15°C , it's 800g of badass protection.
New below is the Alpamayo Waterproof Smock. This feels like a winter smock to me, the HS2 is a supple mid-weight laminated fabric with a soft-touch inner scrim. The hood is a cracker, a good fit on my napper. The zips are RiRi's, which are pretty much waterproof, as the teeth lock so closely together, without the need to for the rubbery strips to which we've all grown so accustomed. There's a single pocket under the flap, which with the RiRizips means that you can access it without letting water inside the jacket, but also sealing the pocket up with the main stormflap.
I think this looks like a good option, especially if the fabric does its part, it's got clean lines, just the features you need and hey, it's orange.
PHD still use Karisma fleece, not because they've still got rolls of it, but because it's in demand, especially from polar types as it works well in that arena. It's a great fabric, it was everywhere then softshell killed it, probably just because of the lack of stretch. Good to know it's still out there if we need it. Ah, I still remember my Extreme Ranger pants…
I won't try to explain myself below. It was purple and I wanted to see it, that it was a Ventile jacket lined with Thinsulate and made in a woman's size 14 mattered not. It does show the versatility of these folks though, all sorts of special orders pass through their hands.
It was quite a day. I have to say a huge thanks to Peter and Peter, Margaret and the girls for allowing me and Phil (and special thanks to Phil for taking so many of the photies too) to totally disrupt their day with our mix of daft questions and frequent outbursts at everything new we saw.
I learned a lot here, and there were so many positives to take home too. Clever people making stuff and shipping it round the world, that's putting it at its most succinct.
I'll never flick through the PHD website in the same way again, and when something doesn't arrive overnight, I hope we all remember that it's in the to-do pile and the girls will get it to as soon as they can. It'll be worth the wait.