Regular listeners might remember me posting the arrival of samples of the new down quilts from PHD last year. I had a wash out of backpacking trips at the end of the year so the single quilt only made a couple of trips where I got used to the concept but didn't feel confident enough to write it up, something that I'll be rectifying shortly.
However, its evil twin has seen some hard use, its the PHD Double Ultra Quilt.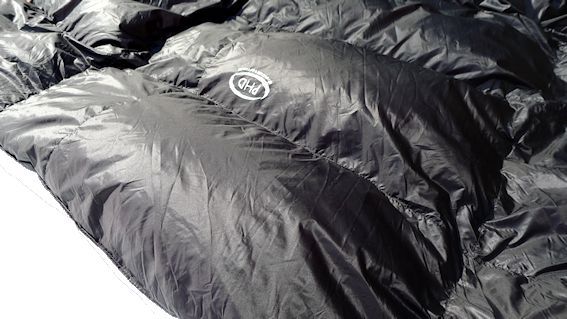 This has to be the hardest thing I've tried to take a photie of, the PHD site makes a much better job of it, but luckily it's more than just an er, pretty face.
The stats are few, the quilt weighs 642g, the size is 82″ x 82″ and the construction is stitch-through. The baffles are long and in four rows, the loft is fantastic as it should be from the 900 down fill. The fabric is PHD's own MX which is silky smooth and very light.
These elements add up to a very light quilt for the size of it and one thing that we always noticed was that the materials and construction allow the quilt to contour its occupants without losing its loft. I'm pretty sure larger baffles or heavier fabric would try to flatten out the quilt at places like your hip or shoulder where the Ultra just lies gently on you. Smaller baffles would contour too but wouldn't be as warm with less loft and more stitching, the production versions of the quilt have definitely hit a sweet spot.
You might notice the "we" above, while the double could be used for solo nights, very warm ones at that it you wrap yourself up in it, its size makes it just right for two. It's first job was on our family camping trip to Glen Coe last year where it was the final layer of family protection, being thrown over the top of all of us to guarantee Holly stayed warm. This meant that it had to fend off food, drink, felt tip pens and other craziness which is did very well, I know from experience that the MX fabric does the job, it'll take some moisture and abrasion as well as being more puncture resistant than some of its equivalents.
It was warm as well, warm enough for us to throw it off in the night despite the frosty November air. This wasn't lost on me and Joycee and the quilt didn't go into the outdoor pile, it went into the bedroom.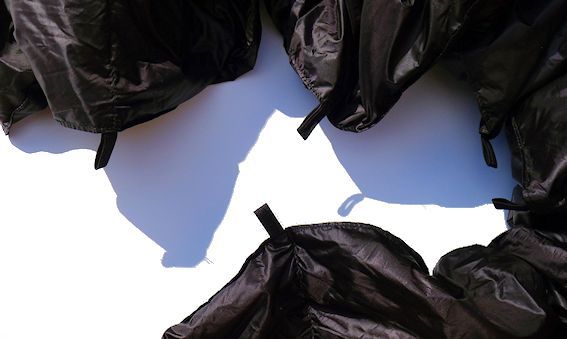 I remember having chicken pox in my twenties (I had them when I was little too, it's a long story, I'll tell you at camp one time) and being cold at night but not wanting to pull the duvet over me as the irritation drove me crazy, I have a similar memory from a day I fell asleep on Ayr beach and got the worse sunburn of my life where I shivered at night, too sensitive to put a duvet anywhere near me. I would have traded my waist-length hair which I had at the time in an instant for the Ultra, now imagine real medical conditions where pressure is pain, a weightless quilt would be a godsend.
With those thoughts in mind, I felt very lame when I pulled the Ultra over our thin summer weight duvet as winter started to bite, there were probably others more deserving of the luxury. Joycee was more worried by the blackness of it, but after a few minutes neither of us cared about anything other than the warmth, the comfort, the cozy joy of it.
We slept under the Ultra all winter, almost every night until quite recently in fact. We used the light duvet underneath which kept the Ultra clean and when it did get too hot we could just throw it off the end of the bed. It's weightless, you just don't feel its there and the insulation is incredible, getting out in the morning is just like sticking a hand out of your sleeping bag to find your stove in a frost encrusted tent porch. The silky fabric doesn't bind to other fabrics either, so although we just had it thrown over the top of our duvet without any ties, the Ultra tended to stay in place, our movement not affecting it much.
The Ultra has tie loops so you can fix it down with cords or bungees, it is a proper bit of outdoor kit and after something like 100 nights under it I would have have no hesitation in packing this, or its little brother, for a trip. It's light, adaptable, made of top class materials and the bottom line is that its really bloody warm under it.