Today sees a world first for down equipment, UK down manufacturers PHD are launching a new service: Design Your Own Clothing.
I've had exclusive access to the website to test the functionality and design my ideal jacket to test this winter.

For many folk off-the-peg clothing is a compromise, they  might find that everything is great except the arm length, but to get their wrist covered with a larger size means a big baggy body and to get technical clothing made to fit perfectly from scratch is going to cost a fortune.
PHD have come up with a clever solution by offering a range of options on Design Your Own -DYO- for which they they already have patterns, meaning your jacket still has an element of standard construction to keep costs under control and allow a good turn around time for your order. These options aren't limited to A or B though, the options are very extensive indeed, you can dial in the fit of your jacket, the features, the fabric and the down fill.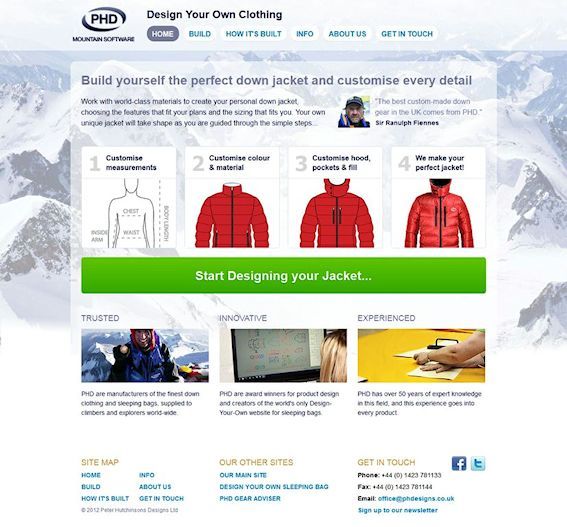 Given a blank canvas it's tempting to go mental and spec all sorts of crazy stuff, which you can do as long as you don't press the Buy it Now button of course. Once I'd done all that I had a think about what down gear I already had and what from my experience using it could be improved upon.
The pages allow you to do all this logically by addressing one set of parameters at a time.
I went for the Toubkal as it's a bit warmer than most jackets I have, it has box-wall construction which I haven't had in a long time in a jacket and still comes in very light.
The first page gives you the basic details and standard spec with a list of customisations, once you know it's the one you want, click Customise This Jacket.
The next page is sizing, which I'm generally lucky with as most brands large fits me fine. Does than mean I'm average? I did rub my chin at the arm length though, measured, measured again, tried on jackets and went for the standard large. There's charts for all this to help, you can take your time and you can go back and change it before ordering as well.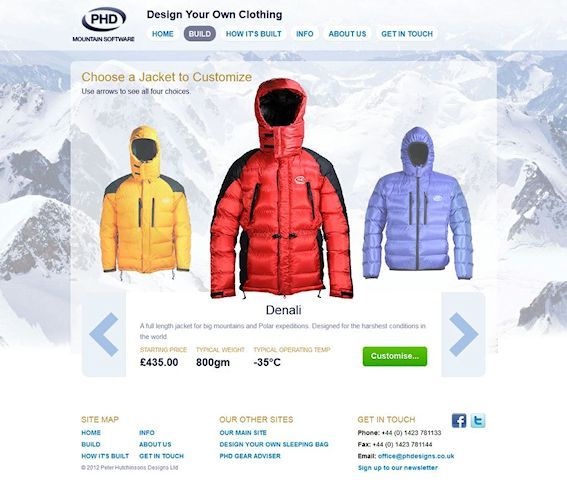 Next up is the fabric page and it was a no-brainer, I went for a Drishell outer in gold. It's a great fabric, worth the little bit of extra weight every time and the colour? How happy will it make me in the snow?
Down choice is next and is very important, I'd already planned to make the jacket as warm as possible so it had to be 900 fill which would offset the heavier outer fabric as well. I also went for a little overfill, a minutely bigger packsize for a wee bit more warmth? Yes please.
You can keep tabs on the weight and price as you go on the dashboard to the right of the screen, it updates with every choice you make.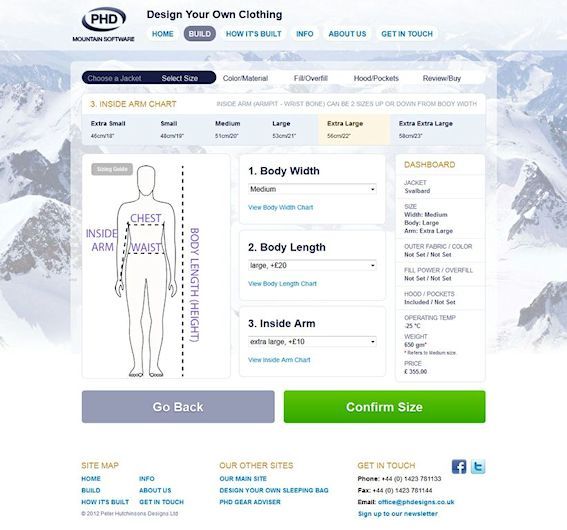 You don't have to have one, I think it's got to have a hood, but what hood. Regular is fine, no overly glamorous, but its neat fit keeps your head warm. But, having got used to bigger hoods the past while, I took the helmet hood option. Bigger and adjustable, it fits over your shell hood and hats and should work well at camp where I can pull it on and off. More comfortable and practical for me.
I did think about whether I'd prefer a fixed hood which isn't an availavle option, the hood I specced zips off, but to be honest, I think its an aesthetic thing more than practical, removable hoods have nice cozy collars sealing the gap when the hood's down.
It was here I realised that I really was dialling in the jacket, it wasn't "that'll do" anywhere so far, is was all just what I needed. Experience does count for something here, knowing what works for you and what doesn't, but DYO has a great safety net, you can't spec yourself a bad jacket as there's no bad options.
The pocket options are napoleon or hip, and since I'm no longer a climber, I voted for keeping my hands warm at camp and went for two hip pockets.
That's it. You fill in your details and oredr or go back and play until you're happy. I was happy with my choices first time, I went back and checked, thought about it, changed nothing and sent it through.
The site worked perfectly, I never found any bugs and the dashboard kept track of what I was doing quite happily no matter what weirdness I came up with at first.
I did all that back in August and it was around four weeks later the Toubkal below arrived, PHD say 45 days will be the turn around time for an order.
I was a bit nervous, I've trusted PHD with my comfort and joy many times over the past few years, but this is the first time I've had a chance to screw it up by getting involved myself.
It was the right colour, the fit was right, it was fat with down, it was light at 508g and it was exactly the jacket I'd put together on the screen. Where the hell's the snow when you need it?
I'll do a proper look at the jacket when I've used it in anger against the winter which can't be too far away, but the spec is all above. If you put the same parameters in as I did you should get a price  of £351 and an estimated weight of 516g.
I think DYO a great idea, you can get exactly what you want, get it made in the UK using top class materials and pay what looks to me like a reasonable amount for what you get when you look a MiC equivalents. It's what outdoor gear used to be, something made for a purpose and a person rather than something to stick on a hanger and hope someone buys it.
Have a play on the site and see if you can make a 200g jacket with a -25C rating that costs £1000, I still haven't managed it. More from me and the golden Toubkal soon.