"What are you up to?"
"How?"
"I've got to take some hours, and I'm thinking of heading out"
"It's looking nice right enough, I can get away and I need photies of that Big Agnes tent"
"Let's go"
"Alright!"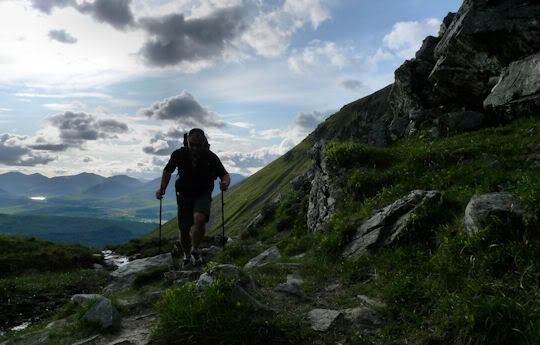 We'd planned to camp on Beinn an Dothaidh ages back, but we ended up somewhere else, either another hill or the Real Food cafe, I'm not entirely sure. But, with righting whatever wrongs we may or may not have bestowed upon ourselves on our minds we left mine for Bridge of Orchy sometime after 1500.
Phil was driving, bless 'im.
It was easy following the increasingly eroded path up to the bealach between Beinn an Dothaidh and Beinn Dorain. The sandy earth is being washed away down a deepening trench and the piles of Type 1 being shovelled on top of the track don't seem to be helping. I haven't seen this area without snow cover for years and I was shocked.
On the higher and harder ground, the trail is rocky with the crags and slabs of Coire an Dothaidh cupping their hands around you with surprising steepness until you pop out over the top edge and pick your peak from left or right.

We wound our way up the track to the left into the concave plateau that's the summit of Beinn an Dothaidh. It's a nice trail, and heads off the the central bump of three that's the highest spot, but we headed onto open hillside to the slightly lower 1000m West Top to see what camping opportunities there were.
As it turned out we were spoiled for choice. There's a shelf runs along the edge of the plateau with a strip of grass that fights the bare rock hard enough to give plenty of spaces for pitching a tent. But, we were also very distracted by the view West, the thick blocks of cloud and areas of clear sky with light steaming through cast all the hills into dark shadow or glowing fairyland. It was just stunning. With one eye on the view, and one eye on the ground we ended up right at the cairn and pitched the tents.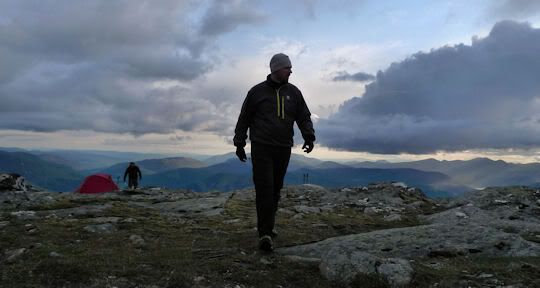 The views were as fluid as the cloud, peaks appearing and disappearing, patches of light running like torchbeams over the hillsides. Outstanding. We just wandered around with cameras in hand until we really had to eat. The sunset was a peachy-orange strip on the horizon and then it was gone, it was the clouds who were putting on the show. It's nice when somebody else gets a shot.
We wandered around, and along the top of impressive crags of the Northern coire, but not to the actual summit, even though it was very close. We never did go over to it, even the next day.
It got very cold very quick, from 28°C  when we arrived, to 4°C when I got in the tent. Dinner was crazy late, but we'd carried enough water to be able to have numerous cuppas with gay abandon and it was all rather pleasant. I had no iPod, I had no book, I just went to bed and with only a light breeze and was out like a light.
I said to Phil that I though I'd had some great deep sleep in the night, "I know, I woke up and heard you".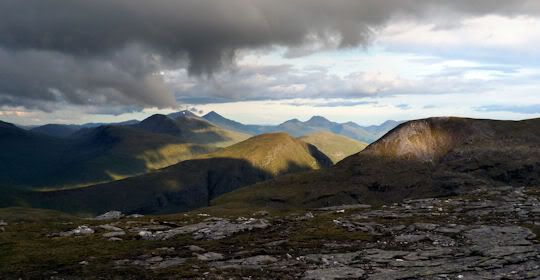 I woke to grey. A patch of ground outside the tent beaded with dew and beyond that; grey.
I lit the stove and lay back with a"Humph".
Then as one from both tents "Whoa!".
The cloud blew away and swirled above us revealing the dappled Highlands of the night before, but with warmer, sharper light streaming from the East wherever it could find a gap.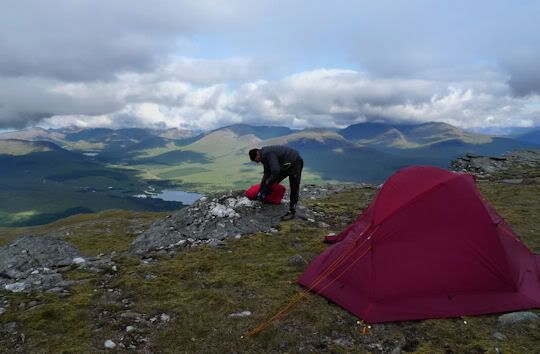 More wandering with cuppas, more photies, more looking at watches and thinking "We really have to be going soon". It was a school day after all.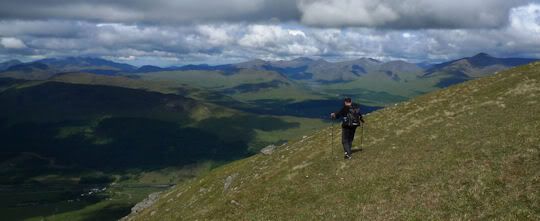 We looked at the map and I said lets just walk in a straight line to the station. So we did.
It started out well as the temperature rose and there was a cool breeze and we traversed the grassy slopes. Then we turned a corner and I found myself on ground so steep that when I looked down at Phil I could see his toes sticking out from under his chin…
My knees were screaming by the time we found the river and met the outgoing track at the edge of Coire an Dothaidh. It was also suddenly very hot, so I found myself in short sleeves and Phil in short legs. We started to walk down the track, them we were hopping on the rocks, and then we were running.
The sight of two men running down the hill first thing in the morning with overnight gear on their backs appeared to slightly rattle the first walker we met. But the warmer it got, the more we slowed, and the second outbound early bird was more chatty, and said that "You young guys" were "Hardy" for being out all night. I fully expect that to be the last time in my life that "Young guy" is used in any context referring to myself.
It was back to the motor and the the road South, where we got stuck behind every truck and bus and caravan and stupid under the sun as they jammed side by side with each other on the road between Tarbet and Inverarnan, grinding traffic to a complete standstill several times.
Still, it didn't dampen the little flame of joy lit by an evening in the Highlands, and on a school night too.