My working day takes me to a lot of old buildings of which many are churches. They're probably my favourite places to work, quiet, mostly empty and with kitchens full of tea bags and biscuits.
They're also lovely places to look at, even the post war concrete horrors have their charms because of their quirky designs and all the older elements that creep into them, from a beaten up piano or a carved chair taken from the old demolished or bombed-out original. War is never far from a church.
One of my favourite elements are the windows, stained glass is a wonderful art form and one that still survives. If you think of modern stained glass you might think of the angular, simplified designs that often just seem to be coloured patterns rather than a depiction of a story or an event. That's down to style and cost, not a lack of talent or that the medium is a lost art.
I've seen 40 foot high impossibly intricate 150 year old windows removed to be taken apart and rebuilt with new lead as big windows collapse and stretch over time. clever stuff and very expensive to do.
The glass is indeed stained but it's painted too and getting up close reveals the details. No doubt the bible-aware will know what it all means but to the neutral observer it's just a joy to look at. Earnest faces, fantastic creatures and landscapes to inspire, reassure and no doubt remind customers of why they're there.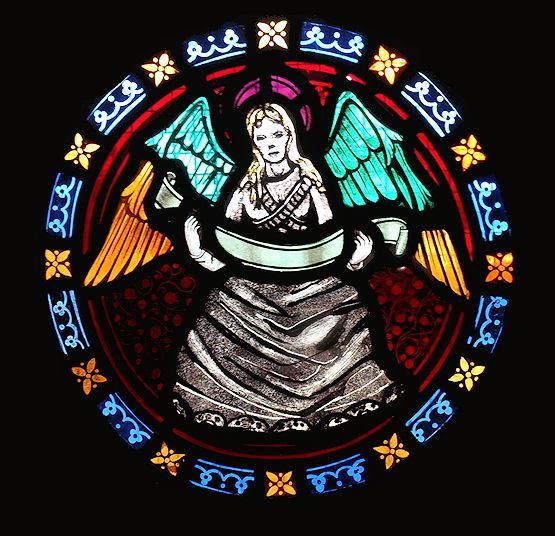 This last one earns and  extra grin for the viewer. It has to be the campest walk I've ever seen as the figure cuts across the Italian countryside themed fashion show catwalk displaying the next season's velvet creation for the flamboyant man about town.