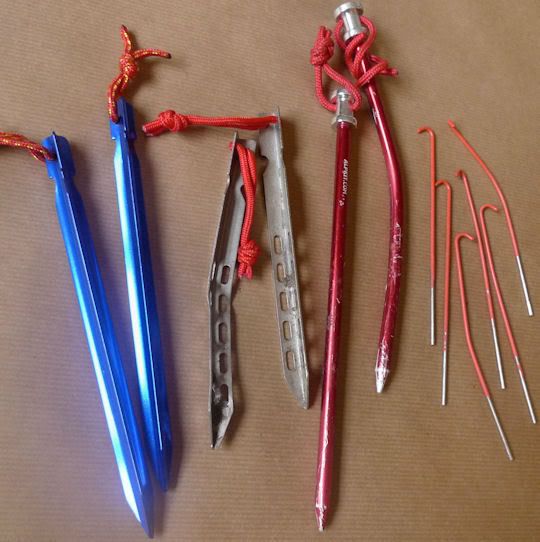 Left to right we have the Camcleat Y-pegs, titanium V pegs & aluminium stakes from Alpkit and Terra Nova's skinny doodahs as bundled with the current Lasercompetition.
All but the ones on the left are survivors from last Friday night, and I think you'll agree it's not pretty. Looking at the damage it looks like the constant buffeting and vibration turned the V's and the skinny skewers round and then bent them. The V would never have bent had it been still facing the right way.
The big stake has been bent before (by my foot) and it just went on the weak point where I'd straightened it out. The wee skewers are great for reasonable weather and flat pitches, but that's them retired from active service.
I'm making no criticism of any of the pegs here as they're all been used many times and maybe I've just worn them down. It's something you expect to replace.
What is on my mind is more secure pegging. Big Agnes use X-pegs, that's a huge surface area and therefore a lot of friction in the ground, and less chance of been swivelled around by vibration? The new Y-pegs are bigger than Big Agnes's X's and give more surace area, they're nicely tall too. They're light enough and just look at the colour.
I shall report back.