The rain came down in abundance so I was out the door and up the hill in a flash to get a wee shot of the Velez AL.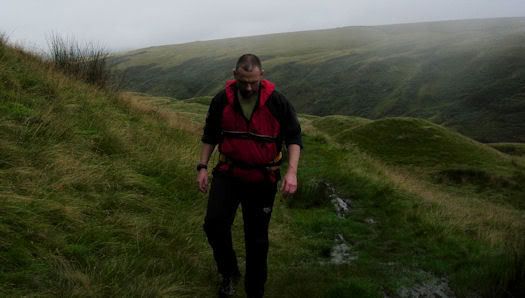 The wee flash of green at the neck there above is a Páramo Cambia t-shirt, I thought it would be best to try the whole lot at the one go.
There was a mental adjustment to be made, it feels different, but with an open mind I headed up the trail in the pissing wetness. I got warm on the move and made use of the side vents and front zip, it worked fine and I didn't overheat or let the rain in. As the rain died down and it got a little warmer I rolled up the sleeves as well and stayed pretty comfortable. The story about condensation is true, there is none. But you're still damp, just coated in absorbent fabrics that shift the moisture outwards very efficiently.
The rain stopped, but the air was still damp. Pulling the hood down is the easiest way to cool down in any clothing system and talking of the hood, it's pretty good. It fits well, moves well with my head and has easy adjusment. The wired peak is good, but I'd like it to stick out another inch.
You'll notice my huge belly to the left, that belly is made of a hat, an iPod, a protein bar… and some is me too. The pouch pocket is very handy, the clearest advantage any smock has to offer.
The outer fabric feels as light as maybe a softer version of Pertex Microlight, this must be some of the weight saving. Rain beads on it well and I've already had it against rock and through jaggy bushes, but there's no sign of damage.
There are niggles, the hood roll away mechanism leaves an internal flap at your neck with exposed poppers hanging there. It's neat when the hood is rolled and fastened, but I'd ditch the whole thing and put a single tab in like everyone else.
I now know why Páramo jackets look like they do, it's the inner/outer thing. The loose outer gives the impression of the saggyness they're so often accussed of. But there is a little too much jacket, I'd tighten up the general fit quite a bit.
But the important lesson learned was that it's very comfortable, you do feel dry, it's quiet (even raindrops go "flump" on it) and it's functional.
I'll be tearing the arse out of it for the four weeks I've got it to see exactly what it's made of. And I'm not worried, it's good kit. I'll be back with a detailed review in a bit