It was 8am when the alarm went off and I really wasn't ready for it. I'd had the best two hours sleep of the whole night leading up to that point and I was reluctant to let it go.
But it was bright outside, and there was no hiding from it, Ford don't fit their estates with curtains. It meant that the 18 wheelers that passed in the night lit my ceiling up with their gantry-mounted beams and woke me up, the car headlights were too low for my lofty hideaway on the old road through Glen Shiel and it looks like I went unnoticed as well. I'll remember that spot for the next time. Should I ever have a mental breakdown and decide to sleep in the car again.
It was a bit wild outside, sleety windy stuff, and while I was warm and comfy enough I was shoeless and trouserless in the back of the motor and in need of breakfast. I sorted myself and hopped into the driving seat. No way I was brewing up here, so I headed into the glen for a bit of shelter.
It cleared up as I hit the road and I pulled in just before the road swings left at an old bridge with the long lazy waterfall that starts under it. I set up the stove and paced about the layby as it warmed the water way too slowly for my grumbling tummy.
The last time I was here on foot was after I'd finished the South Glen Shiel Ridge, I hit the road in darkness just a few feet away from here and trod the miles back to the motor at the Cluanie Inn. Never again. Probably.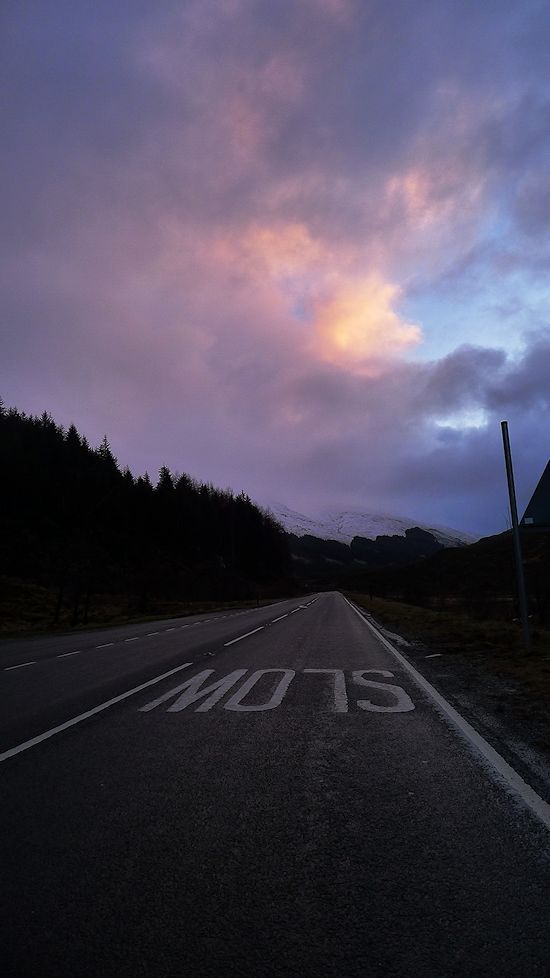 A cuppa, porridge, a bit of colour in the sky and things were soon looking up. They were soon driving up too and I stopped at the viewpoint carpark on the 1100ft  Mam Ratagan to watch the cloud move in again and cover over the familiar sights of the hills around Morvich.
I have so many memories of this area, the hills and the people I've climbed them with over the years. There's laughter and tears with promises and regrets in every visit recalled, but there's still excitement when I'm burning up the miles up to get here. I love it here, it'll always be special.
Snow was falling on the pass and it was lying on the road. I was suddenly very aware that I didn't have snow tyres anymore and took it calmly despite a few flashes of sunshine on pure white hillside on the south side of the pass that kept my eyes off the road ahead.
The descent to Glenelg takes you further away from the regular routes than the short distance might suggest. The road goes to a dead end at each branch, although in summer you can escape to Skye on the ferry (which is recommended by the way, the ferry is great and the drive across the island is a joy), and the whole place feels gently overlooked.
The Glenelg Brochs are fantastic examples of these Iron Age structures. They're part of why I was here (see Trail in a couple of months) and I didn't rush my long overdue return visits to all three on my way into the hills.
Dun Telve above is the best presented for visitors, it's on the flat and is easy to explore. The side away from the camera is missing, showing the construction very well, not unlike Dun Troddan below, which although a little rougher and on much steeper, more defensible ground has more detail left to enjoy such as the internal staircase.
It's fascinating stuff and any visit is full of unanswered questions and wild imagining to fill the gaps. Did they have roofs? Of course they did, we'd put a roof on it wouldn't we? So would they then, they were Iron Aged not daft.
The road comes to an end at the farm just after this lovely tree, matched only in its picturesque qualities by the welcoming sign below.
Don't have a problem with the sign or its sentiment, but how many dogless visitors have had the fear put into them, got back in their car and went back they way they came from without spending any money on lunch etc in Glenelg? Everything has unforeseen consequences.
There's a low chambered cairn on the way but my last must-see was Dun Grugaig (above inside the ringed walls, and from outside below), the last of the brochs. It's in a ruinous and unexcavated state and is all the more atmospheric for it. It's crumbling corridors and steps visible but unaccessible.
It sits on a crag with just a grassy shelf leading towards it, while behind it, its wall grafts into a 100ft drop to the river holding no danger of surprise attack.
I wonder if the brochs spread up the glen as times grew more dangerous and more security was needed or they spread down to the waters edge as times felt safer and access to fishing and livestock was the main priority?
History, half facts and half opinion.
It was a bit of a trek down the landrover track while the cloud was moving, shifting and breaking with some heavy showers passing over me. I had no idea what to expect from the ascent, I wanted nice, but time was getting on and the forecast afternoon clear-up wasn't looking likely.
All this fled to the back of the breadbin when I came across the bridge. Four logs nailed together with a knee-height handrail. It's like a scale model of a real bridge that's been dropped over the gorge.
I'm not good on this stuff and it creaked, bounced and made me feel like a 6 year old on a ghost train. I looked forward to the unavoidable return visit all afternoon.
Once up onto the ridge (it's between Gleann Beag and Beinn Sgritheal and I can't say never mind spell it, for the purposes of this internet pamphlet I'll be refering to it by its component parts such as ridge, summit, slope etc) it was all drama. I had views all around to endless heathery slopes capped with snow which in turn crashed into cloud as water roared in the glens in fast flowing burns and waterfalls.
Perfect Highlands, my heart soared to be here.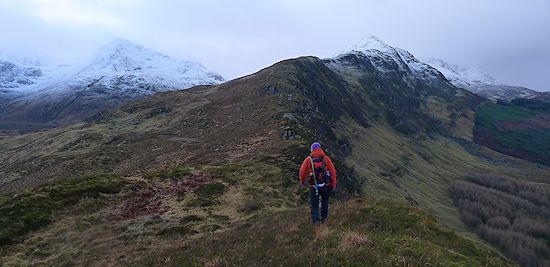 Skye was close by and was my baromoter for the day, whatever weather was brushing the tops was mine a few minutes later. The sunshine and patches of blue widened my grin got my legs going towards a place where a sit down and a snack might have been found otherwise. I felt like I had to earn the right to get, I don't know, the view, the moment? The moment that you wanted but didn't know it 'til you've had it. I just wanted to keep moving, it was all changing around me and I wanted to be part of it. When the cloud enveloped me and the wind blown snow started to spatter and coat me I just laughed away inside my hood.
Dressing up to go out and play.
I gained more height and the clouds split, tumbled and rolled away, the shades of grey shifted to blues and silver and I stood and watched it. This was my moment, and as these things go, it was a good one.
It's a cracking wee hill, the ridge had some littler moments waiting for me as I was route finding on virgin snow which was fun. I had expected to be a little nervous off the beaten track on my own like this, but it was pure enjoyment. I felt alright.
The hill gives you little gifts one after the other, the ridge crumbles onto a summit plateau which is shaped like a crown, a lochan-filled dish ringed with rock. A little wonderland waiting for folk willing to step away from the regular destinations.
But, it was fading in front of my eyes, the light spluttered past Beinn Sgritheall towards me and then I was inside the weather again. Cold, hard snow blowing past me, onto and I swear, into me. I hid in a corner and got the stove on.
It was cold, very cold indeed. I had two cuppas in quick succession, but neither reached my toes or fingertips. I kept my down jacket on, dug my pack and axe out from under the snow and stood up. The little patch of blue above me was coming to nothing, I was sure of it. If I waited for it I'd be an orange and purple snotter frozen to a rock when they found me, time to go.
I made better route choices on the descent, turns out there's a steepness-free option almost all the way. Imagine that.
The fresh snow-fall did bring something else to mind though, just like step cutting, another skill is probably suffering from lack of practise and that's cleaning your balls.
I found myself having to clean my balls quite regularly on the way down, sometimes with a kick but mostly with a swing of the ice axe. Anti-ball plates on crampons do actually work it seems, on my plate-free crampons I seemed to get an inch taller with every step as the snow built up. I wasn't worried, I just pretended I was Gene Simmons and my ice axe was his axe shaped bass.
Little wisps of cloud started to creep up from the glens or float down them like lazy ghosts. It was getting dark but I got across the bridge before it got too scary.
Once on the track I stuck my hands in my pockets and pulled up my hood to keep the chill and the unwelcome cold shower out. The hill disappeared in dark and cloud and the rest of the landscape had followed it by the time I got past the warmly lit farmhouse windows to the motor where I changed some clothes and boiled the stove one last time for some soup and hot chocolate.
I was happy. I was a little tired and damp with a very long drive ahead, but the energy I took from those precious minutes where the skies were clear and the snow was gleaming is still turning my engine over as I sit here typing two days later.
Nearly forgot, night time tent shot.
Kinda.