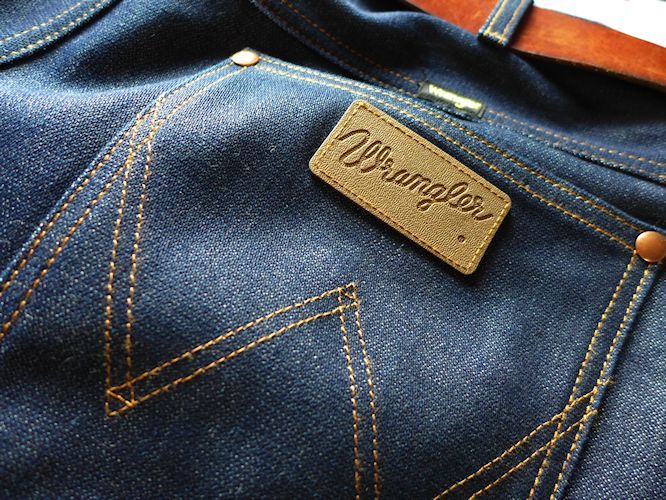 My favourite fabric is denim. I think I like polycotton outdoor trousers because they wear in just little bit like denim.
I like that denim tells a story, like the duct tape patch in my Kimmlite down vest, the scars and wear lines got there through use and abuse.
Except modern denim is a big fat liar.
Pre faded denim is on the surface a nice looking thing, faded in all the right places, that lived in look without any of the living. But there are problems with this.
One is that the fading never actually lines up with the natural creases your body starts forming as soon as you pull the jeans on.
Another is the chemical use and water waste that comes from making your jeans look old. Indigo coloured rivers and potassium permanganate in the air. Pre faded denim is environmentally and ethically unsustainable and I am as guilty here as anyone for supporting it.
Another thing is stretch denim. Comfort and freedom of movement at the expense of a non recyclable fabric and microplastic down the drain as the elastane wears away in every wash.
Still guilty here.
So what are my options? Easy: Raw, rigid denim. 100& cotton, unwashed at the factory, stiff as a board, ready to be made into whatever your body and time decides.
Like lightweight outdoors there is a hardcore of obsessives that break raw denim in as a lifestyle defining choice and thrive on the minutiae of the process which will alienate most casual observers.
There is though a simple method which is all you need to know, wear it and don't wash it. Yet.
There are a great many specialist jeans makers who will sell you a pair of jeans crafted from raw Japanese denim for a weeks wages and have you believe that your life will now be much improved, but isn't it always the way with anything non-essential?
There are other ways.
Hidden at the back of their shop, the ugly sibling, the last one to be chosen at the high school dance, Wrangler's 11MWZ. A reissue of a classic design I wore back in the 80s and early 90s with all the detailing pretty much perfect.
Wrangler are an odd brand, #2 in the world behind Levi's, but around here they seem to be something of an old man brand, shapeless, high waisted, zip flied middle aged comfort pants.
Which isn't actually the case, the range is modern and sleek if you look online. Like everything else, there's just no shops to see stuff in anymore.
To me though, they are the jeans of my youth, so I've come home. In a larger size.
The 11MWZ's are a slim fit but not tight at all and after a day's wear I had full movement, just a little tightening on the thighs when crouching. After washing they will close in a bit more, but they'll be in molded into my shape by then so it'll still be fine.
The denim was cardboard stiff with a notable texture to it, something missing from stretch denim. The colour, described by Wrangler as "New" was deep, deep indigo with maybe some battleship grey in there which is now taking on a little more blue overall, especially in the creases and other wear areas which you can see in the photies.
The denim is broken twill which means the pattern is reversed every few runs resulting in the internal zigzag pattern you can see above. This removes the mechanical pull of a standard weave, the very thing that twists a jeans legs round over time.
In the same photie you can see that zip fly. Oh yes please, button flies now feel so awkward, like the designers are deliberately trying to  piss you off and make public toilet visits longer and more awkward.
So what is this all about? Well, I'm going to wear these in, make those whisker lines and worn knees all by myself, all in high contrast indigo and white like you buy in the shops. But I'm just doing it by wearing. And not washing.
Indeed. The not washing is vital for the wear to be high contrast and look just right, so these have become my lockdown loungewear, my pandemic denim. I think I've had them on most days for 3 or 4 weeks now, airing at night, always wearing underwear and being super careful when I eat, drink and cook.
Dabbing a few light splashes turns a slightly damp cloth blue instantly, indigo really hates being on fabric. Big molecules they say, just sits on the surface of the fibres, ready to get scraped away.
Also fun fact, indigo dye is yellow, it's oxidation during drying after the dying process that makes it blue.
My intention is to wear these as much as is possible until life goes back to normal, or whatever the new normal turns out to be. I hope they look great, but I'm prepared for whatever happens.
"In my day, we just wore our denim" was a nice quote I saw a while back regarding modern overworked jeans and I'm doing that but taking it too far probably.
It's oddly fun though, seeing the lines come out purely by light abrasion.
It'll be so tense that first wash.
I can still get in this 80s pair. I seem to have grown about two inches since then, up the way I might add, not round the middle. Although, that's also grown…
Right, on with the wearing. More later.