WHW Kit Review 
I used these on one of my training runs to get the feel of them. I use poles on and off, the skinny ones (of which we never speak) have been a constant over the last few months. I like poles if I'm doing a distance as they do take the weight off, keep the pace and posture up and it gives you some thing to lean on and scrape cars with if they pass too close to you on the walk back along the road.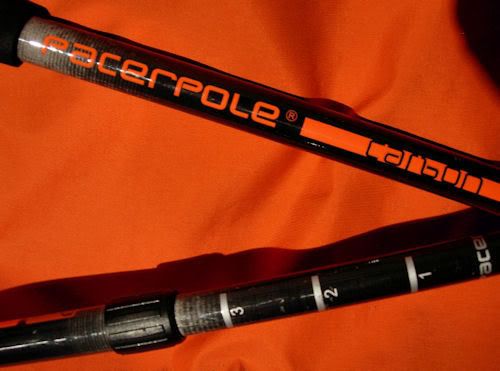 There's much been written and said about the Pacers, so Iwas expecting something. They're standard fare below, three extendable sections, twist locking with clear length markings. The carbon weave is very fine and the finish neat, some of the cheaper carbon poles do look like a travel rug encased in syrup compared to these. The tip is strong and they come with a variety of spare baskets for all seasons as well as rubber tip covers to make the ascent of Ft Bill High St less annoying for the locals.
The handles are what set them totally apart. Left and right specific big plastic ears they are. At first I thought the fact they weren't exactly the same shape as my hand would mean blisters, but after about ten minutes use I wasn't thinking about it. A light hold is all you need and they stay in your hand, it's the oddest thing. I walk nordic style with poles anyway they say, so the behind your step action with the Pacers was natural and they worked right away. Downhill is the same, natural and trouble free. In all occasions, the lightest of touches and they stay in your hand. Clever, or sinister.
They really helped (saved?) me on the WHW. I used them 3/4 of the time and maybe 120 miles in total to date. When I did carry them they were nice and light, and pretty short whjen collapsed, so I wasn't upset. And in my hand, although light they feel positive. There was no tripping or flailing around. Keeping a regular pace and pole action pays off, you get into a rythym, or groove even and you're away. If you're bimbling and occasionaly dabbing a pole, they're going to be wasted.
It's difficult to quantify the Pacers, if I said they felt like Pro-Poles that would sound pretentious. But they're more user friendly than that would suggest anyway.
I'll go for the Ford Capri of poles. Lets test those memories…