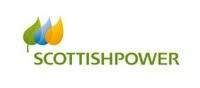 Behold! What we have here is Scottish Power's new logo which replaces the old purple and green prism thing that they had.
Now I can see what they tried to do, some kind of mild environmental alignment. But what it actually said to me the first time I saw it was "Here's the three steps to ultimate power".
From left to right: take nature; treat it with chemicals; set fire to it.
That's about right then?