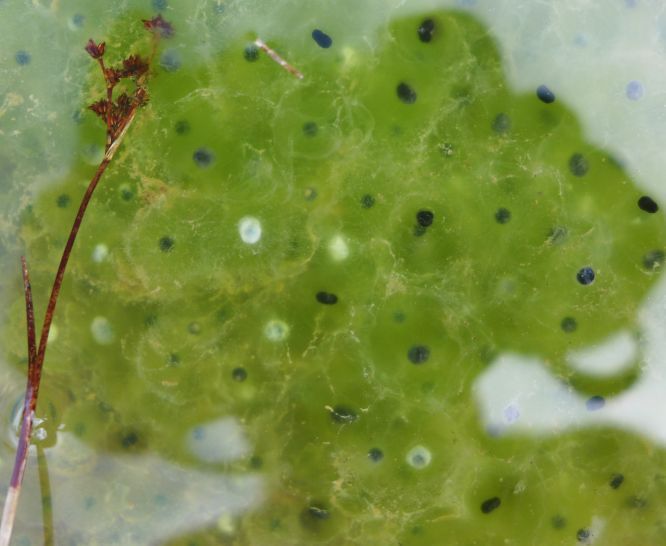 Having just filled in an official survey about my (six years!) of volunteering for the Woodland Trust Scotland at the Lang Craigs the wording of the questions and my own answers had me thinking about what it has all meant to me and all about what me and my small band of fellow rangers do in the Lang Craigs.
Now I say ranger, but the Trust want to call us wardens and I take extreme exception to that for a number of reasons, but Wikipedia can go first:
Exhibit A:
Ranger most often refers to:
Park ranger or forest ranger, a person charged with protecting and preserving protected parklands.
Exhibit B:
A warden is a person who has been entrusted with the oversight of something important to the community, such as a college, church, prison, wild game or firefighting.
As a ranger the folks I meet and chat with (which is everyone, it's me remember) see us as odd outdoor types who live in the hills somehow, foraging for food etc.
As a warden we're apparently the folk telling you to get your dog on a lead and trying to knock mountain bikers off their saddles.
This is how people see us, I've asked.
So, here's day in the life of a ranger or two.
The Lang Craigs is a big site, there's much more to it than the area immediately above Overtoun that's most frequented and there's a lot to do. There's also scope for using the tasks we have for other ends.
When I was grinding through equipment grouptests running the same long cross country deer fence route gave me benchmarks to judge like for like performance, something you just don't get using different kit in different places.
Today was another example, two youngsters from a local Boy's Brigade troop needed community volunteering experience and we love extra pairs of hands and eyes.
I'd helped build some bat roosting boxes and the first task of the day was checking some of them for occupancy, something that my buddy and fellow ranger Jo has the proper tickets for and I constantly rib her for, I don't care, Bat Girl jokes just never get old okay. She even has the tattoos.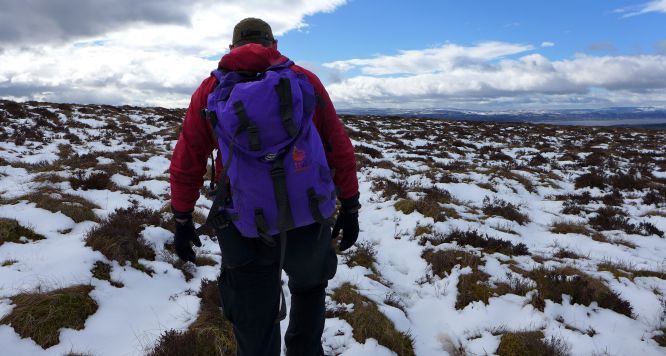 There's no such thing as a single task though, I'd already spotted a path creeping sideways because a wooden post was missing and a gate padlock was sticking. I'd already replaced it a few weeks ago, welding a new one onto a chain and it's away again. On the list.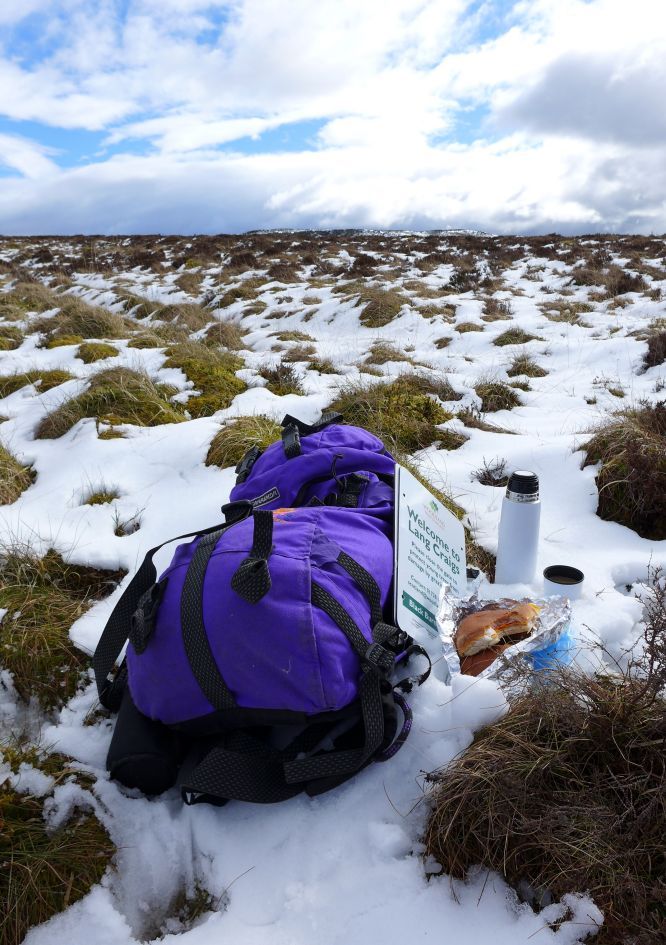 The sun and fresh snow made the walking up to the very top of the site pleasant indeed. It was cool, but just right for moving and even having lunch by the gate were here to work with didn't need an extra layer.
The sun was starting to win anyway, the snow was disappearing as we watched and it was raising water levels everywhere, quite impressively so in the burns and on the ground it made progress boggier.
Ben Lomond was looking grand, folks were having a fine time, I saw facebook that night.
The new metal signs fitted, the gate tested both ways to make sure if swung shut and locked itself we decided to follow the fence down towards Maryland.
I walk the deer fence to check for gaps, damage, animal tunnels but it is easy to tune out and miss stuff, there's around six miles of it, so extra eyes do help at times.
The fence is vital, the deer that get in could undo our work quickly by killing off the young trees, so preventing that rather than having to get the stalker in is the best option.
The enemies of the fence are the weather, regular decay of the wooden posts and more annoyingly local ne'er-do-wells cutting the wire to let the deer in so they can chase them with lurchers in a contained space.
Nothing is ever simple or straightforward.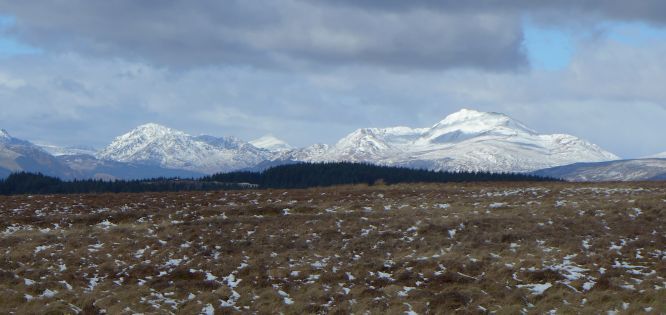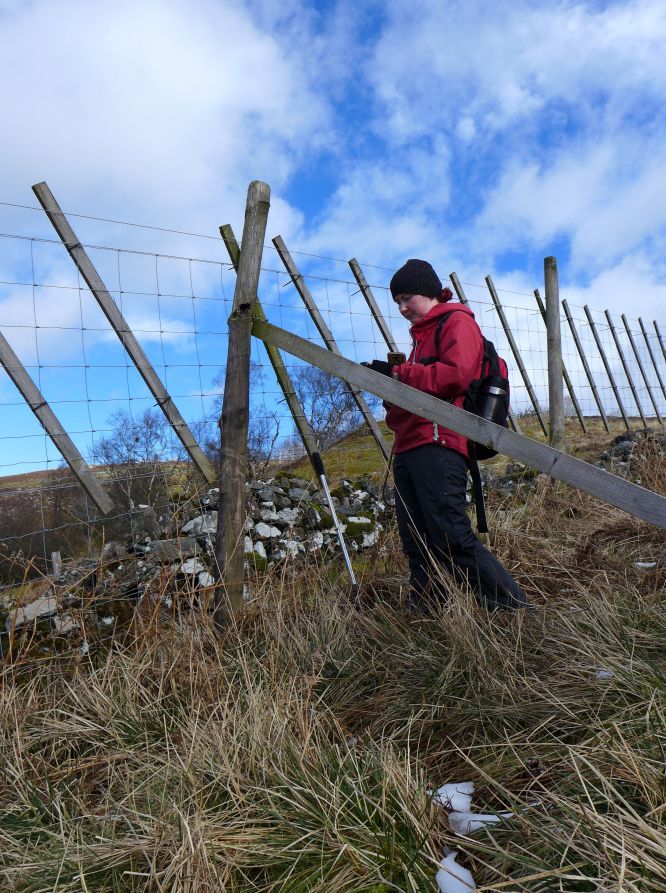 We did find some breakages, luckily not too bad so the fence tension and integrity wasn't compromised and it was the boys that saw it first, those extra eyes.
I was too bust route finding, we were coming up to a water crossing.
I usually carry zip ties and wire for these occasions so I can do some sort of repair, most times you see me up here my rucksack has more tools and spares parts in it than snacks.
Repair and maintain all you want, nature will always win, the tree that has eaten the original fence below will testify to that.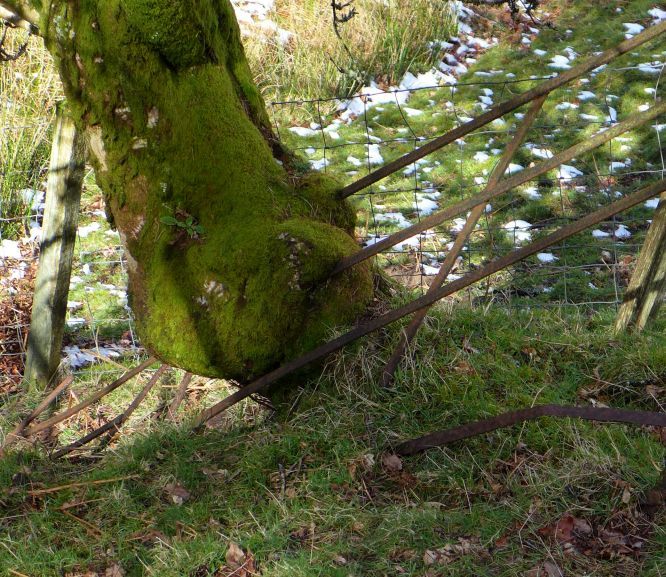 Water is friend and enemy. Every water crossing the fence makes is a gap that deer can get in and the free swinging wooden water gates that fill the gap between fence and burn need watching.
Even small burns have very mobile beds and it's surprising how big the boulders are that move down hill when the water rises and can jam in the gates holding them open for critters to get through.
I saw two gates today that need some attention but the water was too fast and deep to get in at it. I'm up here on my own most of the time and I know the score, safety first.
There's a lot of standing water too, and most of it has frog spawn. A lot looks healthy which is good, the early temperature rise would have messd with the frogs heads and there was lot I saw that was too early.
Saw a newt too, a fast wee bugger, never even got the camera near it. Lot's of life in the water, always worth sitting quite for a while, see what's moving.
That goes for the trees as well now I think about it, the bird life we see around them is ever richer and varied. On the way up a kestrel settled close to the path, sitting on a young tree sunning itself seemingly oblivious to us and the red face grinning bloke with the huge telephoto lens pointed right at it from just 20 feet away. It only swooped away when its audience got bigger and boisterous.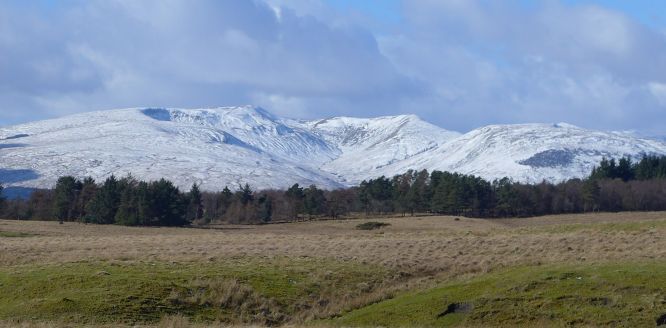 It's a lovey spot here, quiet and the views are magic, the Luss hills just a hop and a skip away. There's a rough trail to here but no proper path, the gate here must be one of the least used on the site, but it's still gets checked. Lots to find beyond here, ruins, ancient cairns and cistes, the Kilpatricks are so overlooked and yet you can explore or lose yourself up here as satisfyingly as anywhere further north.
The sun brought out some of the locals. A big meaty bugger was this, I'm sure he'll turn into something graceful and pretty before he gets eaten.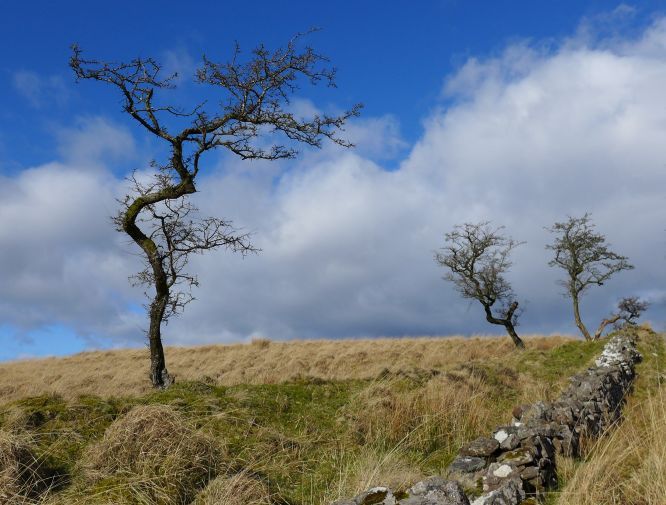 I was just looking around me now as the team checked on the endless collection of bat boxes in the woodland. Standing around I became aware of the colours and patterns in the water and on the trees. It was all rather striking and I felt like I'd never noticed it before. maybe it was the perfect light to see it, maybe the furry trees brought it out, maybe I just had the time see it properly today.
It just shows you, there's always something new. Big or small it doesn't matter, the joy is the same.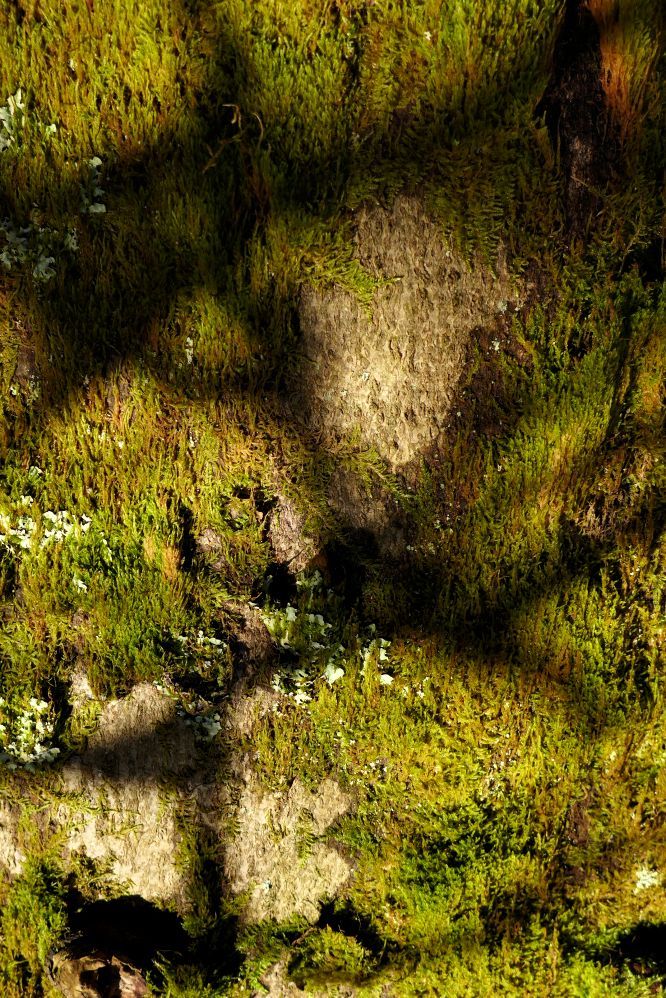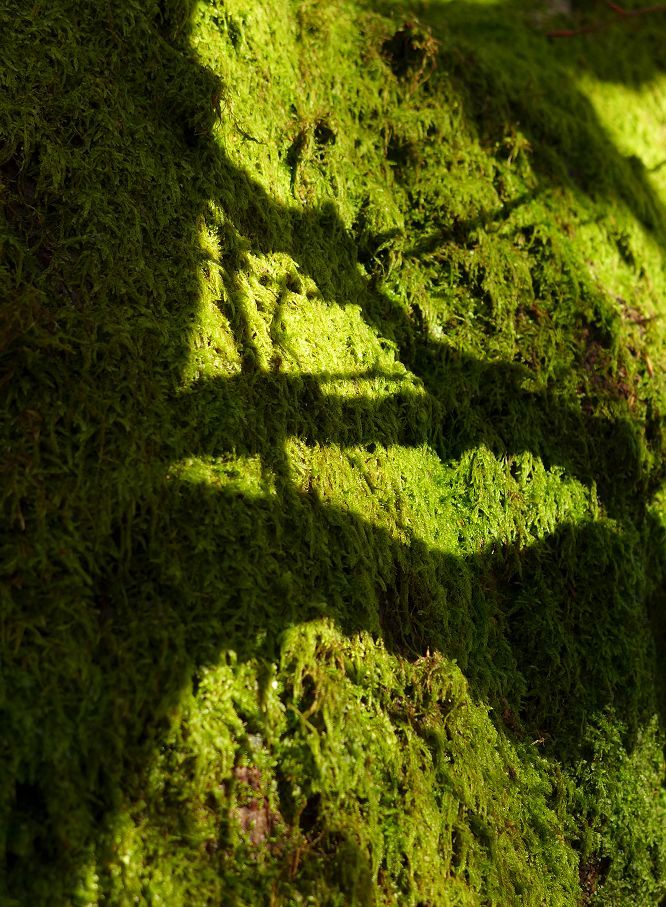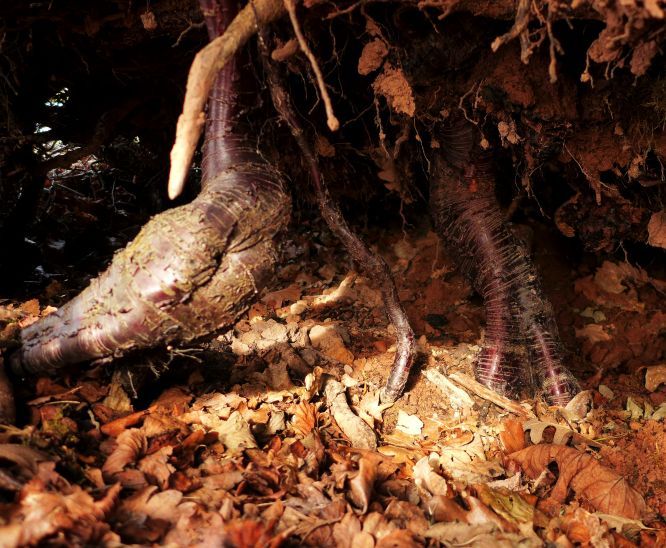 I loved the sci-fi roots of the partly keeled over tree. They wondered what the hell I was doing lying on my belly with my head underground.
Nearby the Starfish Bunker made for a fun wee diversion, although the water went over the top of everyone's boots. Deep in there today.
From front line WW2 defences to crumbling hillside curio, it's worth a visit.
The flat top made a great snack stop spot as the cloud moved in a little. I could see some slightly tired faces and a long way to go if we stuck to the original plan.
Plan B would be much more fun. And quicker of course.
Never has a tree fallen so serendipitously. I tested it, I threw my pack over so I kinda had too and it was fine, well grounded and jammed in tight.
The spikes made the traverse a little tricky, by no cardigans were snagged and the primroses on the climb back out of the glen calmed everyone back down.
The burn as seen is why the water gate had to be left for another day. Standing in the middle of that pulling at boulders, aye, good luck with that.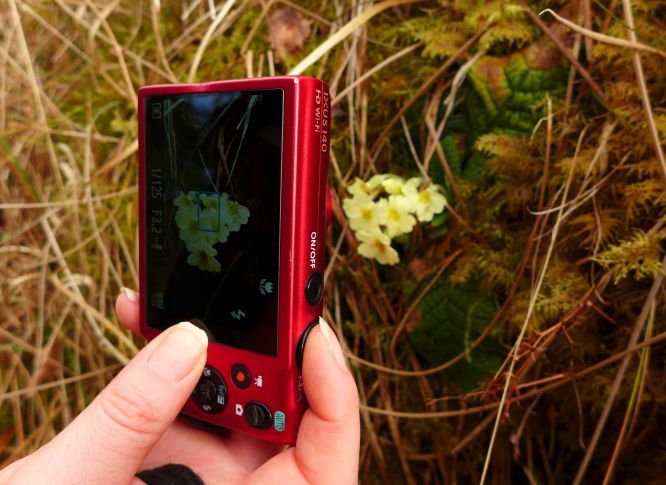 A last rest stop by the Scots pines of Black Wood and views to the Arrochar Alps before getting back onto the well trodden tracks to our final tasks of the day, a couple more bat boxes and some dog poop warning signs on the gates.
We can't catch the dicks that leave their poop bags at their arses or hanging from trees and hit them with a big stick so we'll threaten them with a fine instead. It's something I suppose, but you can't fix stupid so I don't know if it'll have any effect.
We were on the hill for six and a half hours, not a bad day out especially for the youngsters and although were doing work and stopping here and there it shows you the scale of the place and the possibilities there are for getting out there and really exploring, even just within the Lang Craigs fence line.
I had a great day. I love this place dearly and I love what I do here, on my own or for the Trust.
I'm not an hardcore eco warrior or a tree hugger, I got into this because I wanted to make sure they weren't going to ruin my hills but my motivations have definitely evolved over time.
The Woodland Trust seem to be doing the right thing most of the time and because of that the recent purchase of Ben Shieldaig brings me joy.
Volunteering is what you make it. Your motivations for doing it are important, if you get your reasons right it's rewarding, fun and you get the occasion free lunch. If you're looking for something more you're in the wrong place.
Although these sites and their regeneration cost big money, there is no money in having them, no profit in preserving our landscape.  What we do is important, it keeps the Woodland Trust and many more bodies running but more importantly by extension it helps keep the bastards from building wind turbines and digging hydro schemes into our scenery.
So when you see someone threatening the hills and forests with development and think "Someone should do something…" we are doing sonething. Come and help.