Now, I was looking for my post on the show to link to something else and I couldn't find it. I wrote it, I put the photies in it, where it is now I have no idea. Maybe I didn't publish it and it went in the trash by accident, maybe it got eaten by blog locusts, whatever, it's gone and it's not coming back along with all the information in the text, for which I don't have the notes I took at the show either.
So, what sparse text there is below is me totally winging it. Some stuff I've covered again since so it's been left out, and the rest? Lots of colourful fabrics to bring us joy.
I was there for just the one day, it's a big show and a bit of my time was taken up as a judge of the Novel Awards so I visited some unusual stuff, some some familiar faces and saw some good stuff.
Right at the main hall door were Harvey Maps and the girls were my first visit of the day. Some of the plans we talked about are now coming together such as the British Mountain Map for Glen Lyon, Lawers and Schiehallion.
It's a small company full of expertise and enthusisam for every aspect of what they do and they make the best maps for the mountains.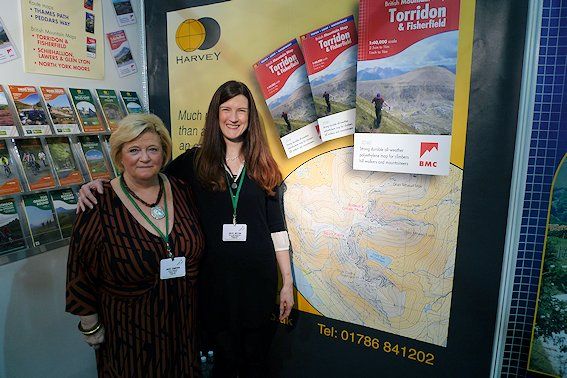 Haven't seen these guys for a while and there's been stuff going on at OMM. The revamped Villain above gets some colour in amongst its refinements and reinforcements and the long awaited winter MSC is hanging next to it. It's the front mountain pouch, usually a zipped mesh affair but this alternative is in dyneema with a bigger capacity. Nice.
Below is a development of the Trio front pouch, bigger with a more usable map sleeve. Writing this has reminded me that chest pouches are great, mine will be making a comeback. 
That's the 75 Sonic smock above in Pertex Quantum, long arms, active cut, orange zip. That's the boxes ticked.
That's the Rotor Smock below on a man in need of breakfast. Pertex, Primaloft, 280g. Insulated smocks are a do-it-all piece, every home should have one.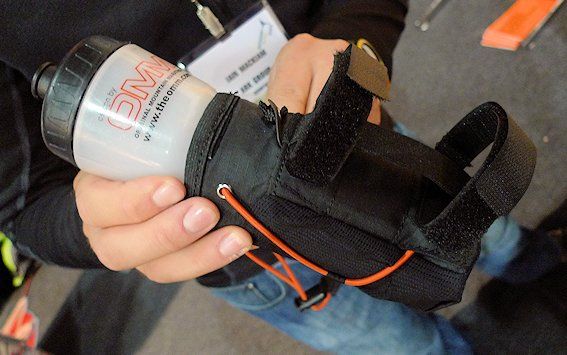 The OMM-I-Gamy (change the name please) bottle holster gets a makeover above, it's a better bit of kit for it. These wee things make the difference, bottle holsters stuck onto shoulder straps convert a comfy pack that you don't use as it's got no external pockets into a firts choice for putting in the miles.
Below is the nice wee (H)Eat Insulation Pouch from Optimus. A wee bit of luxury for camp and if you buy two you'll have pre-heated mitts after dinner.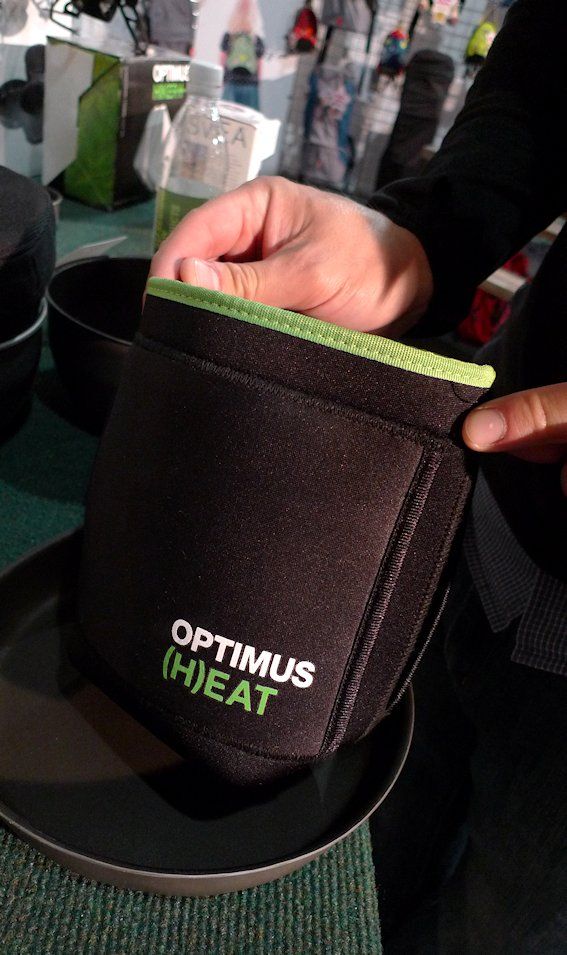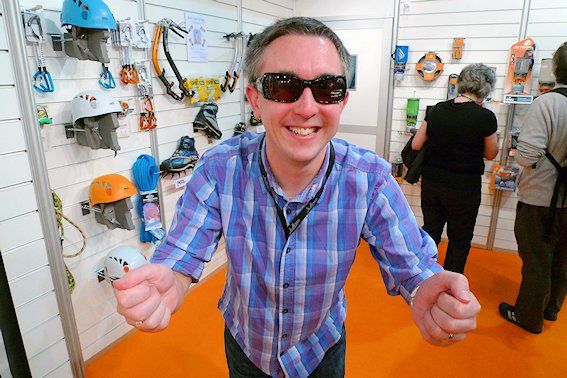 Si at Lyon was wearing some 1960's movie star shades from Julbo. Good effort for sure. No less eye-catching was the tinder-on-a-rope from LightMyFire below.
Aye, it's going to be a gift for the outdoor person in your life more than anything, but the resin-crammed wood is the same stuff I've used before and burns like toast in my mothers toaster. ie instantly and comprehensively.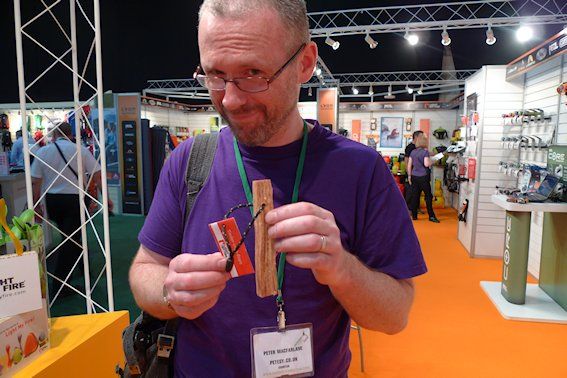 Nice little waterproof first aid pouch from Ortlieb below. It's a little roll top type of thing and will keep that triangle shaped bandage mildew-free during it's years in your rucksack.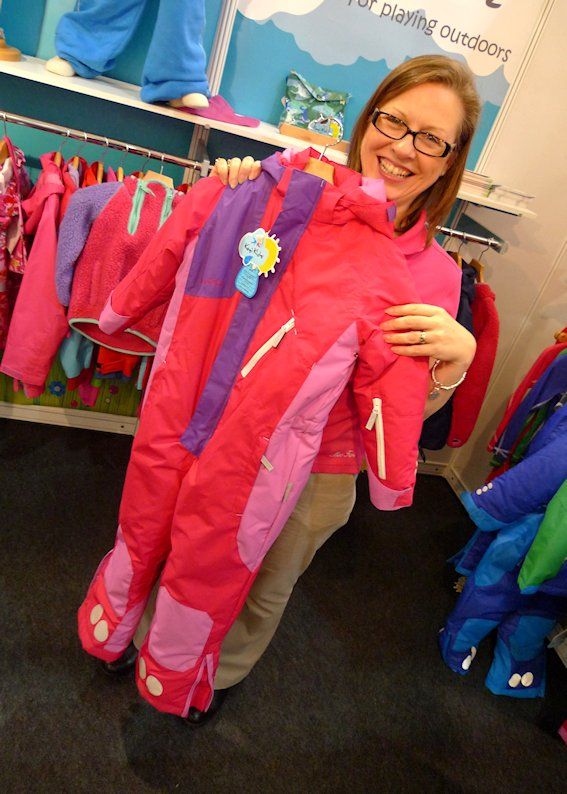 I like Kozi Kidz as it works, the design is good and the range is evolving, quickly too, as the lack of hood adjustment issues I had a round a year ago had been addressed when I saw these samples last year.
There's a real joy in the kit, it doesn't sell your kids short either with good fabrics and real performance. I think it puts some of the grown up kit to shame.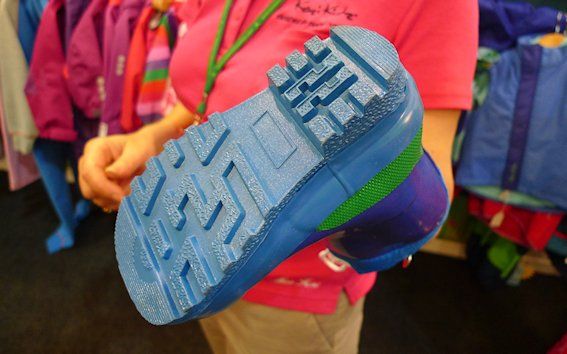 I want one of these fleeces for me, it's like a very early Karrimor Alpiniste. Maybe?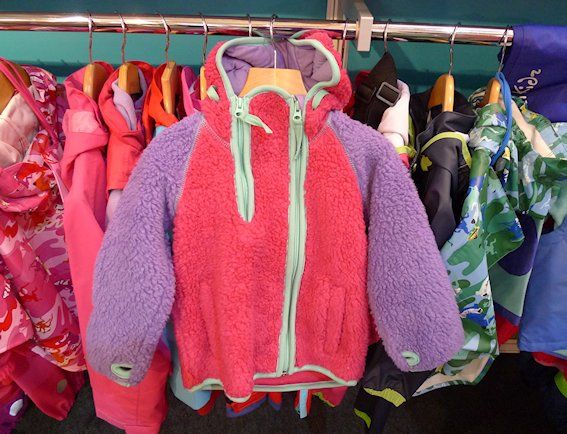 Accessories too, sou'wester and mitts. Colours. yes please.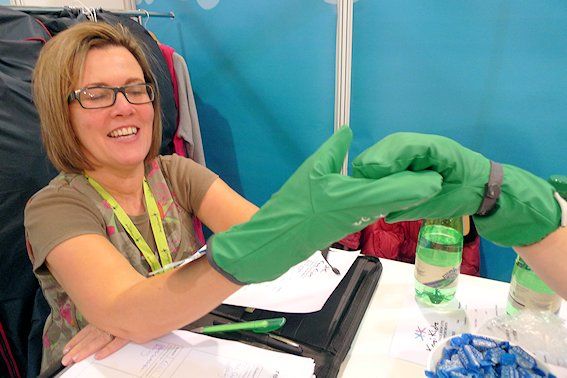 Even Auton children deserve to have fun in the outdoors.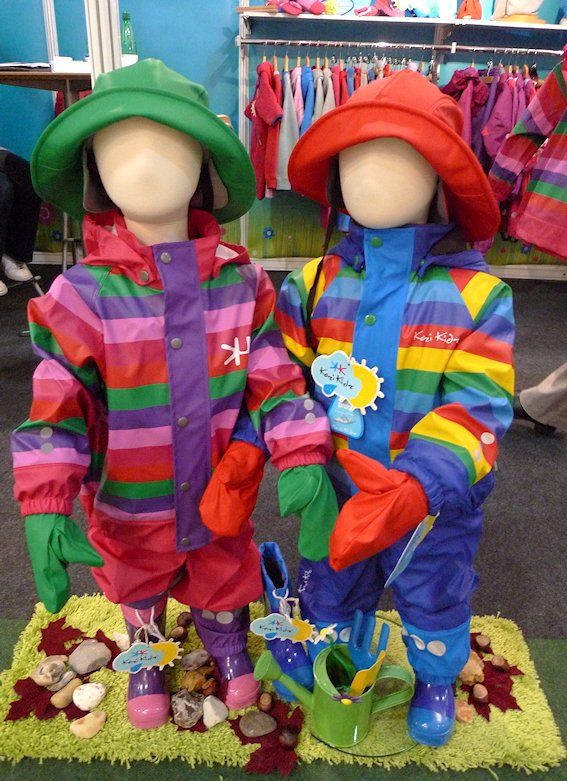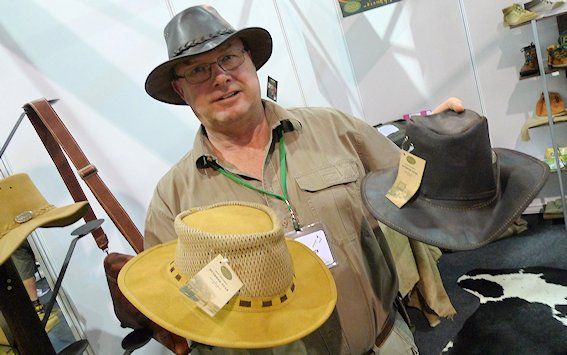 This stand really caught my eye, Rogue, a safari/outback brand from South Africa brought to the UK by Kendrick.
I liked it because it's all natural materials and old-school design, purely practical. I've got one of that hats above (it has been seen on here) and a leather brimmed hat in that rain is a delight, feels like being in a movie as water drips from the brim and you eye the scenery for elephants, tigers, nazis, hidden entrances to ancient temples.
Pigskin gaiters is what that is below, lovely and soft and would mold to your shape in use, I wonder what the longevity would be in a hill environment?
Sole Exhales in purple? Damn.
That's Alun Stone Deodorant below, a crystal you rub in your armpit and why not? No can or dispenser to dispose of, you just get a nice little jar to keep paperclips or captured spiders in.
X Bionic were there and had the jacket above, the £1K ski jacket made of fairies wings, platinum thread and proofed with the tears of angels. Or something.
Below are some surprisingly regular looking pants and some baseball jersey style base layers. A good idea I think as a lot of the range looks to strange for some folk who would enjoy the comfort otherwise. 
Smartwool were there in force and I seem to have taken a bunch of odd close ups of the kit. So above we can see the complex knit of the fabric on something, lighter and should dry quicker by the looks of it.
I think below we're looking at a sculpted wrist cuff on a girls' top? Answers on a postcard…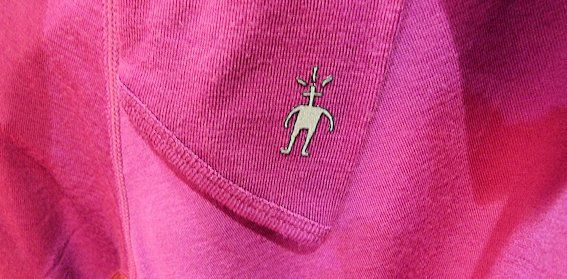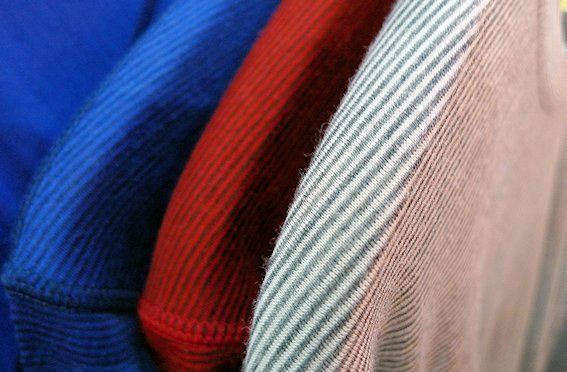 Nice fine stripes on some tops above and below the shirt is part of the new active range. Since the bikewear's been canned, some of the designs have been morphed into more general sport-angled kit. You can tell I liked this because I can remember it.
Casual print t-shirts and heavier-weight midlayer. Merino midlyers are great to wear, just heavy to carry, so agood choice for the cool days. I've had one on test over winter which I'll talk about soon, I was expecting one thing and got something else altogether, a cardigan.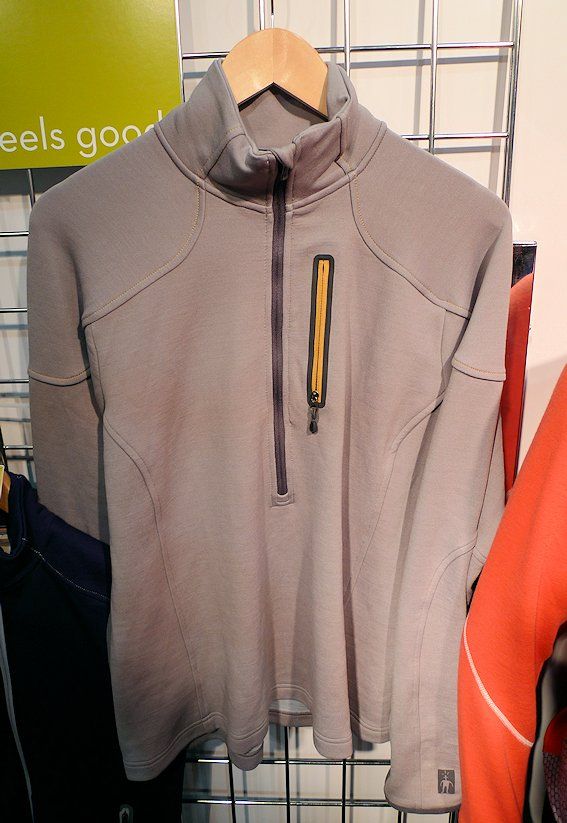 Proper tech midlayers and the fit is great. The TML Full Zip Hoody has been well received over winter with good sales apparently and the hoodless versions below and a wee back up above share the same fit but just get stripped down in features.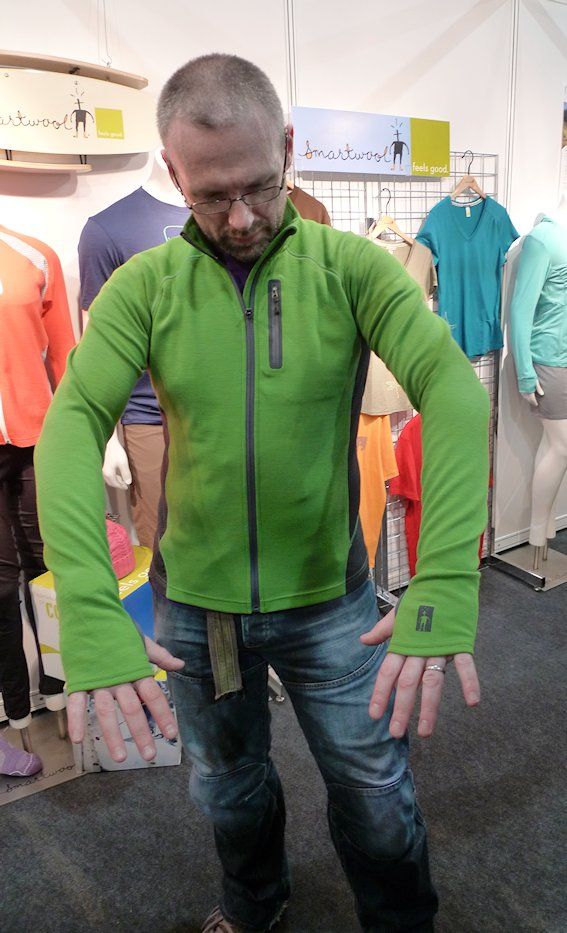 Green merino boxers. What joy.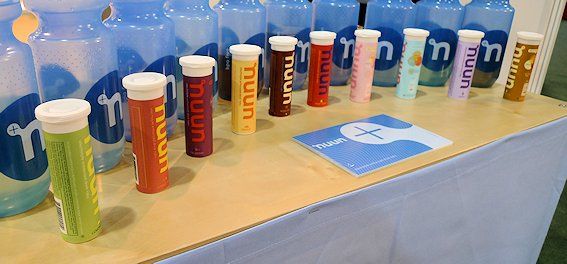 Nuun have reacted to the emergence of the likes of Zero with a revamp of the range, new flavours and new packaging.
Klean Kanteen should be more widely available in the UK this year with proper distribution. Good product.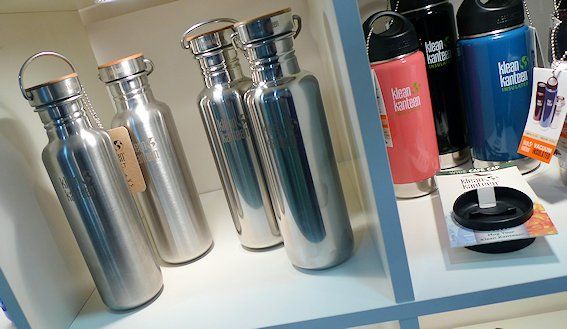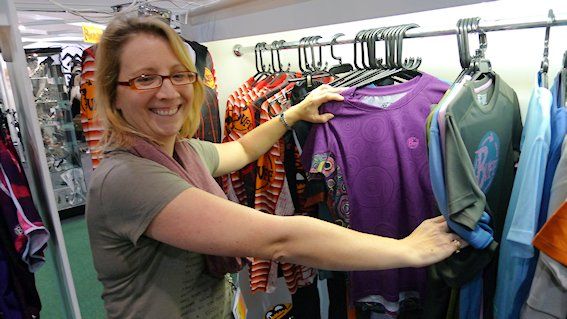 Got a look at the Buff clothing, but this was late on in the day and after my sleepless night in a crap hotel what we mostly did was sit down and look at some of the samples that I've featured on here recently.
I think for teamwear especially, Buff make a good option as the colours, fit are spot on for a ride, a run or a photo opportunity. Still, the regular Buff is king.
The Novel Awards was an interesting thing, the very much deserving winners here and below, the discussions about the entries will live with me for some time. The panel was diverse, a good bunch of folk, full of experience and opinion.
I wasn't alone in my standpoints, but to sum up where the majority are still at in the UK media:
"But these don't have ankle support"
My reply:
"That's what your bones are for"
The reaction was mixed.
A good show and a big show, I could have filled the three days easily. I missed a lot of interesting looking stuff and bypassed some wheel-spinners too. I wonder what will end up in the shops?