I've used Optimus kit plenty over the past couple of years, in fact the pots have been a constant because of the level markings and the brilliant long, plastic-covered handles.
There's been some product updates, and I've had a wee look at some below.
Above we have the re-worked Crux stove. It's foldiness (foldingosity?) makes it a nice flat shape to pack, but it was a little on the wobbly side where the sliding collar covered and supported the joint. Now though it has a new collar that's a wobble banisher. Good call.

Another useful addition is seen above and below is a heat exchanger version of the pots. Below is the HE version of my current favourite Terra Weekend pot. The heat exchanger has a zigzag internal structure to maximise surface area and heat absorption, and adds only a little extra height to the pot. Good from a stability and pack-size perspective.
You'll see the new thicker green handle coating as well. easier to see, and won't let water in between it and the metal bit of the handle! The regular Terra Solo is the wee one next to it for comparison purposes, and you'll notice the it has a spout and the Weekend HE doesn't. We'll see if this makes a difference later.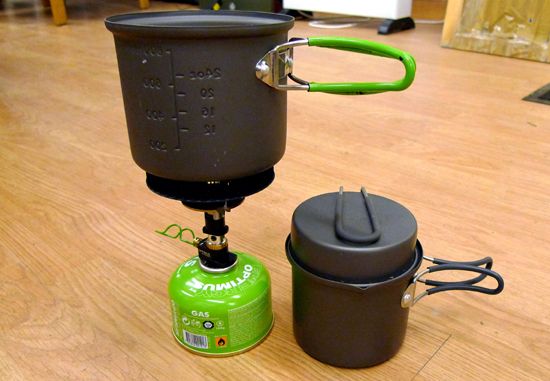 Above is some of the bigger pan-sets, and the matching handle with the nice matt finish. Much easier to grip than those shiny horrors that I used to struggle with. A wee glimpse of the new big-logo branding on the bowl at the back too.
Below we have my replacement Crux Lite and the first use of the Energy gas. These will be a constant and I'll have words about them in the regular gear updates.