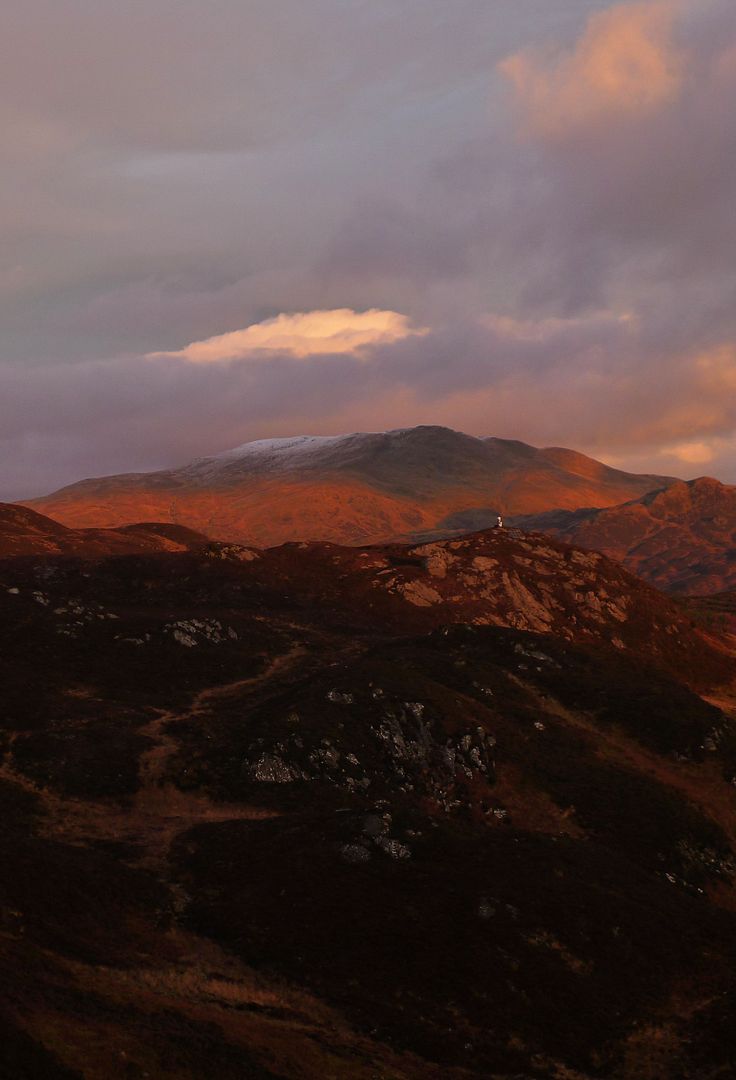 I'd had a return to Ben A'an in mind since a pal had been and his photies inspired me to go back despite misgivings around the gentrification of the access.
While I can't quite remember "when this was all fields", before this wee peak became one of the first places to open up after the foot and mouth epidemic of 2001 there was only some average erosion on a well defined single path to the top. Once literally everyone and their dog descended on it, the now familiar deep trenches that have also become water courses soon appeared and it broke my heart.
This was a place to run to after work, a quiet corner, a mountain you always had enough time to touch the summit of and get home at a decent hour. Maybe that's the very attitude that doomed it, it's accessibility and genuine loveliness are like a magnet to many of us.
My last visit was years ago now, before any of the forestry and path building had been done. I'd driven past many times though and cast a wary eye up the slopes, it was time to go and see.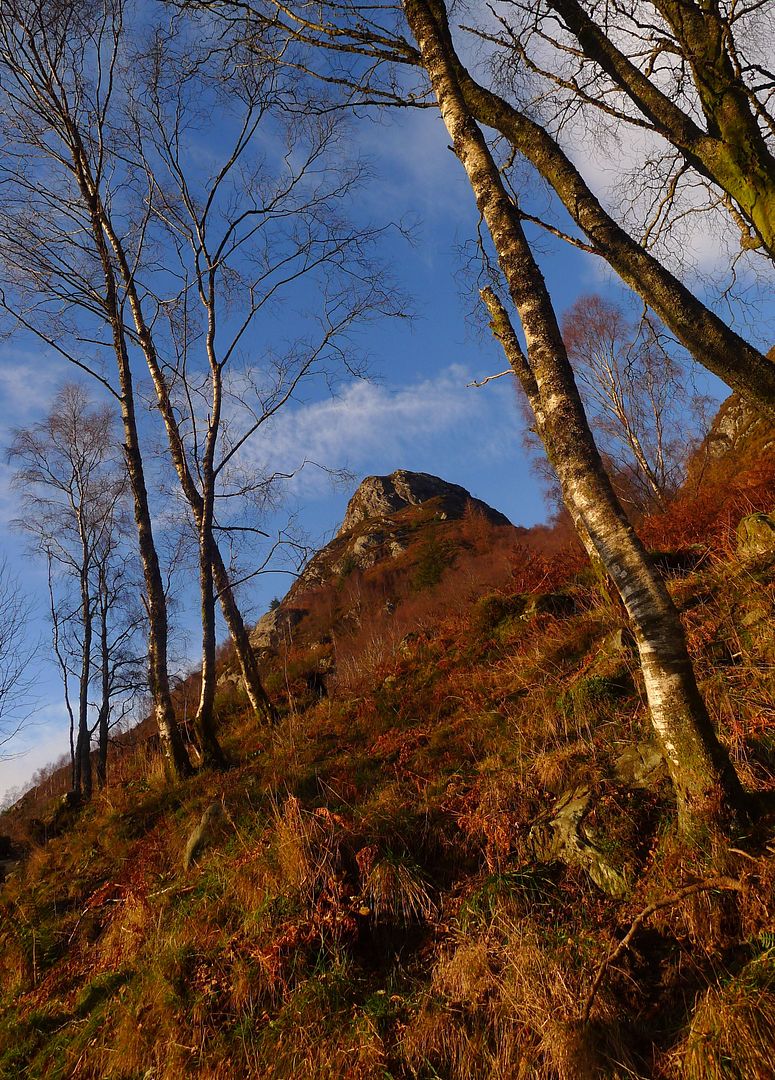 The car park used to be a muddy gap in the trees, now it's extended, surfaced after a fashion and you pay for using it. No problems with that as long as the money is going to where we'd hope it would.
Crossing the road is the same, the first ascent by the wall is the same and then where you would chose to walk to the left on the muddy path through the big trees or to the right above the burn through an odd avenue of young birches it is unrecognisable.
The new paths are nice enough and carried me uphill easily and quickly but I just didn't know this place anymore. Higher up what used to be forest and mud is now treeless scrub, the huge domed rock sitting high above the burn now lies in plane sight, no longer a secret side mission. Nothing of the old path remains, it's darkness, the branches laid across the stretches of bog to tiptoe across, it's scattered hints of the fine wee rocky peak above.
It was lovely to be there in the evening light, there's no denying just how fine a walk this is, but I was still sad for what once was. It was dirty, awkward and fun, the new access is a soulless garden path and this wonderful wee hill deserved better.
But when I reached the little coll with the big boulders is was 30 years ago, the trees were still here, the path was the same and the view was just as I used to see it. The grin was back.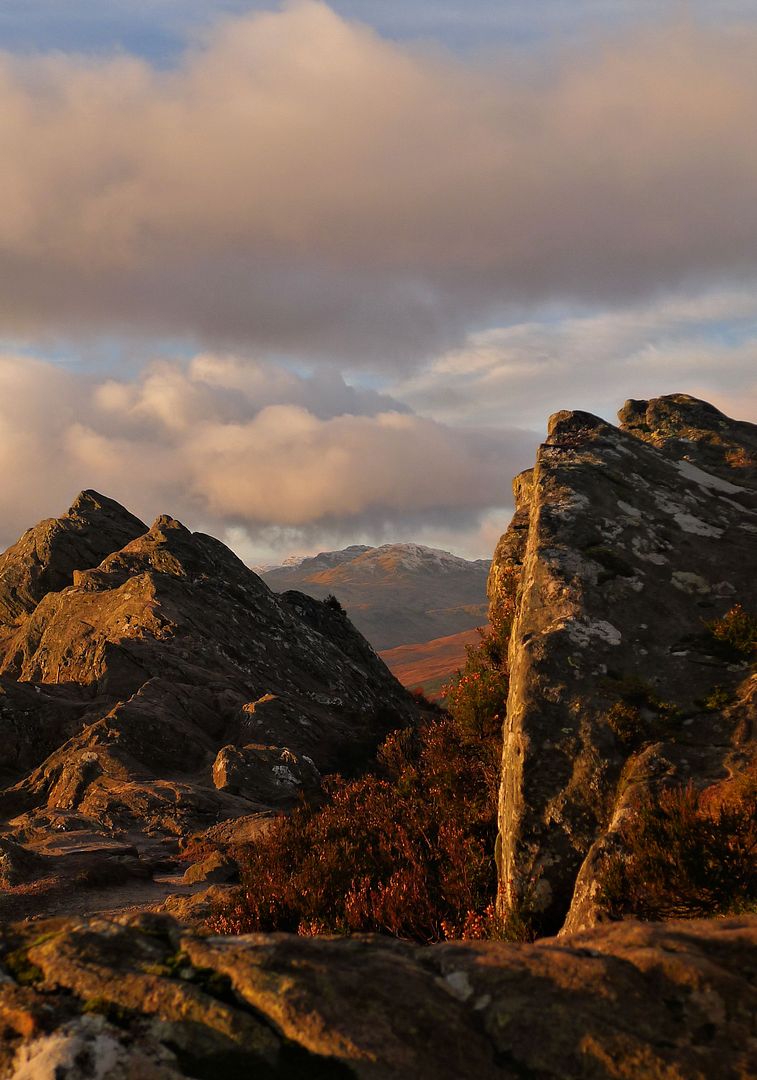 The erosion is worse than it was but I was expecting that so I really wasn't any more disappointed. So much soil and loose rock has been washed away that even more of the path is on bare rock now. Just look up and around instead?
Near the top there's some broken fences and torn signs trying to guide visitors in certain directions, obviously to let some sections of path heal a little. But these things have to be maintained to be useful and I had no idea what a sign pointing up at my face wanted me to do so I carried on in the direction I always would. Maybe the should charge more at the car park and they could afford better signs.
It was gorgeous in the rocks and cold too. The views are fantastic for the modest height and I soaked it all in with a cuppa in a nook in the summit rocks.
While I couldn't ignore everything I'd been taking in on the way up it didn't diminish the joy of being here again. It's a magic wee peak and I'm kinda sorry I left it so long.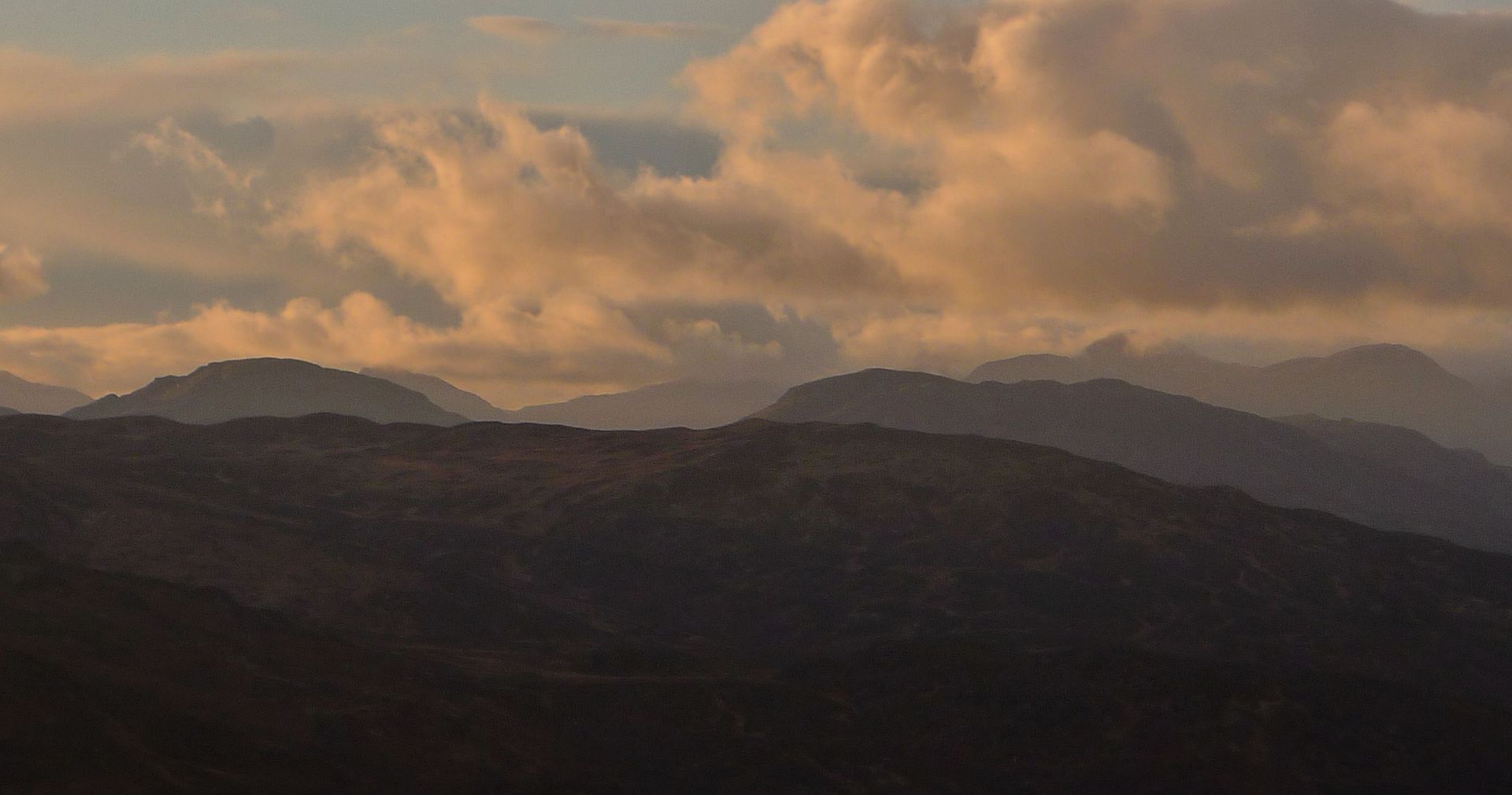 I could hear some voices somewhere behind me and then footsteps carried the voices downhill. I popped out of cover to see what the light was doing and found one other like minded soul remained and was doing the same. The poor bugger had no escape and the banter ensued. This was Beth and as I found out later she takes a magic mountain photie.
We chatted hills, gear and weather until it was plain to see that the light was going, there wasn't to be anything spectacular to snap and it was also getting properly cold. Beth packed to go and in a clear moment of situational awareness I said I'd hang back for a while in case the stars came out and I'd still get some shots.
This was rubbish of course, I was freezing and wanted to get home but I didn't want a lone woman to feel uncomfortable walking down into the dark with a strange chatty bloke that had appeared from behind a rock.
It makes me as sad as it does angry that we have to think this way. Mankind, and I do mean mankind has such a long way to go. So many stupid bastards out there and I have a teenage daughter going into the world who has to deal with them too.
I enjoyed we wander down in the dark, actually is was more of a skip as I tried to heat myself up with a quick pace.
I think when I read this back to halfheartedly "edit" it, it might look a little negative in tone. I don't mean it to be, new feet on Ben A'an will find it as it is and they love it.
Change can be a difficult one to deal with, destructive change more so. But now we're reacquainted, I'll be back, there's still lots to love on Ben A'an.