Me and Joycee had a wee cut about the Kilpatricks on our own for the first time in quiite a while. Granny said "I'll have Holly this evening, on you go" while pushing us towards the door. "…but Mother!" says I to no avail.
It was nice indeed. A quiet, clear, warm evening without a soul in sight. We wandered for a couple of hours and eventually sat on the top of the Lang Craigs and watched the sun go down with a picnic of Honey Stinger protein bar and cola flavoured Nuun ( I was already packed for a trail run you see. Ah what the hell, it tastes mighty fine).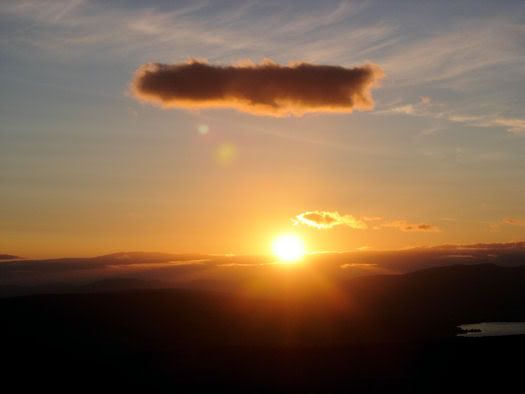 Holly was of course out for the count when we got back and the whole car seat, jostling, faffing aspect of the short drive home didn't even register. I told her the story of the sun growing an eyebrow (see above) this morning, and she looked at me as if I was daft. And quite right too.