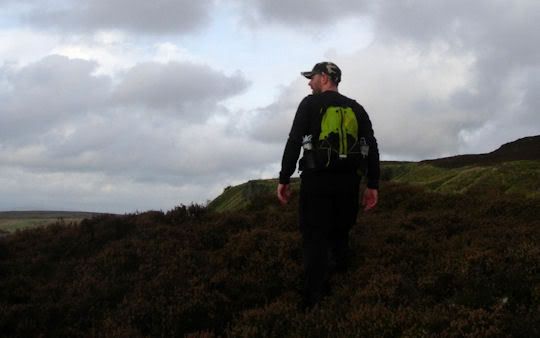 I hadn't realised quite how much I relied on my regular outdoor activity for my mental and physical well being. I went from being out and and about every couple of days to being in the house for almost three weeks straight.
It did not go well. I've learned something about myself from this. I'm still not a "Have to get to the hills, my soul needs fulfilling, ohhhh…" sort of bloke. But, I need the excercise, the air, the wind on my face, my feet on the ground, the clouds passing above me, the views, the dirt and the sweat. I was out today and although I'm out of condition, out of breath and I've done less miles than usual I feel so much better for it.
I feel like I've missed more than those three weeks though, the colours are different, the air is colder and damp. The winter damp that you breathe in and no amount of layers can stop you from feeling its bite, it's far from full strengh, but it's there.
I took some test kit with me, the '09 Terra Nova Laser 20 pack and I wore the Montrail Hardrock Mids as well. But they weren't intrusive as they both worked well, and that was very important. Gear has become such a focus I had been wondering if it had become the priority. It hasn't, it's still just a step ladder that helps you get up to the box of joy sitting on top of the wardrobe of day to day drudgery. It's just that some gear is a slippy topped kitchen stool, some a big wooden step ladder covered in paint and some a neat wee aluminium set of folding steps. They'll all get us up there of course, but I know which I'll still be reaching for.