In a previous life I tested outdoor gear, a subject which I will come back to at some point, an activity which kinda stopped me using my favourite stuff as much as I might have done. So when it came to digging deep in the vault and looking for my comfort blankets, my old red Laser Comp was the thing I wanted most.
My favourite tent of all time, not the model, just that particular tent. A beacon of joy in the dark, a frequent summit home, a reliable companion on many solo wanders, I needed it right now and for some reason when I found it, it was tied in a knot.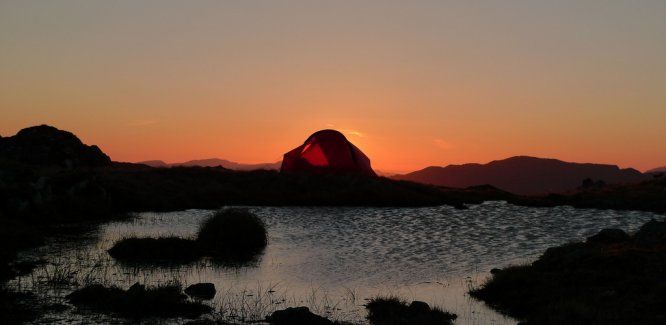 Why did I tie it in a knot. I'd obviously dried it after the last trip, it was clean and odour free, so what the hell was I up to. I turned over in my hands, the DIY dyneema guys hanging like tentacles on a skinny unconscious octopus. Perhaps the octopus was drugged. Who know what unsavory characters octopuses attract with their funny eyes and slinky movements.
Anyway.
I held the fly up to the light then tugged at ever cord and every stub of webbing one at a time until the obvious was in my hand. Dammit. An easy repair in my sewing machine, but not tonight. I should have done it at the time. Idiot.
Still, another old favourite was pulled out, the hole in that hadn't gotten any bigger while it sat there doing nothing, so it'll be fine. Probably.
Now onto stoves, let's see… Oh, crap.
Yes, I made it. Holly had awesome stuff in her toybox when she was little.
Ah, if only maintenance was as fun and fannying about with Plasticine.