After a quiet year on the gear front, OMM is coming back with a bunch of new lightweight kit.
The pack range will stay much the same until 2011, and the brilliant new-style Kamleika models also remain, but there will be more clothing options now to make OMM a proper multi-use one-stop brand for lightweight outdoor pursuits.
Above is the new Radian Top, a mix of Polartec 100 microfleece with a lightweight stretch softshell running around the sides, the underarms arms and making up the cuffs as well. The is gives it a close fit and maintains free movement. The main zip is long for venting, there's a single chest pocket and thumbloops which create semi-mitts for good hand coverage. The weight is 300g.
Below Iain of ARK, the new owners of OMM, is holding up another colour option and a wummins-fit version in the pale blue. The zips on the his and hers versions will be orange on the black production versions.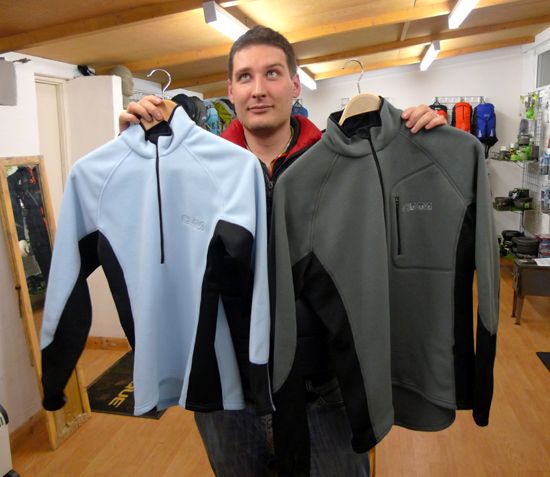 Below are the new blue versions of the Kamleika Smock (260g)  and Jacket (300g). It's not a cobalt blue, it's got a bit of paler ice blue mixed in there which I like as it's a little different. The blue water resistant zips are very subtle too if the back with orange zip versions are little to punk for you.
These current Kamleika models are fantastic, the new fabric is much better than the original and the looks are much easier on the eye. I've been using a smock for months and I'll have an update coming up.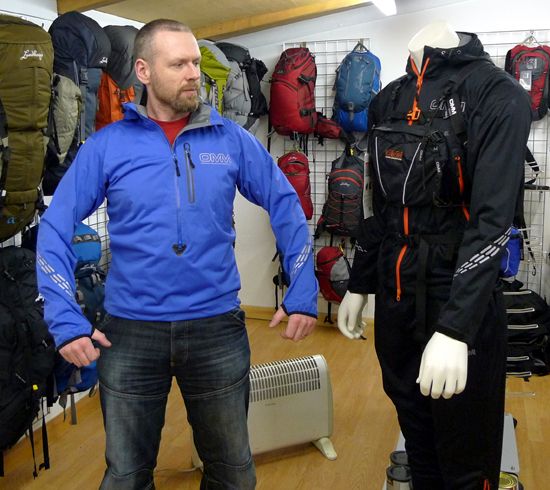 That dummy was taller than me even though he didn't have a head. That's disconcerting.
The big news is that there will be two eVent shells coming later in the year, the Cypher Jacket (280g) and Smock (240g) as seen below.
The Smock is very minimal, single pocket, lycra cuffs with thumbloops, fully adjustable hood and water resistant zips. There's very few seams in here, and couple that with the eVent fabric and it's about as breathable as a membrane shell is going to get. The arm and body length are good too.
The jacket had velcro adjustable cuffs, two front pockets (which will slide upwards onto the chest for the production model), and both models will come in the yellow pictured or black with orange trim.
The detailing is also good, zip garages, soft-feel face adjustment, and reflective logos and printing feature on both.
The Finch down vest will be back and improved, with 800 fill, sizes from XS to XL, elasticated arm holes and Pertex Quantum shell inside and out. Weight will be around 260g. The colours will be black, yellow or bright green. Photie below of the orange and black version just in by Pony Express!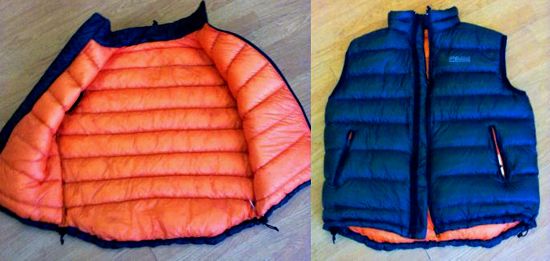 We've also got the Rotor Smock, a Pertex Quantum shelled, 40g Primaloft One pullover. It has a zipped-tunnel front pocket, velcro adjustable cuffs (a rarity on similar tops), weight will be around 280g for a size large and it'll be black with orange zips.
Most of us know how good a piece like this is to carry and use, this along with a down vest and you're king of camp comfort all year round.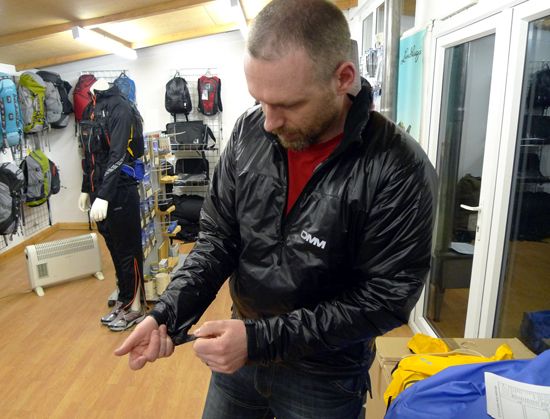 Below is Iain again, now wearing a different Rotor Smock sample, this has the right coloured zips but has an extra chest pocket that won't be on the production version. He's also wearing the stretch fleece Radian Beanie which I didn't see or I'd be sitting wearing it right now.
The weights above are all provisional, but are looking good, and there's a bunch of other stuff in the works across the range which we should see emerge next year, new packs, updates to old favourites too.
It might be a new start of sorts for the brand, but it's a strong one. I'll be testing some of the kit and let you know how it performs in its natural habitat: oot there.