As the OMMitself is in full swing, I'm at home out of the rain taking photies of the new Kamleika Smock.
But, although the smock's not long arrived I've managed to get a bit of testing in already.
It's pretty much all-new. I saw this new version grow out of a mix of user feedback and new ideas, and all the issues that users had with the old version have been addressed.
The fabric is a new Gelanots variety, slightly less stretchy, with a new outer face that no longer traps water. The inner has a coating which helps with condensation management, and also it isn't white anymore as that apparently frightened people who believe that waterproofs had to be a shade of grey inside or the  wearer would surely be eaten by bears in the forest.
The zips are water resistant (and orange), the main zip being double ended for ventilation and access, the single zipped chest pocket now being sensibly on the outside.
The hood seems to have been tweaked from the pre-production version we saw back in February and in general the smock is leaner, still plenty length in the arms and torso, but now slimmer.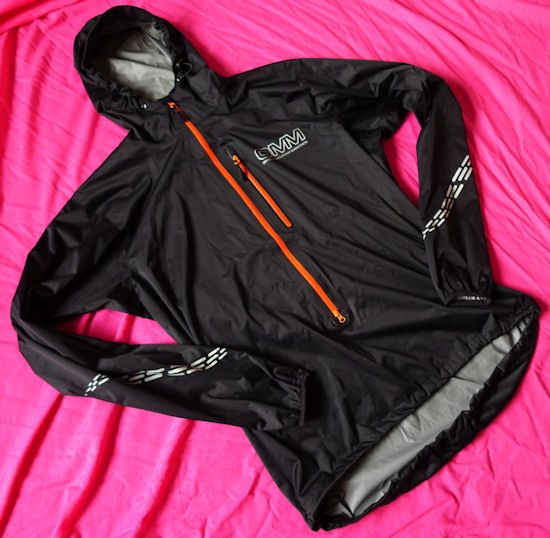 I've worn the smock on the bike (with the hood rolled up as below), where teamed with the Kamleika pants it was spot on. The slim fit is ideal here,  no extra fabric to flap around and water just runs off, and I also found that the DWR is very good. Freedom of movement is exceptional, which when carrying the bike on my shoulder over the tear-inducing lochside track was very welcome. No riding up either, slim-fit kit just stays put.
It's festooned with reflective detailing (the drop tail is seen at the top), which as well as woring well, around the arms it adds to the new sexier look.
It's early days, but it looks better, feels better and performs better than the old version. I'll be taking it into the mountains and we'll come back and see how it's done over the long term.