The OMM chest pouch has been a revelation to me and many others since it was released at the beginning of last year. I've used one on almost all of my backpacking trips, and on many day trips as well. It carries a stack of kit, it's stable and comfortable enough for walking, running and I've even used it for mountain biking when doing hike-a-bikes. The size is just right for it to be unobtrusive, and it's light as well. It's just so bloody convenient, so it's become vital kit for me.
This new version addresses some of the issues raised by users of the first version. It demonstrates that OMM listen to feedback, and also can react quickly when changes are necessary. The Trio, as it's now called, attaches differently. It has adjustable bungeed hooks at the bottom which will attach to something on your pack, it's a better system than the plain loops of before. The new '09 spec OMM packs have elastic waist strap retainers that line up perfect with the hooks. The top end has lost the straps and now has cords, but it still has a quick release buckle with a velcro tab on one side. It's less obtrusive when worn, but still as functional. Also there will be no more cries of "My top straps are too long" that will be familiar to many users of OM. The zip now has a flap over it to slow down water ingress. It has a capacity of 4 litres and it weighs 150g, which is hee haw.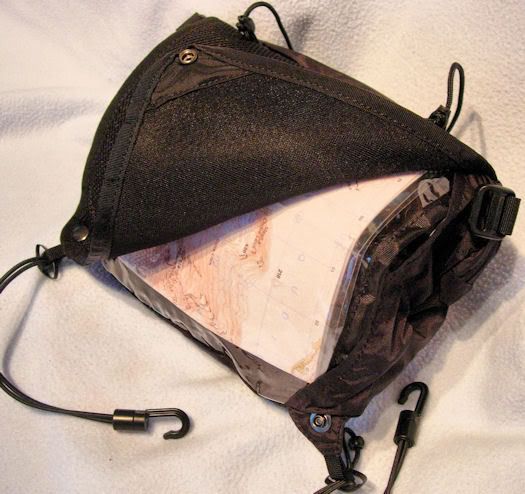 The map sleeve now has a mesh cover with stud fastening at the bottom. The previous version could give you a square of sweat on your person where the plastic was. This should help combat that, it should also help with stability as it's not slidey, but also not abrasive so it should move around less on your body when you're going sideways at speed.
This is part of OMM's integration plan for their gear. The Trio fits on your chest, but it also fits onto the front panel of OMM packs to give you an external pack pocket. The new spec OMM packs have buckles in place to allow this. I've tried it with the new Adventure Light and it works very well. More of this aspect as time goes on.