It was all planned. I was fed up pushing my luck with deadlines for Trail Routes, no matter what I did something would either make me late with words and photies or I'd end up having to change the route or some bloody thing and look stupid. So I've been glued to the weather forecast for the past couple of weeks, and if a chance came along I was off, regardless of day, customers wailing or any lame personal issues such as injury, fatness or difficulty in matching things with purple.
I got up at 0500 when Rock Radio 96.3 stuck its finger in my ear, and it was a finger with a big skull ring on it too. Well, it would be.
Everything was ready, clothes, rucksack, boots, empty water bottle next to the sink. I dressed as the kettle boiled, it was cold, the heating wasn't on for a couple of hours yet. A hot cuppa and some toast was more than enough at this time of the day as I sat in the dark living room feeling just a little shaky. Time to go. I kissed the girls and clicked the door locked behind me.
The A82 was clear, the fog and gloom were no barrier to progress either. I sailed through a frozen landscape, through the grey and into the brightness of a new day, everything was blurred by frost.
Rannoch sat on the edge of dawn, a frozen Loch Ba showing no reflection from the snow covered Black Mount behind. 
What would it be like to stand here as the light broke the horizon and streamed onto the tops, slipping down the slopes as it rose lazily for it's southern winter arc. Glorious.
The cars that were parked there meant that the moment would be enjoyed and remembered by someone. I didn't slow down as Glen Coe sped towards me.
I was the first customer of the day in Morrisons in Fort William. "Is the cafe open?", "It is now, what are you after?".
I sat with my rolls on bacon and coffees and did some texting on my phone. Friends were setting off as I looked out of the window at the blanket over Loch Linnhe and the icy car park. The good weather is in the mountains today.
I picked up a pastry, a Dairy Milk and strode back to the car feeling positive about the circumstances I'd found myself in. But I'm the weak link in any chain, my sore knee, that little cough, a rub of the eyes, a knocking sound from the front shock absorber… The doom monger of an archetypal Scotsman that thrives within me tried to throw my aim, but as I kitted up at the edge of the forest while chatting to the old stalker from down the road I knew I had one foot already on the snow.
The Munro's Guide really needs re-written, not just revised. Some of the routes choices cause me no end of dismay. Here they'd have you struggling up the viewless, endless, soulless northern slopes of Ruigh na Guailainn and Stob Choire Gaibhre. I've done it, and although there is much merit in doing the Grey Corries clockwise, this has to be the worst way to ascent the range, so I deliberately went the other way this time. I followed the old narrow gauge railway line which was fun, finding old bridges, sleepers and the like, much better than the nearby forest road of dullness.
There are some bigger surviving bits of infrastructure like the bridge below, both interesting and incredibly frustrating. There should be wee trains running on this carrying hill goers and tourists to tea shops at Loch Trieg. If it was in the Lakes…
Not far from here is a dam with a deep pool behind it and a water crossing that seems to have the potential to be the hariest bit of your day. I got across dry, but I don't know if I could consistently repeat that successful manoeuvre.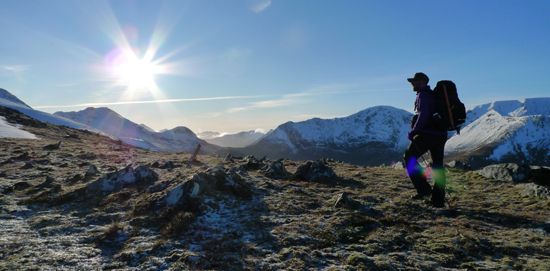 The ridge is nicely angled and pleasant to climb. The views to Aonach Mor pull you on and the contours are passed one after the other with surprising ease. As it becomes more defined with altitude it becomes rockier and cliffs grow to your left on the way to Beinn na Socaich, the first top of the day.
I sat here for a while, had a munchie and looked ahead and around and behind. Wonderful.
It marked a change in the ground under my feet as well, I'd been walking on frozen turf and dirt since I left the motor, the snow patches had been becoming more frequent, but from here I'd be walking on snow until lunchtime the next day.
The wind was light, it was cold but bearably so. The sun was shining and ahead of me was an unbroken snow-slope to Stob Coire Easain.
Half way up that slope I met a fella coming the other way and we stopped to have a blether. The day itself was high on the agenda. He was exstatic whereas I was maybe just buoyant. It wasn't long after we parted that I discovered why we had different levels of happiness. He had been walking the ridge and he'd been watching what I hadn't even caught a glimpse of as yet.
When I hit the summit I threw my poles on the cairn, dropped my pack on the snow and breathed it all in as I grinned for Scotland to at least Gold Medal intensity, possibly even world record level.
I paced around the top, the cloud was being sucked northwards in streaks over the bealach joining the ridge to Sgurr Choinnich Mor where it then disappeared into nothingness, beaten by this east-west line of huge peaks where no low cloud could survive, other than the spindly cloak that followed the outline of the lochs to the north which sat there both days, neither flinching nor breathing in or out. 
I had come here for a mixture of reasons, but I felt nothing but the simple joy of just standing there.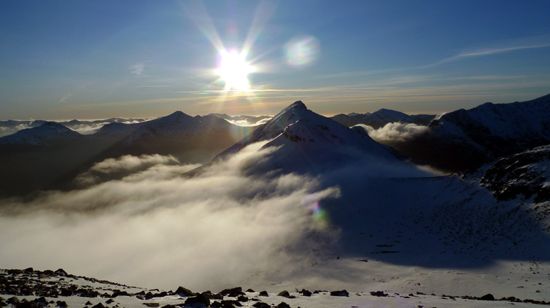 The wind was a little sharper up here, so I pulled on a windshirt and some headgear. I also swapped poles for axe and crampons. It was narrower from here.
I though about camping on this first top, there was just enough room, but it left a long day two and besides, the ridge was wearing its best winter suit. I had to go and see.
The ridge twisted and turned, rose and fell, and every step was a gem. The Grey Corries are fantastic in their own right, but they views across Rannoch, to the peaks around Glen Nevis and to the grand peaks to the north are superb, and I can't believe I saw only three people up here in two days. Maybe everybody was on Ben Nevis? What a shame, over here was just perfect.
I met a couple on the first Munro, Stob Coire an Loaigh, and they were all rosy cheeked and smiley faced. I took a couple of photies of them on their camera, I like doing that for folk.
It was only afternoon but the light was slipping away, the days are getting so short. I had to find a pitch soon, the wind didn't look like being an issue, so I wasn't worried about being on the ridge, I just needed a patch a bit bigger than me. There's always something.
I looked ahead at the deserted swoops of white crest with its dalmation spots of black rock, and as I munched on a Perrerami and a mini Babybel colour seeped into the white and blue bled from the sky as everything turned pink.
I walked into the alpenglow, my shadow growing longer with every step. I reached the cairn of Stob Coire Cath na Sine and I was at home for the night. Night? It was only half three or something, I was here for a good wee while indeed.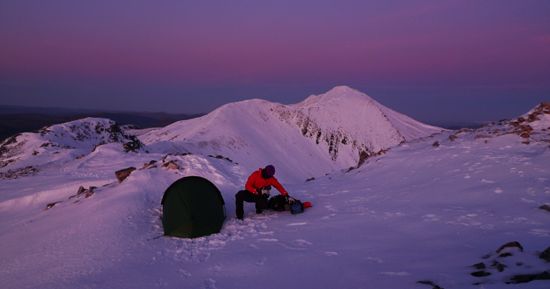 The spot just down from the cairn was perfect. I flattened it out with my SnowClaw and the tent was up. Pitching on hard snow is easy.
I admined my kit and set up the inside of the tent, mat, sleeping bags, snacks, pastry, iPod, mini Irn Bru… It was then I noticed that my 1 litre Nalgene bottle was missing, it was also full and missing. It wasn't at camp, it hadn't rolled away as far as I could see. Every time I took my pack off I checked it was still there when I pulled it back on, so where the hell was it? I fell through the snow a couple of times, maybe it git dislodged and is sitting in the snow somewhere? It was more of an inconvenience than a disaster, so I set the stove up, put in a little water and a big wedge of snow. Dinner would just be a little longer than usual.
I went for a wander as the stove roared away to itself.
The loose low cloud had knitted itself together into a patchwork quilt of different thicknesses, not quite an inversion, but something else. It was quite beautiful and time passed at it ebbed and flowed, and after a while broke up and dispersed. I think it knew that most folk had gone home and didn't see the point of putting in the effort.
A few patches persevered, and fair play to them I was watching at least.
The stove was taking its time. The gas was nearly out, No1 canister was empty (I'm carrying part used gas canisters just now to save the planet etc) and I was having to melt snow to eat and drink until tomorrow afternoon. Arse.
I got my dinner and a hot cuppa though, no problem. I had a wee nap too and awoke an hour later with a plan. I'll go and find my bottle.
It was late, and dark, no trace of the sun remained. I had some twinkly lights to the north belonging to Spean Bridge, a street light in the distance from Bridge of Orchy and the stars above including some rather nice shooting varieties, maybe the forerunners of the expected meteor shower? I was suited up against the cold with my down gear, I had my headtorch and crampons on, ice axe in hand and handbag slung over my shoulder. Seriously, the Raidlight front pouch turns into a man-bag. Handy if slightly odd, but hey, who's going to see me up there?
I set off the way I came. I climbed, I descended, I traversed and I even contoured at times. I swung my head from side to side and as I approached the first top of the day again I decided that this was maybe just a little mental and that I should go home. On the way back it felt a little narrower, a little steeper, I felt a little bit exposed at times. I was glad when I got back. I'd make the gas last, the bottle was history, purple or not.
I had a hot chocolate and my vision returned to normal again…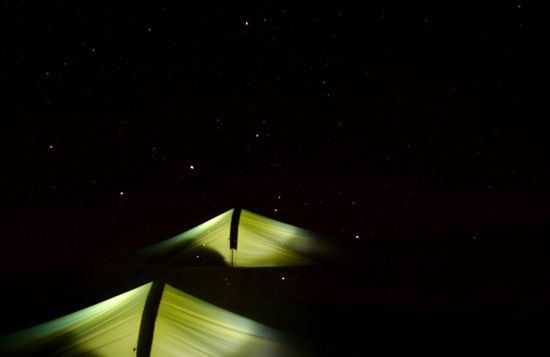 I woke at twenty five to seven after a good night. I had a couple of semi-awake moments, but I reckon I had five or six hours sleep. It was lights-out and music-on about eleven the night before, and the last I saw my watch was about half twelve. I was warm, the wind never grew to tent-rattling velocity and it was all very peaceful. Maybe I was tired after my extra ridge walking too. Idiot.
The horizon was a deep red, and even the slender crescent of the moon had joined in the fun. There was more cloud, but it was high and was just there to lend depth to the sunrise.
The day awoke slowly and I greeted it with a hot drink and a cold nose. Not from sleeping (I kept my head inside the bag this time), just from the sharp morning air. I wandered around the little top, frozen bootlaces still undone. The colours and shapes shifted lazily and the peaks with the most snow began to rise from the haze as the very first rays broke over the parapet.
I was in no hurry, I didn't even look at my watch again until I was back at the forest track. But as the sky brightened I felt myself responding to it and waking up, tidying my gear and packing up to go.
I cleaned up camp, no coffee or dinner spots on the snow or that sort of thing, I took my cooking stone back to the cairn and filled in the wee hole where it had sat and it was like I'd never been there.
I was still looking all around as I left, so much to take in and all so different from yesterday. I suppose that's why we keep going back, you never get the same day twice, and the next day will always be the best one ever.
From here the ridge narrows, the slopes seem to steepen and I found myself being careful. It's odd walking from camp straight onto a snow arete. The joy of camping indeed, no walk-in, straight to the fun bit. The first fun bit ended in a short, steep scramble downwards with a little traverse over a snowslope to the continuation of the ridge. The run-out was straight to the bottom of the coire. I was suddenly very aware of how short the spikes are on Kahtoolas. Kahtoolas are great on ascent on most snow, but here I found my personal limit with them on a descent. I cut a few steps to start me on my way and plunged the axe very deep into the snow in case my feet gave way. I worked my way down and across onto the ridge.
Bloody hell. I've been here before, all the scrambling and steep bits in this direction are going to be tackled as descents.
I thought about taking a route north into the coire or down one of the other ridges, but the top of Stob Choire Claurigh was so close, and all the scrambling was on the other side. I'd see how I felt when I got there.
The summit of Stob Choire Claurigh is a wonderful spot, it's high and towers over Stob Ban to its south. It's a great shape too, it looks like a cone of sorts from a little distance, but it's well defined and sculpted, the ridges have crests to delight, or as I found on this occasion, flounder upon.
Beads of sweat popped out on my forehead as I made my way across steep slopes near the top, my feet breaking away beneath me and catching just a little too late to keep my confidence intact. 
I was relieved when I reached the crest of the ridge (to the left above), it was easier going, and more importantly, enjoyable. I slip here would still be exciting, but my feet were sticking again and the pace was back to normal.
I stood at the rim of Coire na Ceannain and wiped my brow with my Buff. That had been interesting.
I descended around the coire rim which is a deep bowl with a secretive lochan on a high shelf. It was bright green the last time I was here with Joycee in springtime, today it was frozen, just a pale grey shape in the shadows.
The view across the coire from Stob Coire Gabhre is inspiring when you ascend to it, as it's your first mountain view of the day. Today it was my parting shot, a glance over my shoulder and the lochan was gone, another glance back and the mountains were gone. A mile of water ice with grass sprouting through it lay between me and the forest road. It was on that road that I finally got to take my crampons off.
I truck pulled up beside me as I tramped down the road towards the motor. "Are you out for the good of your health or are you wanting a lift?"
I was so tempted, but my feet were relaxing after hours of crampon wearing and I was maybe 1km from the motor, "Ah, you're the silver car?". I was parked in shall we say a traditional place, which is very much on a private road but is treated with respect by it's unofficial users and is issue-free, the gates have no padlocks and no tyres are slashed. The friendliness of the estate folk that I met on both days was a joy to discover. It proves that there doesn't have to be conflict between us and them, or even an Us or Them?
The frost was thick, it hadn't lifted for days. The glen is in the shadow of many of the tallest mountains on these islands, and they're keeping the sunlight to themselves.
One last railway bridge needed a visit on the way back. I can see Thomas going over there, pulling along kids with balloons and ice creams, parents glad of a sit-down and muddy hillwalkers happy with a ride back to Ft Bill. Ach.
The day wasn't over though. The texting of the previous day meant that I was on the lookout for pals, and I found them coming off Buachaille Etive Beag. We compared notes and trail scars and headed to the Real Food Cafe, where I arrived first and another familiar face arrived right after from his camp elsewhere.
We dined like kings upon the tasty fare and it was the perfect unwinding of a weekend which seemed to have had at least 33% extra free.
There are other stories to be heard from the weekend, folk getting oot is magic. These folk in fact: Elaina, Steve and Sandy.
The Trail Route thing? Er, I forgot all about it when I hit that first top on Saturday. It'll be fine, it'll be fine…