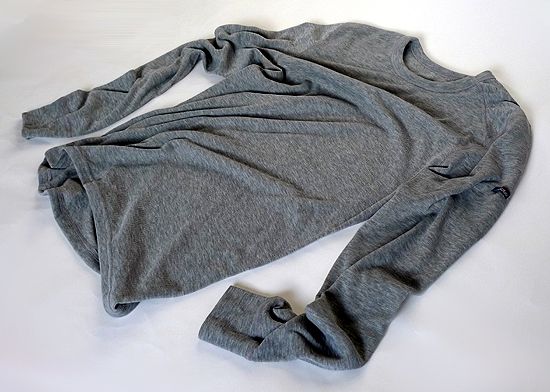 Odlo's profile is going up in the UK just now with some nice looking base layers and multisport kit and I've had a few things on test. It continues my reacquaintance with synthetic base layers which has been going well, although the retro grey marled looks of the L/S Crew Neck Warm above took me back 20 years right away. But, the fabric is very much of today, soft and comfy against the skin with a great stretch to it. The inner face is fleecy which adds insulation and wicking power and does make this a winter-only top. Fit is close and movement is good, the construction is very plain but the seams are placed just right. The arms have old-school jersey cuffs which layer really well as they're low profile and stay in place but the double fabric does take longer to dry. They're plenty soft though, so you can push them up to your elbows.
The neck has a plain band sewn on which is chaffe free and the bottom has a plain hem.
A good choice if it's cold, and beefy enough for me to wear under just a windshirt or a light softshell where sometimes I feel like I'm not quite warm enough if you know what I mean?
The ¾ Evolution Warm's (a match for the top here) below are a polyester/nylon mix, but although they're in Odlo's warm category the fabric is actually quite fine. The fabric is zoned for temperature and moisture management which also help with free movement, there's good stretch around the knees and backside. The crotch has some zoning and shaping as well which is good news, a lot of longer length leggings leave your baggage to roll free around the luggage compartment.
The leg length is good, works well on the move and fine for rolling along sock up to close the gap at camp. Comfort is excellent, very soft with a good hint of compression at first, which you stop noticing just how I like and the waistband is a wide-ish elastic band wrapped in the same soft fabric as the rest of the leggings. 
The length and decent insulation make these a good winter choice, and they layer well under regular winter pants as well as slimmer fit legging so they're looking good for running as well. I'll come back to that next winter if I keep up the current progress in that area.
Both fabrics manage moisture well, the crew takes careful layering, too much on top and it'll get soggy, but drying time is still pretty good. The leggings aren't quite as warm so are pretty versatile in use and outside temperature, a good fit and forget bit of kit. Odour resistance is as good as any synthetic, miles away from the horrors of old, but still short of merino.
It's nice to have different options out there, and I like that Odlo have base layers at their core rather that creating a range to fill a gap in their catalogue. Worth a look.