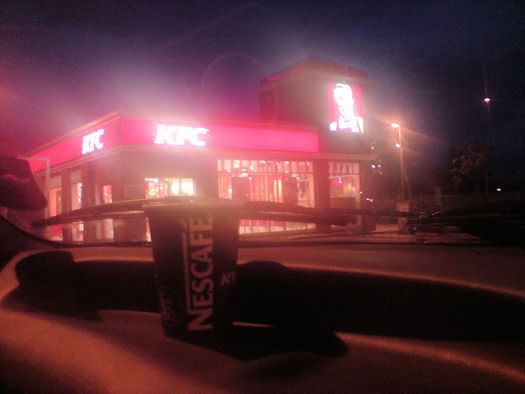 I just got home and the phone went. I put my boots back on and went to the callout. 
I did get it fixed, but it was late now and I was close to eating the rubber handles from my gland pliers, what else was I to do. You have to run the gauntlet of MacDonalds, Pizza Hut, Burger King and a Dominos Take Away to get to the KFC.  They're trying to hide it, so obviously that's where I'm going to go. Wee spicy chicken things on sticks, fries and a proper coffee "to go" gave me the strength to drive the 30 miles home.
What did we do before all these glittery emporiums of marketing friendly fare existed? We only had chippies I think.
There wasn't a chippy. I would have gone to a chippy if there was a queue in it, a good barometer of quality that.