I knew I was going, I just didn't know when. I had booked in meetings and site visits on Monday and Tuesday and then I looked at the weather. Wednesday morning was looking good. Bugger, that meant an alpine start, miles of driving and less fun that it should be.
Phil knew the score and as he stepped off the return flight from Iceland he was texting to see if I'd been.
"Naw"
"We should go up and camp on Tuesday night"
"That's a possible, it'll be later on though…"
We had a plan. Of sorts.
I got back to base late in the afternoon and started packing carefully, everything laid out on the living room floor. It looked like it was going to be properly cold and as much as I was in a hurry, I didn't want to leave anything behind. I've got previous of that to be taken into account.
Phil appeared before I was ready of course, then there was some faffing around as I had to reunite Joycee with her car keys at my folks house, during which Holly said "Daddy, back from the mountains" and started to pull my jumper off. Ach.
Then we were on the road. The A82 in fact.
It was clear and it was cold. We kept watching for clouds, but it was all stars and optimism. We had to drive through Tyndrum, there were no lights on and no dinner there for us. Ft Bill also had the shutters down, Morrisons was shut, McDonalds was shut, I'm not on speaking terms with the chippy and the only other option was the Morrisons garage where we got sammidges, snacks and some gay badinage with the wummin in there who was from Cumbernauld it turns out. The lesson is, that after 2100hrs Scotland is shut on a Tuesday.
Spean Bridge came and went, the Fersit sign was next and then we were driving through wind-blown snow on the road. Fresh and unexpected. It was late, were convinced that there was now a cloud overhead, and other doubts started creeping in about night navigation in cloud, will the car park be locked, it's after ten and we haven't had any dinner.
The car park was empty, and a skating rink. After a half-arsed salchow we reversed into a snow bank and parked up. Lights on, cold sammidges and Lucozade for dinner.
A wee van pulled in and the sounds were those of racks being assembled for climbing in the morning. That affected our plans, if they were camping at the cliffs we wouldn't, not totally an anti-social thing, but courtesy, the environment and flexibility in our route made it a good choice. We found out next day that they'd slept in the van, but it was academic anyway. After walking until 2350 we knew we hand to stop, and we were neither on the ridge or at the lochan.
The trail had been iced, but walkable and the mostly clear sky had seen us walking sans headtorches. Very pleasant indeed, if increasingly cold.
We found a cracking spot a little way above the track, my wee tent needed just a little flattening with the Snowclaw to get a pitch, but Phil needed some digging for his winter fortress. After a small mechanical with a pole that needed some McGuyvering we were set and the stoves were soon on as we wandered our little plot.

A beautiful night it was, and nice to be camped below the tops for a change, it gives you a different persective on your surroundings. I've had an odd desire to camp on a beach for a while, so maybe this is good mental half-way point?
We both slipped into sleep quite quickly, it was very late, hot chocolate and high loft down will do you in every time.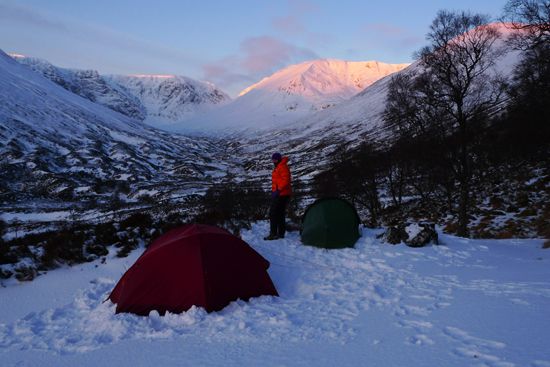 Zzzzziiiipp! Mmmffff… crump crump crump. I opened my eyes, bloody hell, it's light outside.
"Mornin'" I shouts, "What time is it?"
"Five past eight!" Says Phil as he pads about outside.
Ah bugger, all the advantages of our drive up last night had been lost if you look at it from a logistical perspective, but we were firing up stoves in the mountains in the sunshine and snow. That's a Win.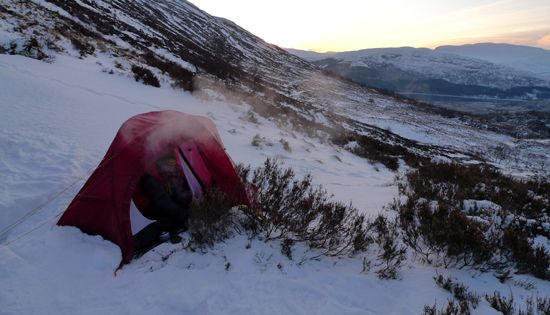 We just hung out at camp for a couple of hours, taking photies, sipping a hot brew, shooting the breeze and waving to the chain of climbers clanking past on the track below. Any notion of having to do anything else all day was lost. I was quite happy where I was.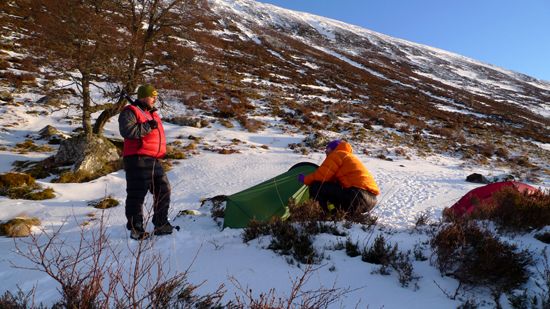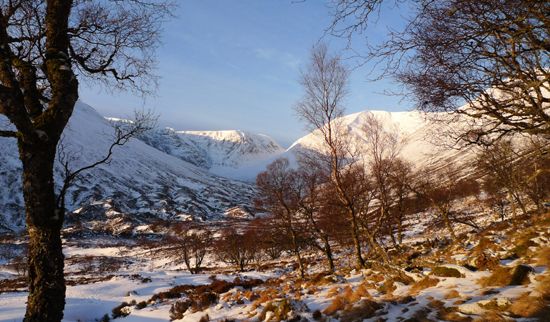 A front moved across us from the West, like the sunroof being pulled closed. The light was diffused by high wispy cloud and I took that as an omen. We packed to leave.
We rejoined the trail and headed towards the cliffs or Coire Ardair on hard frozen snow, high ridges all round and in air that grew ever cooler.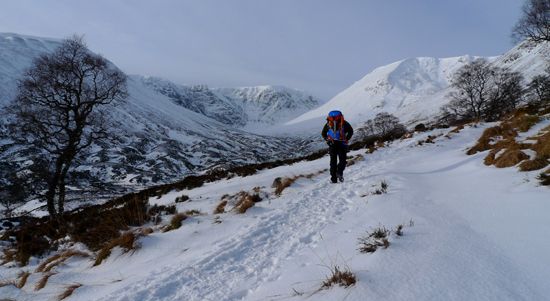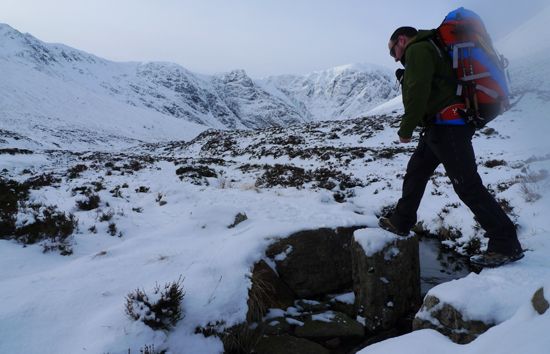 The bright blue ice on the cliffs began to shine out from the frozen rock faces. And soon tiny black figures on the blue ice became visible, then their movements, then their shouts.
The cliffs had a dozen folk clinging onto them, some in obviously more precarious positions that others. Coming towards us were a pair who'd called off after one had hurt his ankle. He limped after his mate who was carrying both packs and both sets of gear. That was going to be a long walk out for both of them.
Lochain a' Choire (below left) was frozen and snow covered. It's a beautiful spot. We could have camped here, but at what time, 1am, 2am? Another time.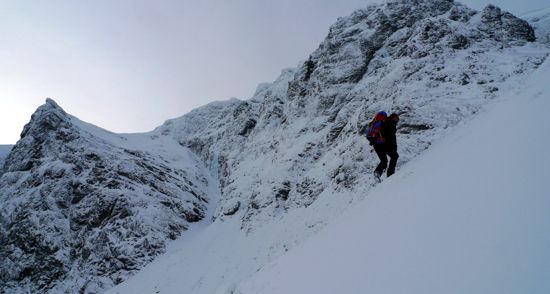 Poles were changed for crampons and ice axes. The snow was very inconsistent though, being variously frozen rock-hard and fall-through-up-to-yer-baws deep. This made the climb to the "window" bealach  slow and tiring, but the scenery made every rest stop a joy. The huge cornice to our left looked so precarious, it was cracked, it was weary and it was right above us. The rocks here were iced on their faces as they turned into the Window, ice-falls draped the overhangs and every scree strewn gully was was filled with a blanket of fresh snow. The wind was picking up and the mood was changing as we climbed in to the wide channel and onto the broad back of the mountain.
It was a sea of snow with a ring of dark blue on the horizon. The sky was the same colour as the ground, and just as blank. Tinted lenses didn't help, this was distinctly odd indeed.
We were both starving by this point but Creag Meagaidh's plateau isn't where you want to be stopping for lunch. As time was getting on, and the light was tiring at the same pace as ourselves, we waved to Mad Megs Cairn and turned down to Puist Coire Ardair for some shelter in which to enjoy our pub lunch (Lasagne and Chili Con Carne).
We dug in the snow a little and I got the stove on, cut some chunks of snow and added them to what little water I had left in the pot. the rising steam was like a lost brother coming home. Dinner was gone in a flash, we really did leave it too long and that makes you all upset. I had been sucking on a frozen protein bar, but I think that had been using so much effort that any benefit was cancelled out.
A climber topped-out near us as we were packing up. We were the only folk on the mountain that day who weren't climbing. I waved to his grinning mate as he too clambered over the edge following a pink rope, and then I turnd after Phil.
I curled my thumbs into my fingers inside my mitts as they throbbed. It was very cold now, it hadn't risen above -5ºC since we've arrived, but it was now properly cold.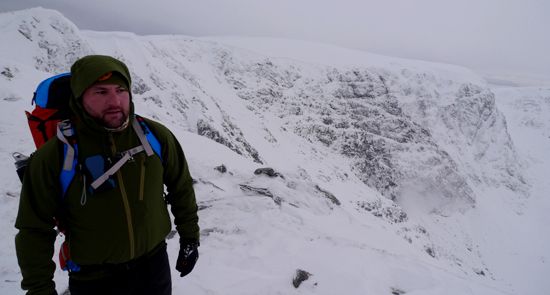 The walk along the ridge towards Sròn á Ghoire was exposed to the wind and we had our faces covered and hoods up. The views back to the cliffs of Coire Ardair were wonderful though. By now the cliffs were starting to swirl with spindrift and the snow was moving in behind us. Down was the right direction.
The heathery slopes of Sròn á Ghoire were frozen and there was still much snow, and after that we found the track was iced right back to the motor. So we had the happy task of removing boots with crampons still attached and throwing them in the back.
It was dark with snow lightly falling. The glen where we'd camped was in cloud now and we'd got the timing right, just and no more.
The drive home? Ah, now there was an epic. We had intended to stop at the Real Food Cafe in Tyndrum but it was closed, and we had been a snails pace as the snow had gotten increasingly heavy and the road had become ever more ill-defined. Had I been alone, maybe there would have been some chancier driving with my new snow tyres, but the presence of a passenger does tend to reel in such tendencies these days.
It was much great relief we pulled into the BP garage a mile from home (my home anyway, and where Phil's wheels were waiting) and I picked up an Indian Meal For Two for Me.
Just in the nick of time too, I was fading away.