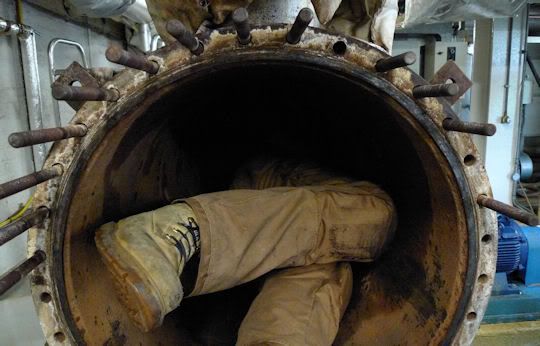 It's going quite well. We got the heat exchanger nest out without losing tempers of fingers, we did flood the plantroom, but that's kinda traditional. The drain was choked with shite so it didn't empty and when we got the nest moving it just emptied onto the floor. My foot sticking out of the shell tells the story of Craig getting hold of the camera and me poking about inside to try and find out why.
Getting it back in was slightly more labour and swearing intensive as it wanted to roll as we pulled it in which it can't do as the tubes have to match that huge tee-piece lying on the floor. And although very heavy indeed, it's also quite fragile. Still, it's in now, and no I'm not telling you how we did it.
Elsewhere the steam boiler maintenance is proceding apace, although the makeshift palletesque dining table is near impossible to get your legs under.
Working in plant rooms in this heat is horrendous though, tomorrow might be shorts and a vest. I'll glue the kneepads out of my trousers-brown onto my knees or something.
Jimmy cares not for any such distractions, he has his tea, his piece and his (Glasgow) Herald, and thinks we're all daft.