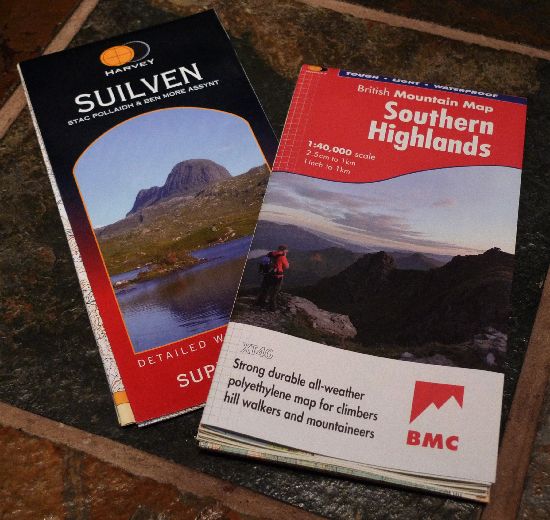 Harvey have a couple of new Scottish maps, the Suilven SuperWalker and the Southern Highlands British Mountain Map.
The Suilven SuperWalker map made it just in time for the recent Assynt backpack and it was interesting comparing it the official LAMM map we had, which is a mix of 1:50,000 and 1:25,000 OS mapping.
The Superwalker is a great map, very detailed and accurate, and the Suilven tag is a little misleading, it's got most of the peaks on either side of the road from Knockan to a little past Inchnadamph. It's good for a backpack in the area as the terrain between the peaks is full of detail, 1:25,000 can make for a busy map, but I've grown to like the use of colours and bold/regular contours, it's quick to read on the move.

I was overjoyed a few months back when Harvey said they were working on the Southern Highlands British Mountain Map. It's my home hills after all, and it came in just after last Sunday's trip to Ben Vane. Ach.
The BMM format, the look of it, and 1:40,000 scale is spot on, easy on the eye but full of detail while still showing a big area.
It's a good map, the best I've seen of these hills, the area covered includes Ben Lomond, ArrocharAlps, the Lui foursome, Glen Falloch with added areas on the back for Ben Cruachan and the Loch Earn pair of Ben Vorlich and Stuc a Chroin. On the back is also the usual wealth of information, geological, climbing crags, usful contacts and general mountain info, and it weighs 84g, which is nothing for a waterproof map.
I like the old-school looks of the mapping, it has a touch of humanity about it which makes it feel accessible, more a novel than a text book? But don't doubt it's accuracy and performance as a tool, it'll be with me on any trip within it's margins. Magic.
And yes, that's one of my photies on the front of the Southern Highlands map. I'm very pleased indeed to be representing the area on this map, both as an outdoor bloke and as a Macfarlane.