I wrote a feature for the current National Trust for Scotland magazine covering the work of their Path Repair Team who were working on Ben Lomond at the time. The time in question was the height of summer, one of the hottest days of the year, or indeed since records began and I felt it on every step of the ascent.
Ciaran and Nan who I were meeting had climbed up at dawn to miss the midges and get to their work site before the sun caught them. Good call.
It was a good day though, great company and excellent banter and I came home with hours of recorded conversation to sift through. I learned new stuff and will forever view paths a little differently.
I've some thoughts on it all below, some banter from Ciaran and Nan that never made the pages and an amazing coincidence at the end.
Just to confirm that the feature seen below is indeed written by me, it's just that they spelled my name wrong.
I fully expect Holly to have to take a sharpie to my gravestone to add the "a".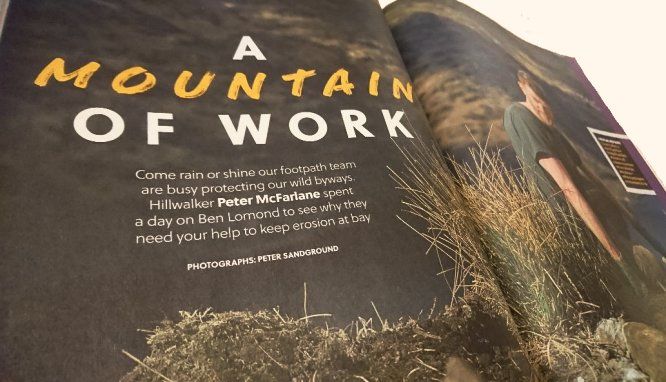 I've no idea how many times I've climbed Ben Lomond, been wandering it's ridges since I had hair and no camera. It's familiar and approachable but it's never a pushover; been on my knees in the wind wishing I was elsewhere and on the north side on snow wishing I'd thought it through better.
The days of joy up there I can't count however. It's close enough that I can drop everything and run to it and over the years I've caught some golden moments when I had no right to be there.
It's a bigger hill than the regular route suggests, it has secrets, it has dark corners and it has my heart. I love this hill.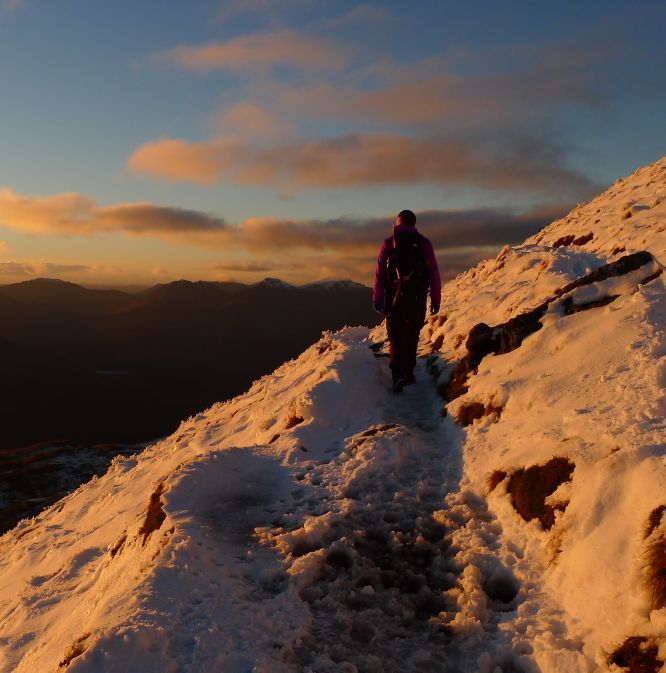 I know I'm not alone, the paths show it. Many years ago I could climb Ptarmigan Ridge to the top and see no one else there, the path there was easily followable for most of the way but it wasn't overly worn. Nowadays the path is as ground down as the tourist route up Sron Aonach.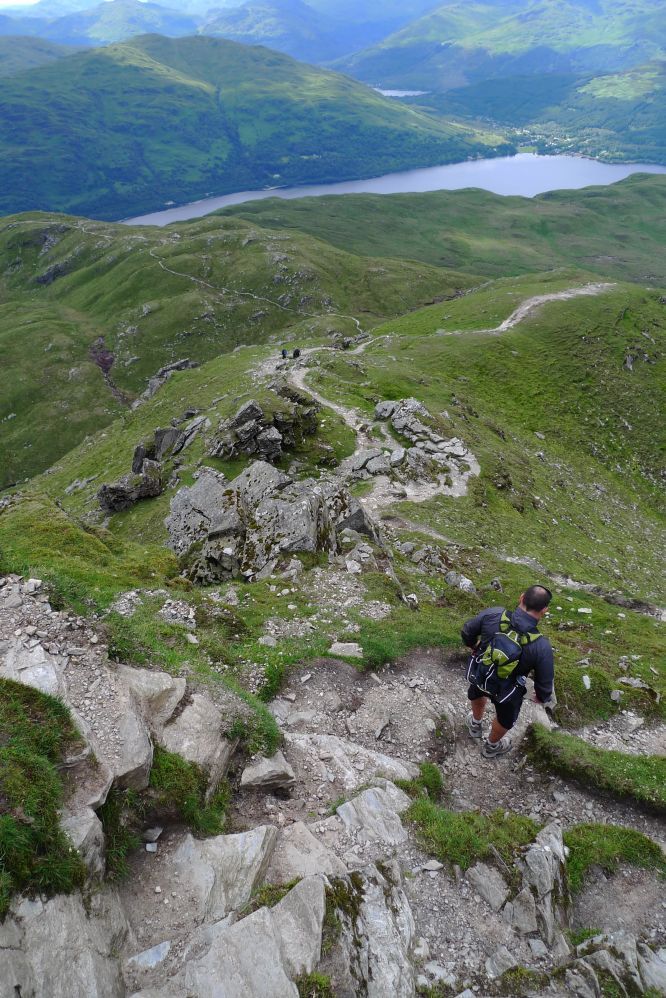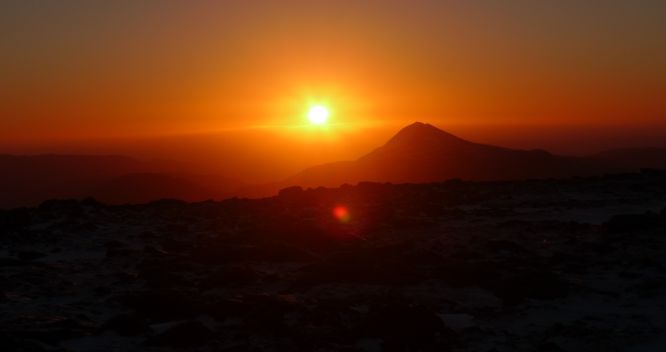 It's not like this is the work of "someone else" though, it's our feet that's doing it. We tread on the grass, the grass dies away. We tread on the earth, it breaks up and washes away. We tread on the rock. And then it's too late.
You could say we should all take different routes. I remember someone on an outdoor forum somewhere on their high horse about always walking off track. Oh aye, my hero. Every hill has a summit or a ridge we have to take, we're all walking on the same ground at some point.
Besides, hills have obvious lines of ascent, we are going to gravitate to certain routes from the start. It's human nature, we're pack animals, we will follow.
I remember a group following my footsteps high on Ben Lomond years back, footsteps in fresh snow which were obviously going in the completely wrong direction just so I could get out of sight for a pee on the pristine white hillside. I mean, really?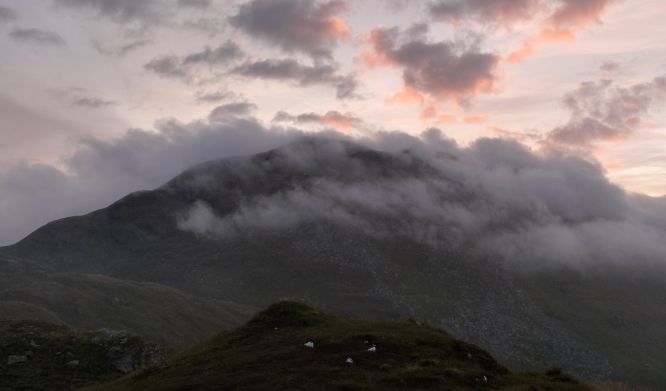 So what are the options? Don't climb hills so they don't get eroded. Good luck with that. Ignore it and hope it goes away? See too much of that walking through feet deep trenches on the the lower slopes nation wide.
Fix it? Aye, we broke it, I suppose we have to fix it. Yes it's going to be visually intrusive and the hand of man will be seen in nature, yes it's going to ease the way for perhaps the inexperienced and the unwary, but what choice do we have?
I saw the lovely little Ben A'an in the Trossachs destroyed when it became one of the first hills reopened after the foot and mouth epidemic of 2001. The little tracks became trenches in a matter of weeks and the whole approach route was ruined forever when the weather got it and washed it all away.
There's a middle ground to be found where you can do the best job possible if you apply skill, time and money. That's where the feature comes in. I found the folks with the skills out on the hill, they just don't have any time or money and NTS are currently making a push for funding.
When you're looking at the view it's easy to miss the ground underneath you. The ultimate contrast isn't, the Cobbler at sunset and the multi-lane highway on the Ben's lower slopes.
The approach has changed dramatically in recent year with the tree felling above Rowardennan and the non NTS path has seen a lot of changes to match the increased traffic. You can see a difference in the maintenance approach, down here it's all about feeding folk through, on the open hillside it's a bit more involved.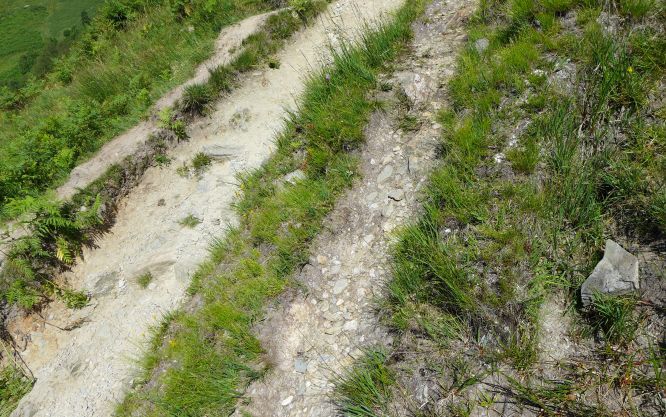 I spied Nan first, clearing out the drains on the path. I didn't announce myself, so I must have looked like a weirdo. Still, action shot etc
These familiar drains stop paths turning into burns and need cleared and repaired. The stones are dug in and set, the drain channels dug and formed then and checked every spring after the snow melts. Not just here, but Glen Coe, Torridon, Ben Lawers, Arran, The Cairngorms and Kintail. That's a lot of paths, a lot of miles and all of it done by a team of four in a pickup truck.
They stay in local accommodation or NTS sites and get back home most weekends. I worked away from home a lot when I was younger, it can be fun, but it does grind after a while. I could also leave all my gear on site, walk a few feet to my truck and go back to my digs. These guys are carrying tools and gear up a mountain to get to their work and it's not just the access paths, it's the final pulls to the summits too.
Ciaran: "We do maintenance runs, walk the paths to see what needs done and see their general state which allows us to prioritise. Sometimes on site staff will have something they need us to do, but mostly we just go looking for trouble."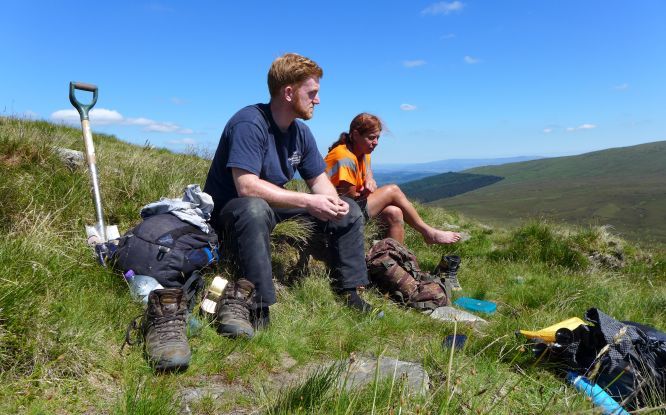 Nan: "People do see to appreciate what we do. Even the old-school old-timers might huff and puff at what they see, but they talk to us and they do appreciate the effort, and of course set off for the summit on the path we just repaired".
Ciaran: "People will show you what's wrong with your path, they'll leave it and go their own way".
That's the crux isn't it. Making it usable but not sanitise the experience. Ben Lomond's paths are mostly a happy medium I think, you have to watch where you put your feet, the stone looks like it should be there and on ascent it blends in well visually.
They use interesting techniques to keep folks on the paths, for example,a few boulders placed here and there with some turf soon turns into a natural feature that folk will avoid.
Once you know they're there you go "Ah…" to yourself, as much as I know this hill, I'd never spotted them. Have you?
Nan: "We build a path smooth in the knowledge that it will wear and get rougher over time. No path is ever perfect or finished, we're always doing the worst bits, leaving it to do the worst bits somewhere else and coming back here to do the worst bits again".
We looked in detail at some of the construction methods. How and why stones are placed or angled, how anticipated future wear or erosion influences what and how they build now.
It's really not straightforward and I like it when something is based on a mix of technical knowledge, feel and experience like this is.
"We're stretched very thin, we could do with a whole other team!"
A couple of months later on a #microadventure with Gus I saw an NTS pickup truck parked at the bottom of the hill, looked up and saw big white rubble sacks on the hillside. Who else could it be?
We found the full squad of four in the sleet digging foundations and placing stone for a new path before the increased traffic here made a trench up the face of Meall nan Tarmachan.
Ciaran: "In the years I've been doing this we've had stone dropped by helicopter twice." He got his third here. Big bags of stone had just been dropped all the way up the path for ongoing works which will carry on next year once the snow comes and goes.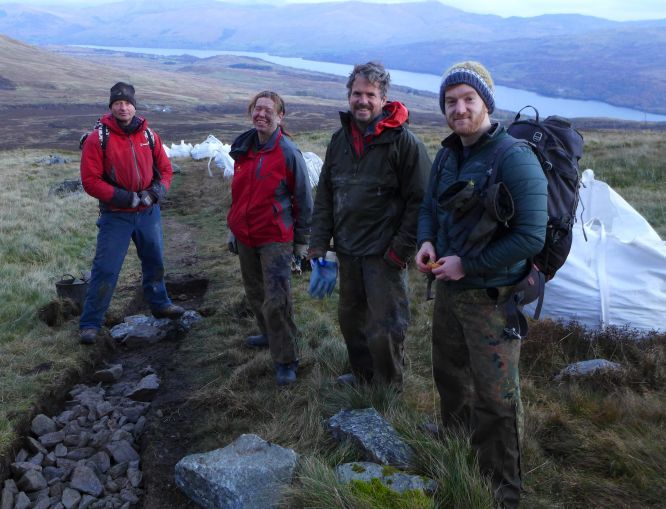 Me and Gus were cozy and comfy in our fancy new gear after a fine night at the top, so when we caught up with the team the next day, gear was on our minds.
They have an annual kit budget and luckily they have duct tape too for patching when they quickly wreck the gear they get from spending that. These guys are so hard on kit and they're high in the hills hard at it in gear I'd keep for the garden.
Jeez us hill tourists are so soft.
Lunch is out in the open too regardless of weather, so what do you do I asked, have you got a bothy bag or group shelter?
No says Nan. Best thing is when those rubble bags are empty, if it's raining, I can crawl inside one and it's just my feet that are left out in the rain. Quite cozy.
Go to a building site these days and the portacabins are like mobile hotels. These guys are still living the definition of roughing it. Someone somewhere in the outdoor trade brand up some kit and send them it ffs.
Still, they do it all with humour and passion. I got smiles and banter every time.
I asked Nan and Ciaran what their biggest problems on the paths were and I was surprised when they answered as one; "Litter!" Erosion they can deal with, walking for miles to look for stone is acceptable, but crushed cans and bottles jammed between the stones on their steps is too much. "If you can carry it in full, is it too much to ask to carry it out empty?" I can't argue with that. Dog poo bags hidden in corners of the stonework is a part of the same problem, "It's the attitude that someone else will get it, I mean, who is this someone else?!"
Minor vandalism can occur, stones dislodged and rolled down hill for fun can be dispiriting as well as damaging, every missing stone allows water to pool and run and that's where the erosion starts.
The team can cope with the natural elements of the path as it ages. The large stones or bedrock are at the bottom, the bed of medium and small stones give it shape and the dust and gravel on top which give a walking surface washes away or is blown away by the stronger mountain winds. They go to repair that and they need all the time that have to do it. Let's help them out and take our little home.
There will always be a debate about path repair and rightly so. I'm saying it has to be done as long as we're wearing them down with our feet, it's the way that it's done is what's important.
People with passion and sensitivity will do a different job from contractors payed by the metre. The people who care for the land will chose which of these to apply based on funds more than anything.
I suppose it's up to us where we are with this in the future.