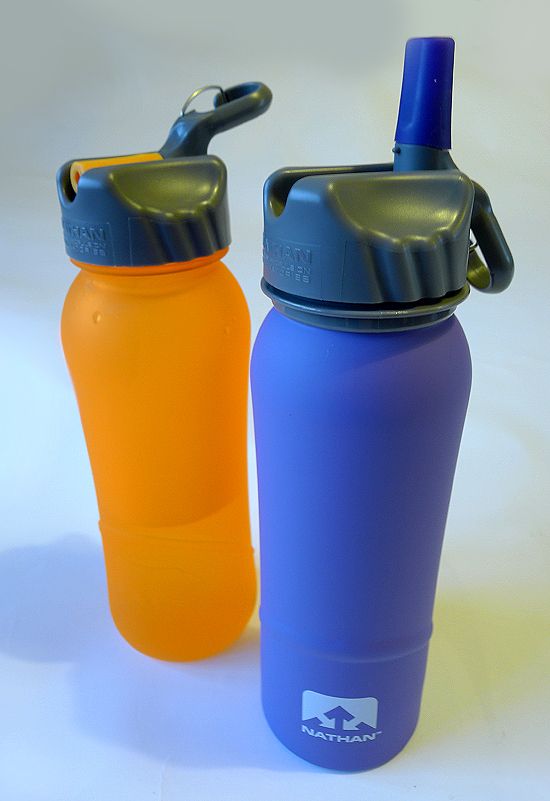 Nathan have new distribution in the UK so hopefully we'll get to see more of their kit in the shops beside the joggers niknaks we're used to.
I've got a pair of sports bottles in for test.
The hoohah about BPA in plastic bottles has had a nice effect, it's meant a lot of new designs out there in stainless steel as well as alternative plastics, the one we're seeing everywhere is Tritan.
Nathan's 700ml Tritan Bottle is the orange one above. It's nicely shaped for gripping with a single rib which helps grip a wee bit and does stop a downwards slip when it's wet. The lid is the thing though, flip-up spouts aren't new, but this one has a very prominent grab-loop on it making it a breeze to locate and remove from a rucksack bottle pocket. It's also got a wire gate like a karabiner so you can attach it to you/ your pack/ donkey/ belt chain.
The spout is replaceable and works fine with a good flow rate that doesn't have your cheeks meeting in the middle to get a sip out of it. It's well hidden in the lid when closed too, a lid which has not leaked from it's thread onto the bottle as yet. Good.
The purple version is a 700ml Steel Bottle. I like stainless steel bottles, no lining to worry about and it seems to me that they're tougher than aluminium. It's food-grade steel used here and there's a variery of coatings from regular colours to temperature change versions and a silicon sleeved model.
The lid is the same as the Tritan bottle and here it screws onto a screwed plastic boss (that's what I'd call it as an engineer, there may be a bottle specific term, neck perhaps?) which makes a nice change from scraping a plastic lid onto a steel thread like you do everywhere else.
Rather nicely you get two spare straws inside every bottle and spare spouts are available from your local stockist. And the internet.
Good bottles these, expect to see them cropping up in photies from now on.