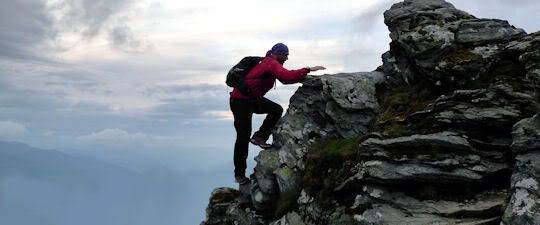 Since the Featherlite came in for test a few months back, I haven't left the hoose without it in my my pack.
It's dead simple. A smock with a zip, high-ish collar, elastic cuffs and hem and cut from a great fabric. I had one of the original versions with the black lycra cuffs and hem and although the fabric was great, the cut was horrendous, being based around a railway mail-sack from the late 50's. This version is much slimmer, which means better fabric performance, less wind flappiness and of course less weight for a given size, my large sample coming in at 114g. There's great range of movement and the slimmer fit limits riding up at your back.
The mix of two different Pertex Microlite Rip-Stop's makes for a nice tonal variation and takes away the bare look that the orignal suffered from. The fabric is outstanding, soft and comfortable, but tough and warding off wind and a good bit of rain. It dries super-quick and copes with a shed load of sweat as well.
The two-way zip is long, but I'd extend if further to clear a pack's chest strap better and take better advantage of the two-way zip. And, the only real niggle is the arms could do with another inch on the end.
It's just a wee thing, it fits in a trouser pocket. But, it's proven to be vital kit and worth a family size mince pie's weight in gold.