I'll continue with the recent mountain bike theme I think and cover some of the kit I've been using. The jacket and shorts from The North Face have been regulars, the shorts in fact are the only bike shorts I've worn since they came in for test. The Inov-8 pack has been out on the past few trips after having a rest over the summer when I was using it's lighter sibling, the colder weather means a wee bit more kit is getting carried.
The North Face are a bit frustrating when it comes to bike wear, they do it very well but don't seem to get behind it with as much conviction as they might. The prices are good and quality is high, not something you often find in bike wear which seems to be largely divided into tat and extortionate.
I can't link to either of these items on The North Face's pages, but they are still widely available in the shops. I checked.
The North Face Muddy Tracks jacket is a waterproof bike jacket, but not so design specific that you can't use it for running or walking, as long as you take a hat as it's hoodless of course. It's nicely sculpted for the riding position, great arm movement and arm length with a scooped tail that keeps your lower back  well covered. The tail also has a pocket with zipped flapped access, so it's pretty weather resistant on the outside with a mesh inner pocket bag.
The cuffs are velcro adjustable and pull up a little short of my elbow, is slightly looser and lycra cuffed better? It's personal thing and I'm on the fence, but I would cut them a little looser whatever so I roll them up further.
The collar is lovely, fleece lined and well shaped to catch water running off the back of your helmet and it fits round my neck perfectly when zipped right up in the riding position, no restriction or rubbing. The main zip is just a reversed fine toothed affair rather than a water resistant type, but that means more flexibility and the 1″ wide internal storm flap isn't letting rain in, I checked again last night.
The jacket's cut from HyVent which keeps the price down and the sweat in. Normally I'd throw my hands up in the air at this on a mountain jacket, for for a days blast on a bike where I'm coming home and there's a good chance of getting oil on it and tearing it in a crash, it's absolutely fine. Comfort on the move is still great, and the DWR was excellent when new and has lasted well which helps plenty with the limited breathability.
It weighs 270g for a sample medium, which fits me perfectly as if it was a slim large.  It packs down very well, more important on a bike than on foot. There's a chest pocket with a nice wee zipper garage and a smattering of reflective detailing.
I like the Muddy Tracks, it's got a fantastic fit and the trade off with the average breathability is a price that won't have you in tears when you tear the arm open on a tree branch.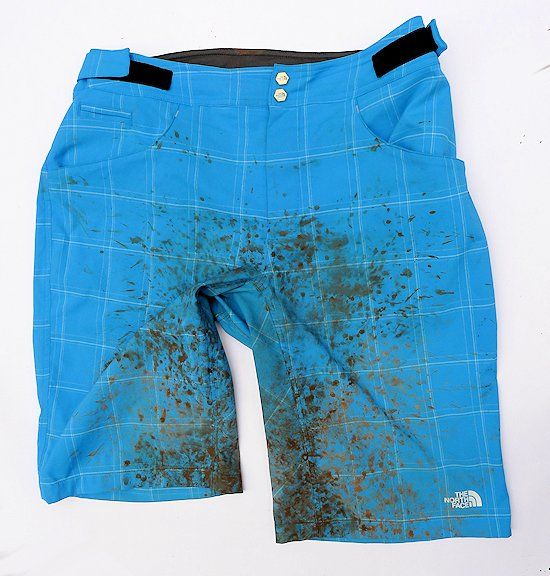 The North Face Storm Track softshell bike shorts with liners are a joy. The relaxed fit outer shorts, my sample mediums are a perfect fit, are cut from The North Face's own Apex fabric which in this Aerobic flavour is very soft and stretchy, quick drying and tougher than expected, a gritty arse on a saddle will destroy shorts quickly.
The cut is good, full unrestricted movement through a mix of the fabric and a gussetted crotch. Good features with pockets agogo. Two front jeans-style with one little coin/key pocket and two zipped rear pockets with velcro tabbed flaps to keep crap out of the zips.
There's no belt loops but you've got two waist adjusters at the side which give a good range of adjsutment, bith to ever fluctuating waistline and seasonal layer variations. There's a zip fly and a  double popper closure which I'd change to a buckle, going for a pee mid ride usually sees me popping these which is mildly annoying.
The inner shorts are in quite a light fabric, great in warmer weather. The waistband is comfy is not the widest, all the seams are invisible to my personas I wear them and the long legs sit perfectly well without any grippers at the leg ends.
The pad is a good on, it hasn't deformed much with use and as it's Coolmax it's working to keep me dry as fast as I can fire mud at it from my back tyre.
The outers and inners have little tabs to attach them to each other, something that's always struck me as odd about bike shorts and all the brands do it. Surely separate layers moving independently gives more freedom of movement? Sodden outers slipping down taking the inners with them? Not a criticism as such, I just don't see the point having tried it many times over the years.
Anyway, the Storm Tracks are great shorts and shall be worn until the snow demands I wear something else.
The Inov-8 Race Elite 8 is a small, lean pack for racers, bikers and runners, as well as for lightweight days at any pace. I've been carrying insulation on the bike the past couple of weeks and the Elite 8 has been perfect for that, snacks, tools and tube, bits and pieces, waterproof and a warm jacket in a stuffsack. The important thing is that the pack isn't overstuffed, nothing worse than that on your back when you'er on the bike, that 8 litres goes along way.
At a genuine 244g it's lighter than Inov-8 think it is and it's also very well featured. The slim tapered main compartment is accessed by a  big central waterproof zip with a nice big zip puller. Inside there's a little hanging zipped pocket at the top which has a key loop and that's where I keep my garage door key and change for a coffee on the way home. PU coated nylon gives the pack good weather resistance and only in persistent rain have my contents got damp.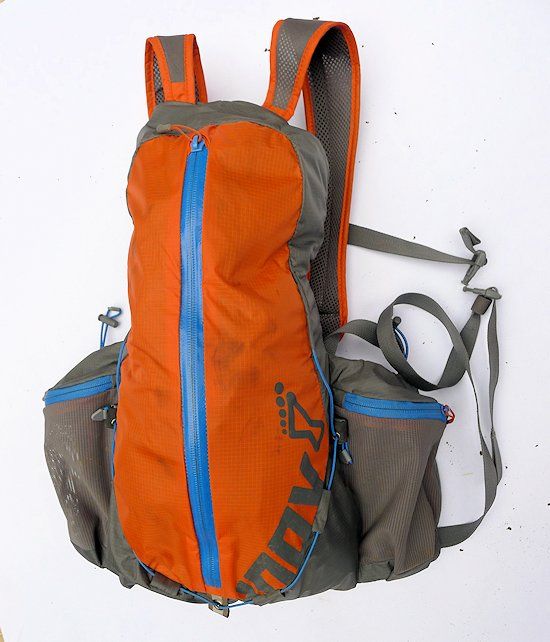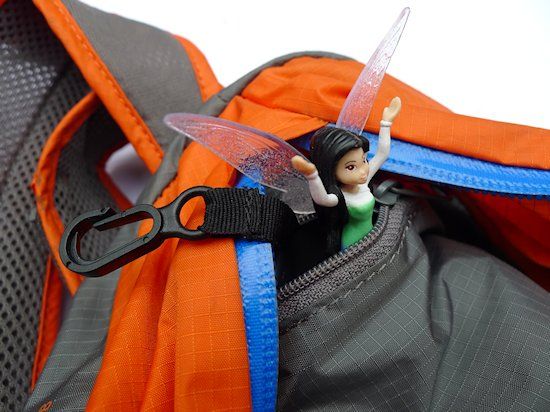 There's compression which is handy when you stick on your shell, stop the remaining kit rattling around. The shoulder straps are light but quite robust feeling, the slider tracks for the chest strap toughen them up although free movement and flexibility is great, they taper right in towards where they join the pack always a good way to free up the shoulders without compromising stability. Taking of which the pack sticks to my back, it's super stable even without the (partly elasticated) chest strap being tight, could partly be a body fit thing, but I think the packs got it's shaping right too.
The waist strap is a side fastener (yay!) and inbetween it and the pack are two lovely zipped mesh pockets. These pockets are backed with quite thick mesh, which I think adds to pack stability, and are shaped to take the neat Inov-8 500ml Packs Bottle. This works really well, the bottles can be taken out and replaced while the pack's worn without hassle, praise be.
The pockets are great by themselves of course and bottle use isn't damaging the zips. The bottle have little bungee retainers which you don't really need unless the bottle empty as it can bounce out then and the bottles themselves are  great, grippy and well shaped for wet and tired hands.
The Race Elite is a magic wee pack all by itself and adding the bottles make it even better.