This is a wee collection of test kit that's been around since spring this year or last month in the case of the Buff and last week's bike ride was good update for my thoughts on it all.
I say multisport, although the shirt is bike specific you can happily run in it, and there's news on that whole thing when I get there anyway.
The Smartwool Flagstaff Jersey is a tragedy, let me explain. Merino has had a lot of work done to it in the last few years, fabric weights have come down and even more fancy knits have appeared on tops designed for more energetic sports to get better venting and quicker drying times.
The Flagstaff has a 75/25 merino/polyester mix, TKM-Technical Knit Merino, which is use gives it the regular easy merino stretch but it also returns to it's original shape which is nice, merino does like to grow during use… The fabric is zoned, a regular jersey for the  grey stuff and a more open mesh for the red bits.
On the bike the wind resistance that merino always seems to have for me is great, but with my arms on the bars I can actually feel the heat being sucked out through the shaped red mesh underarms, so much so the main zip stays up more and keeps the mud out of my chest hair. Ha.
The whole jersey dries quick too and the lighter weight fabric layers well under a windshell, no soggy mass getting damper by the mile.
The front has a full length zip which is great for venting but also vital for getting it on as it's so bloody tight, the zip has a properly sized chin guard which is placed a little lower than the neckline for a sensible sensible V-shaped neck.
The cut is perfect for on the bike, skin tight from the hem to mid torso where it relaxes a little to give no restriction at the shoulders. When I first tried it on I thought they'd sent me an XS, but my regular Medium was just giving to quarter to my snacking habits. But, after a couple of minutes I didn't notice and on the trail it's brilliant, incredibly comfy, both the fit and the fabric against the skin.
The lower hem has an inner grip strip to keep it in place and it seems to work okay, the hem seems to mostly stay down, but I think that's half-in-half due to the tight fit as well, if the fabric wants to slip upwards its got nowhere to go.
There's four rear pockets, three stretchy elastic topped ones with a zipped centre one hidden away with an iPod (heart monitor?) earphone channel on the inside, which I haven't tested. There a pair of decent sized reflective patches on the back too.
It's a great jersey, no compromise to be seen either as it's been cut specifically for pencil thin roadies, but that soft merino lets the more regular shaped use it without issue too. It washes well, the polyester element seems to be keeping it intact and it's one of those rare merino items that seems to lose very little in moisure management to a sythetic top.
The tragedy? Smartwool have discontinued the whole bike range to be replaced next year by a less specific multisport range with the same fabrics, which does all look rather good. Still, I think it's a damned shame as Smartwool bike shorts are the best bike shorts I've ever used. So if you want Smartwool bike kit, it's now or never.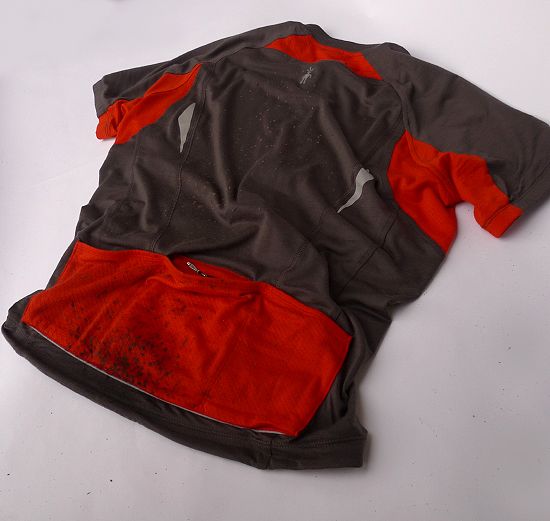 Above next to my Shimano Jazz bike shoes are Smartwool PhD Ultra Light Micro merino socks. These are great wee socks, there's a decent amount of padding around the heel and toes for putting in the miles but enough mesh patches to keep you cool and help dry quick when your mesh shoes keep slipping into the bog. Aye.
The big bonus with these isn't well seen on the Smartwool site but you can see it on the sock to the right above, there's a bit fat achilles tab. These socks are really low cut which is fine for keeping you cool, but if your sock slips down you either get pissed off having to keep pulling it up or you get abrasions on your heel from your shoe, so put the achilles tab on here and the sock stays put and you've got a little extra cushioning from shoes movement.
I think it works, and it's not a token thing, it's definitely on there if you know what I mean. A handy pull-on tab too now I think about it.
Bless Buff, they know I like the purple stuff. Got a Reflective Buff in for test (Got another few new models too, more later) and took it straight out on the bike.
Same genius kit as ever, just with a reflective stripe on either side for nigt use by runners, bikers, dogwalkers or just folk wanting to their pals at camp. The reflective strip does add a little to the bulk but it made no difference to comfort on my head or face and it went unnoticed when I tried it as a skull cap under my bike helmet.
Same vital kit as always, just with added night time shininess. And purple.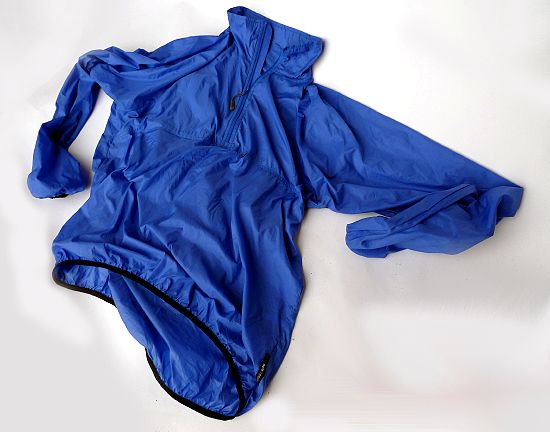 Got a Keela Neutronic Smock to test, always nice to see a new brand and update my point of reference. Keela makes me think of kilo+ plus jackets or outdoor centre wear, but having seen next years range there's definitely more to them than that.
The Neutronic Smock is a basic windshirt, coming in at 118g for my size large. The cut is a little baggy (a bit old-school maybe?) so there's a bit of extra fabric flapping around when you're wearing it, but their nylon Flylite Ripstop fabric is comfy against bare skin. It's soft handling, no great rustling and in feel it's somewhere between the old Pertex 5 that Buffalo use and current Pertex Quantum.
There's a nice high collar, a half length zip with a very neat laminated wind flap and the cuffs and hem are lycra bound.
The smock folds into it's own zipped pocket for a wee packable bundle which is fine, but the pocket itself is sewn onto the horizontal chest seam and hangs loose inside the smock like a saddle bag. There's a two-sided zip pull on the pocket so it was intended that the pocket was to be used when the smock's being worn, but in practice it's impossible. The pocket should either be external and properly usuable, which would save weight anyway, or they should just leave it off altogether.
It's a decent enough smock, for the fuller figure fed up with the current skinny fit fad it'll be a great find, with some nice detailing like the laminated wind flap, but the pocket thing is just rubbish and needs a pair of scissors taken to it.
One other thing, it's hand wash only according to the label. Aye, I'll do that…