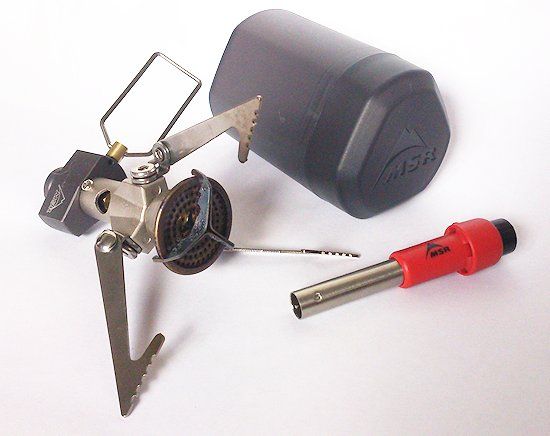 It's all change in my cookwear. I'll have some reviews of new test kit I've been using coming up shortly as well as some first looks of some different cooking systems I'll be testing this winter.
My stoves, pots and mugs are vital kit, I get so used to using my favourites, expecting reliability and having hot cuppas on demand wherever I am that there's a good chance I'll savage kit that lets me down or delays my dinner. Let's see what happens over the next few weeks.
First up is the MSR MicroRocket. I suppose it's a development of the Pocket Rocket which I am very familiar with given the name, but it's really pretty different and it had its first outing on the Ben Lomond trip on Monday where it's wee blue flame delivered the best coffee I'd had in ages. The view probably helped of course.
The MicroRocket's legs make a nice wide base which will only really suit larger pots and the legs have a swiveling, folding action which makes the stove pretty neat for stashing in a pot or a mug if you don't want to use the plastic box it comes with. The flame control is a good size and made from thick wire making it glove friendly.
The valve body is a nice casting with flat sides which makes it easy to screw on and off of a canister and although it looks a little spindly the stove feels quite robust and tightly stuck together.
I love wee stoves, nothing quite like setting one up and hearing the roar of the gas. The MicroRocket has a hard task ahead, I've used so many good stoves in the past few years and I know what I'm looking for in boiling time, gas usage and durability.
I already like it better than the PocketRocket, it's light and it came with a genius wee piezo pen-style ignitor so we've shaken hands and made our first steps. We'll see.