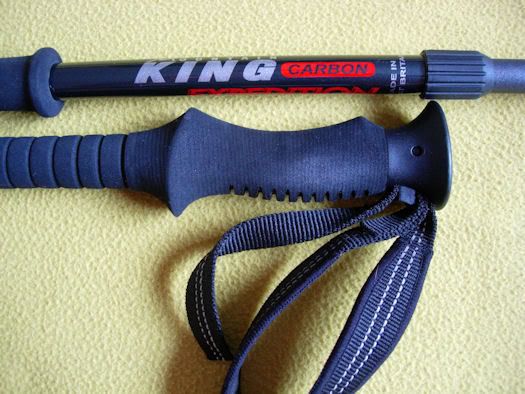 I met up with Mountain KIng a couple of weeks ago and they handed me these poles that they'd finished making the day before. I like that, and you can see "Made in Great Britain" on the pole above.
They're feature heavy and light on weight. The construction is a carbon weave over an aluminium sleeve. This gives you strength and damage resistance, but you still have flexibility. I crashed my mountain bike with plain carbon handlebars a couple of years ago, a cartwheel/over the bars/faceplant affair. The bars looked fine, but later on when I was changing the grips I noticed that some of the weave had split on the inside, and the bars were delaminating. Sudden failure was imminent, so they went in the bin.
Many carbon components have reinforcing, titanium mesh, double thickness zones and the like. The technology has been well developed in bikes, but it's now starting to trickle through to outdoor kit now. In 2009/10 it'll be cropping up more and more.
The poles are three-piece, twist lock adjustment, no antishock I'm glad to say, nicely shaped handles where the grip material extends down the top section to give you an extra gripping surface for short steeper section where shortening your poles would be a pain in the arse. The wrist loops are comfy and adjust easily with a wee widget. The lower sections are matt finished which I think will wear better than gloss and have length and STOP! markings. The tip is what you'd expect and you get two sets of baskets, the wee ordinary cup ones and a snow set. Packed length is 25″, extended length is plenty.
Aye, so what about the Pacers? I hear from the balcony. At 200g each, these are 100g lighter as a pair, easier to stow without the elephants ears and they're £30 cheaper a pair. Performance I don't know yet, but I'll be back with news.
What's important is that there's top quality poles from several people who aren't Leki. And what's also important is that they might let me talk about the 100g skinny poles after the Friedrichshafen trade show…