As a long time Montrail wearer it's been interesting testing the latest models to bear the name. The Streak's are a lightweight trail runner complete with Montrail's traditional leaning towards blending performance with comfort and protection.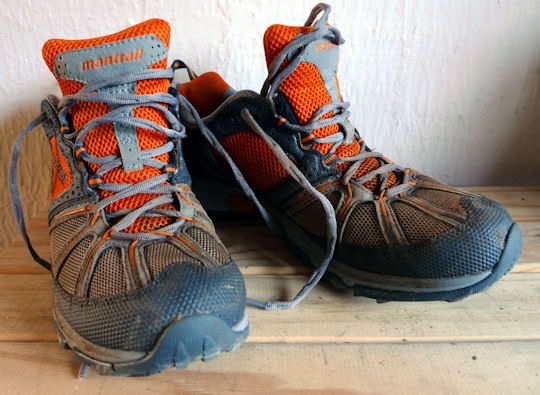 The upper is mostly mesh with a support structure that ties into the laces and this actually does pull the shoes together for a nice snug fit as well allowing quick draining and giving reasonably quick drying. The tongue has a bit of padding for instep happiness and the laces are stitched intermittently to give them an uneven profile and help stop wet laces slipping out of their knots, tripping you onto your face and making you buy Salomon's the next time. I'm not joking either, Montrail laces have always been pish.
There's Montrail signatures here, the look is right, there's proper toe protection with a big rand and some stiffening and the giveaway that it's a Montrail is a sturdy heel construction.
The heel is the beefiest part of the shoe, both upper an lower. The philosophy they seem to follow on most models is to make the heel a pivot about which the foot and leg do their parts from a point of stability. The uppers are always strong here and there's rarely much flex around the heel on the sole unit no matter how flexible the front of the foot area is. This might feel unusual or disconcerting for some, but for me it works (after initial misgivings in a pair of Leona Divides) and I think it gives great stability and confidence on the roughest of ground.
Also, internally they have some shaping which, while not as severe as an insole, contours around your foot giving something of a sock-like feel. Some folk hate all this, and indeed the whole heel area and general construction quirks that run through the range means that some folk just can't wear Montrails. I like the fact that all this remains, it means that new owners Columbia haven't diluted the brand and gone for mass appeal madness.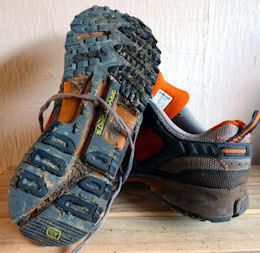 Montrail sole units are often hit and miss, shallow treads on waterproof models, the softest compounds on backpacking models and such, but the Streaks have a cracker.
The tread is aggressive with deep scalloped areas and a mix of shapes and angles, and it's moulded in a sticky compound for the best possible grip over ultimate longevity.
I've found grip on everything except greasy rock, so they are pretty much fit and forget when you're out on the hills.
At 348g per shoe they're plenty light enough to run in, but are foot friendly enough to wear all day whether your walking, backpacking and I think they'd be a great race shoe.
So where do they sit on my graph of shoe perfection? The Salomon XA's are my eternal benchmark trail shoe and on the comfort axis they sit at a wonderful 9, the Streak's are slightly behind at 8. On the grip axis the XA's are workable 6, but the Streak's are at an impressive 8. That's all relative to my feet though, which is a bugger, I know.
Will I buy a replacement pair when the soles of the test pair wear out? Hell yes.