Montane's new showroom is a world away from the tiny old place in an Ambleside back street, and they've got company now too with TNF, Haglöfs and more in the same building. The lobby is particularly well decorated with a fine view of the summit of Beinn Narnain. I'm amazed that shot from the LX3 blew up to that size so well, looks cool and it's still one of the finest winter nights in a tent I've had.
We met Rob Montane after KORS and although we were getting a little frayed by this point a sit down, a cuppa, and a room full of nice looking kit revived us just fine. I haven't seen Montane for ages, and I could really see a big step forward. The brand has been driven hard from the old to the new, the elements of fast and light that have always been at the centre of the kit are alive and well but the quirky individualism has been spliced with a more regular feeling accessibility and an aesthetic flair that the kit never had in times past.
It's all recognisably Montane, but rather than a niche brand for those in the know, Montane is now a world class label. Good to see.
I've missed out a lot of the shell clothing as nothing has really changed since my last look so I've looked at the current stuff I haven't seen and what's coming up, some of which is for this winter and some is for next year.
This colourful pair are hims (above ) and hers (below) Featherlite Down Jackets. 405g for a medium, we have a Pertex Quantum outer and 140g of down inside.
It's tiny packing this and I've found the warmth from this style of down jacket to be surprisingly good. The hood is excellent as you can see on Phil below and the pockets are well placed although the girls doen't get the chest pocket.
Ah the colours of joy.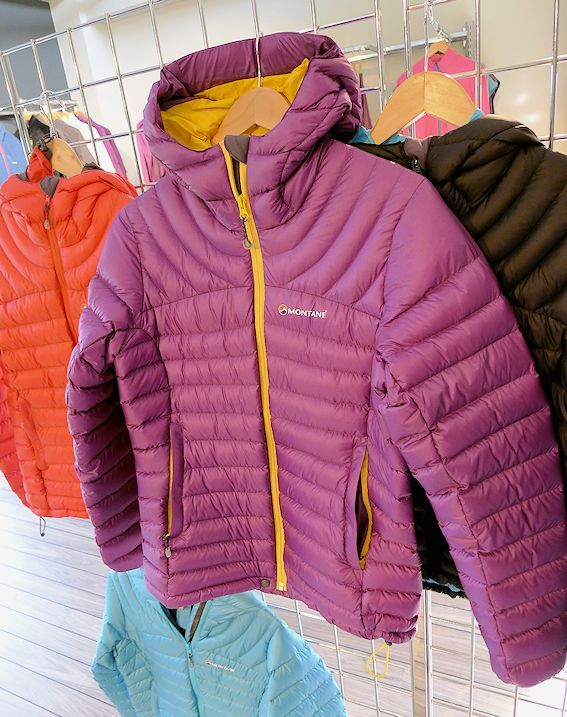 Below is the Ice Guide Jacket which is a Pertex shelled Primaloft filled monster. Under the non-shiny Microlight outer the Primaloft is in 170/133/40g weights so it's as warm as you'll get from a synthetic and it's still pretty compressible too. Big hood, many pockets and 635g for a medium.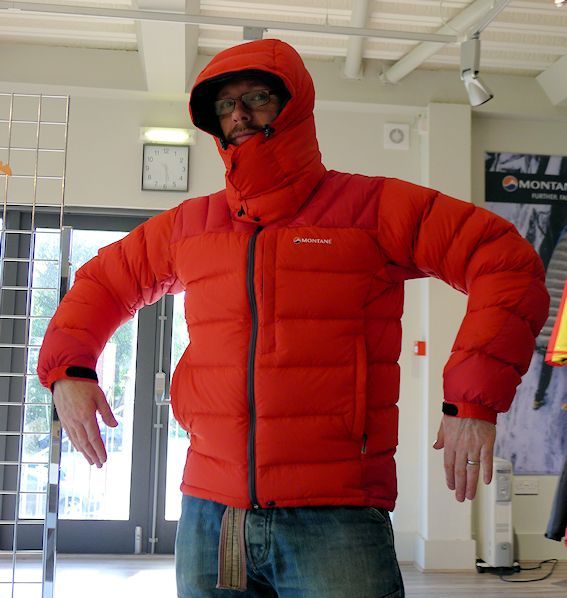 The Polestar is a more standard winter duvet, good pocket layout inside and out, great hood and excellent articulation in the arms. The outer is Pertex Endurance food weather resistance and in the 755g medium there's 240g of down to be found in the baffles.
Also below are the North Star jackets with an Antifreeze in the middle. These down jackets have been around for a while now but are still looking fresh. 
Nice wee selection of synthetics above. The first two are the latest updates of the Flux which I'll have a close-up of shortly, then we've got a new colour of Prism. The Prism is a great bit of kit, midlayer, insulation and wind shell in one, really usable, I should dig mine out.
Next is the updated Fireball smock which I like much better, the styling is clean looking and the addition of a single chest pocket makes sense and it's only 265g for a medium. Last in line is the Prism Vest. Insulating vests are ace, go-to kit for anything from running out to the shop to camp living on the summit.
All of the above are combinations of Pertex and Primaloft, a pairing of justice indeed.
Below is the new Extreme Jacket. Looks nicer and no doubt still has all the same performance in its Pertex Classic outer and Dryactiv 3000 lining. I've used the smock version on and off over the past few winters and for consistent cold weather it's brilliant kit.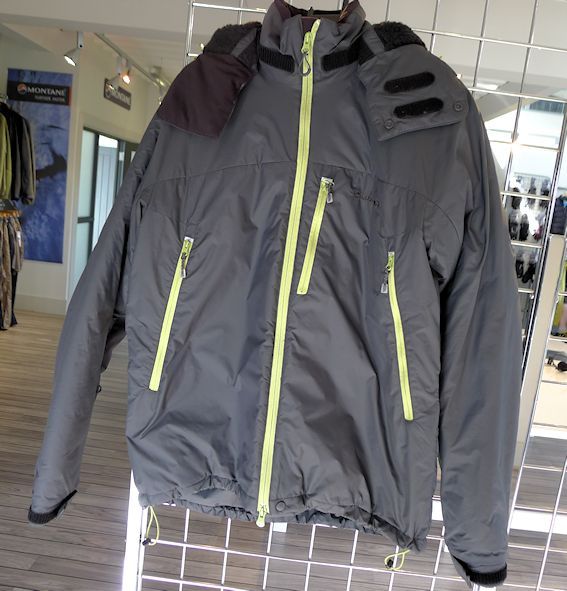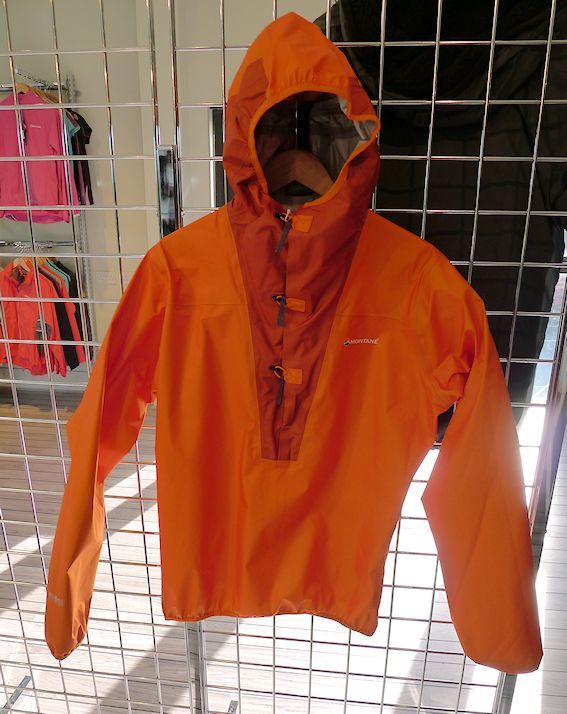 The Spektr gets a new colour of eVent. It's light, it's different, it's got toggles and what about that hood?
The Minimus Jacket range comes in Pertex Shield which is much improved in performance since my last experience of it a few years back, everybody says, and these jackets are a good use of the silky fabric. Simple lines and layout, one big pocket and a good hood at 215g for a medium for the regular version in the middle.
The black one is the 232g Minimus Mountain Jacket which has a revised pocket layout with a smaller one on the chest and two mid height hand warmers. The blue one is the Minimus Smock which comes in at 143g. I'm liking the look of this.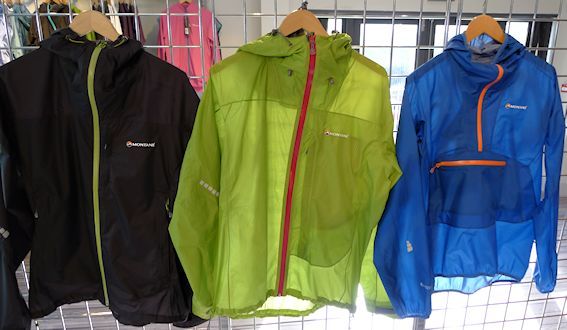 Below are the matching Minumus Pants at 125g. They've got articulation built in at the knee with calf length zips and lower leg cinch tabs for biking and running.
These are the Sabretooth Pants in Polartec Power Shield. The fabric to me always feels like a hybrid of Powerstretch and softshell which is perfect for winter legwear. The Sabretooth's have four pockets, including a handy thigh one and have removable braces which I always like for winter.
There's a diamond crotch and knee articulation for even easier movement than the fabric already gives you, a zip fly, ankle adjustment and belt loops if braces aren't your bag. Been waiting for Montane to do something like this for ages.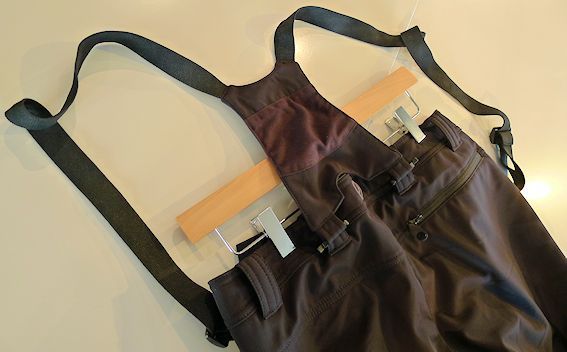 Rob's pleased with the Jackal Jacket above in Powerstretch Pro. Finally we'll be able to tell who using the best Powerstretch when we see the Pro label and folk will stop whining about the difference in price from one Powerstretch top to another, the reason now being plain.
Anyway, awesome hoody with built in gloves and a neat hood. There's Tactel over the shoulder which is something you don't see so much now and I don't know why, it protected your pack from your rucksack and gave a little extra protection from the weather from the direction if often comes in, ie from above. Good to see.
Above is the Alpine Stretch Jacket. It's in Montane's own Chameleon³ fabric which is a four-way stretch non-membrane polyester softshell. Big mesh chest pockets, proper hood, adjustable cuffs, looks good.
The Skye Jacket below is in the same Chameleon³ fabric but in a plain style for cool weather running. But as you'll see, the sleeves zip off leaving you a handy gilet, the armholes of which are normal and don't follow the lines of the zip as I thought at first…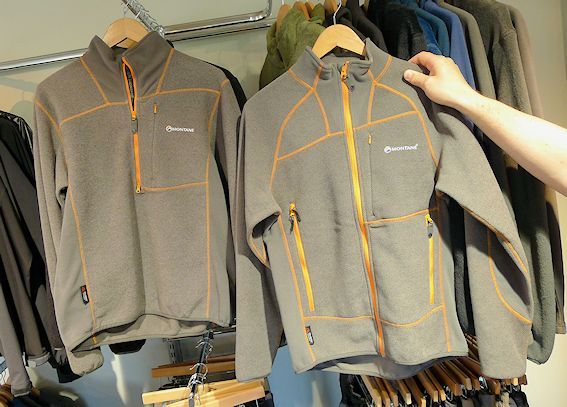 I like the Volt Jacket and Shirt above, a mix of old school tweedy looks and asymmetric wackiness. The Polartec Thermal Pro Honeycomb fabric has been updated they say and has brought a Cadbury's Crunchie to mind .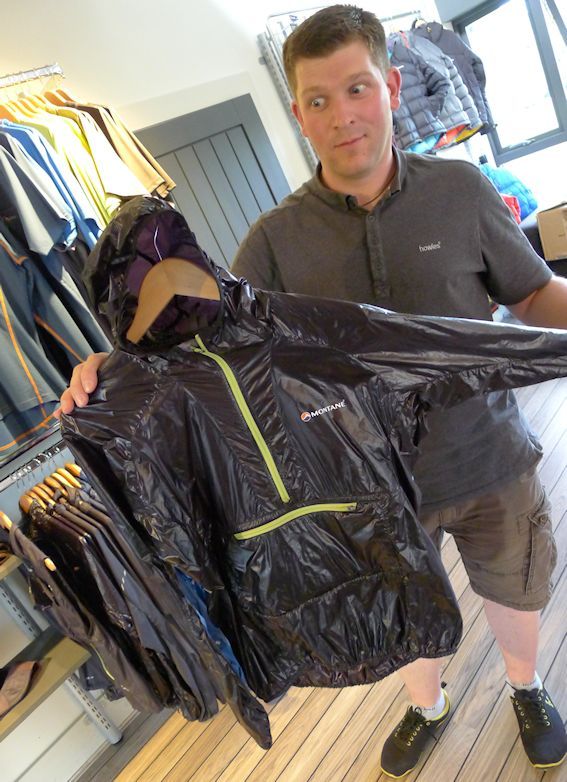 Montane have always been faithful to the concept of windshirts with a wide range of models and this is still rolling on.
The Featherlite Ultra Gilet below is Pertex Microlight, it has a chest pocket, elasticated armholes and an adjustable waist. Very wearable and usable, over a baselayer you're laughing, I know how often I roll up windshirt sleeves, so why don't I just carry a gilet?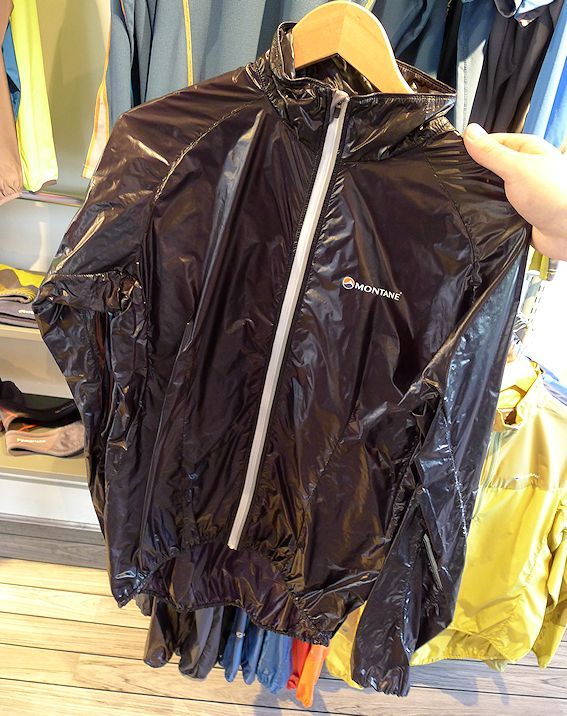 Phil's ska dancing is improved no end by the Slipstream GL jacket, 70g of Pertex Quantum GL, the world's lightest windproof jacket they say. Good fit whatever, no length cut off the arms or body to get the weight down and the arm movement is spot on.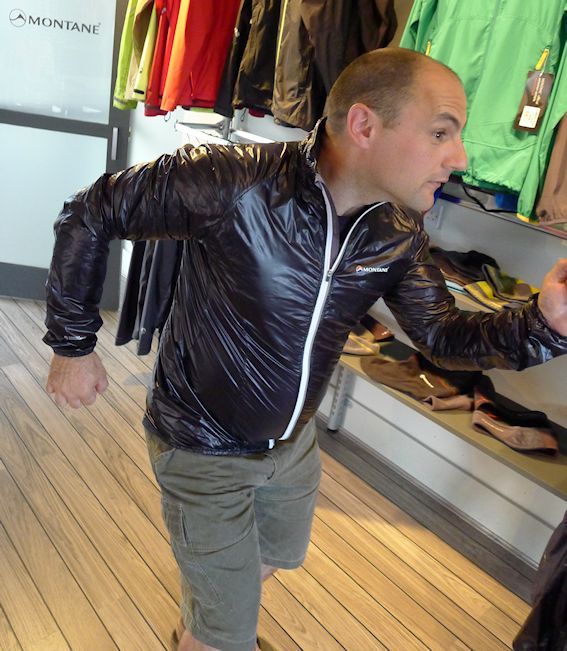 Now I know I look all wrong in the photie below, and Rob's expression while holding it on the hanger a few shots above might also raise a question or two, but the Slipstream GL Smock was actually one of the highlights of the day. The Pertex Quantum GL fabric is so light and it feels fantastic on, even on bare skin. The cut is good, the arm length is excellent, the hood is neat, the pouch pocket is perfect and it packs away to nothing at 85g. If only Montane would sample in large.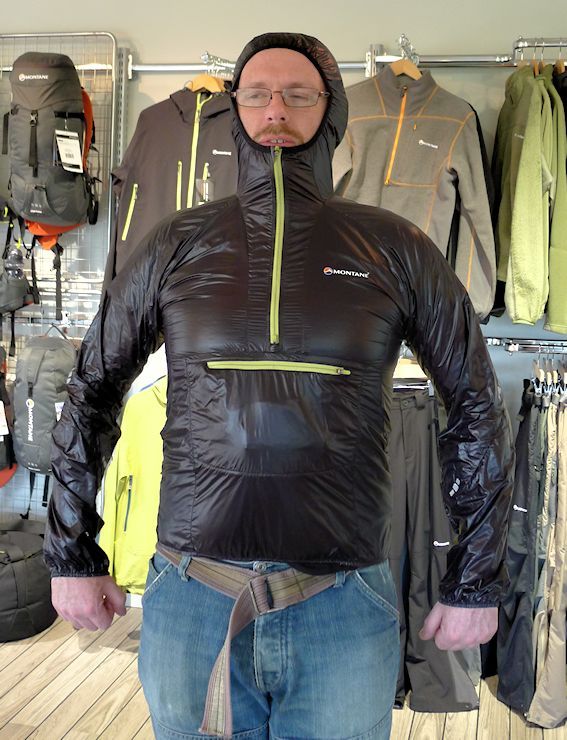 More windshirts, or Trail Shirts as Montane are calling them, all in the lovely Aeroflyte fabric. This polyester fabric is smooth, soft and feels like, I dunno, a freshly ironed favourite cotton shirt? I absolutely love the feel of it.
I'm wearing the 175g Aero Star bike jacket, simple regular design with lycra hem and cuffs. The blue shirt is the 152g Trail Star and is similar but with trail running in mind with thumbloops and different articulation to the Aero Star.
The Mountain Star is in green and features a hood and two mid-height side pockets and an adjustable hem. It comes in at 200g.
These are interesting, the weights are up a little on their Pertex equivalents but if the fabric performs as well as it feels, what the hell. That white top is ready made for sponsors logos for race wear isn't it?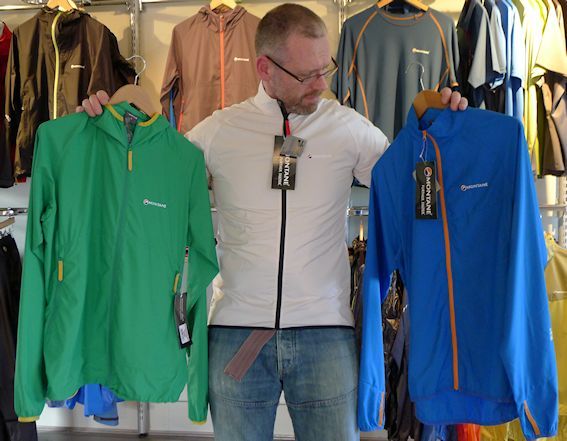 Montane went from no accessories to all the accessories. Here we have the Punk Balaclava and the Rock Band ear warmer. We look lovely.
The balaclava is well thought out, zoned fabrics to try and keep it wearable rather than a prison of sweat for your napper.
The Beanie's get new colours. I've been wearing one of these for ages, I'm a hat connoisseur don't you know.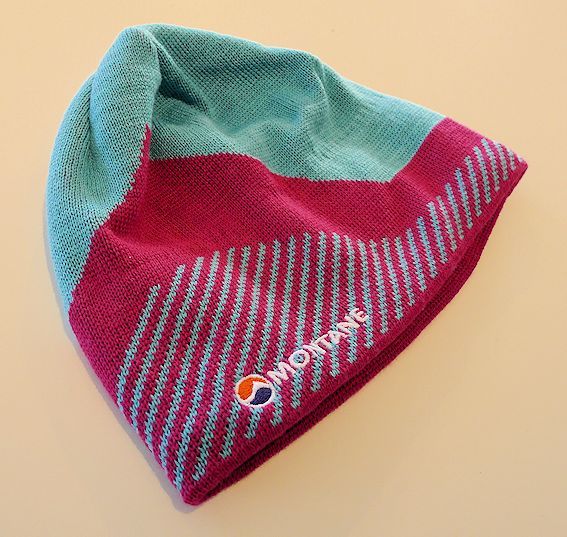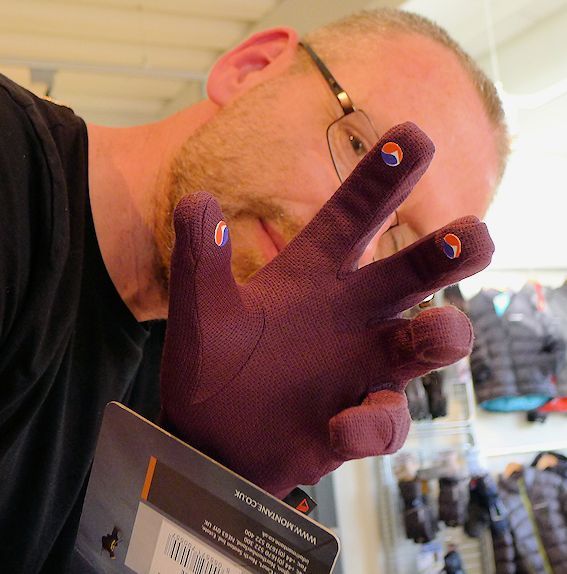 Purple Polartec PowerDry Liners? Why don't I have these?
The glove range has expanded since I last saw it. The Pertex/Pile Extreme Mitt about is better designed alternative to the Buffalo DP and I think it's a Thermostretch on my other hand which is lined softshell.
Below luckily the labels are visible for two of them as I have no idea what they are, but I do remember being quite taken by the PowerShield Grips at the right, very dexterous. It's the Extreme Gloves at the left: WARM!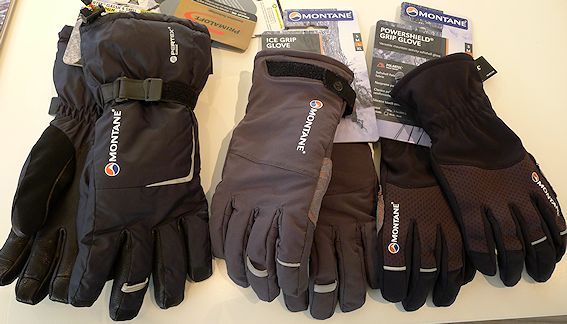 The Terra Pant family is all extended these days and above we have the Terra Alpine at the left, which I'll have a proper review of soon as I wore them a whole bunch last winter and the new Terra Stretch with the grey knees.
I'm hoping these are good, the fabric is Granite Stretch which is nylon and spandex so should be tough. The layout is classic Terra, it's just that now I'll be able to move in them. Alright.
The new Trail Tights and Trail Shorts look good with some nice detailing like ankle zips, rear knee mesh panels and centre/back pockets. The fabric is nylon/spandex Carvico with some Tactel reinforcing.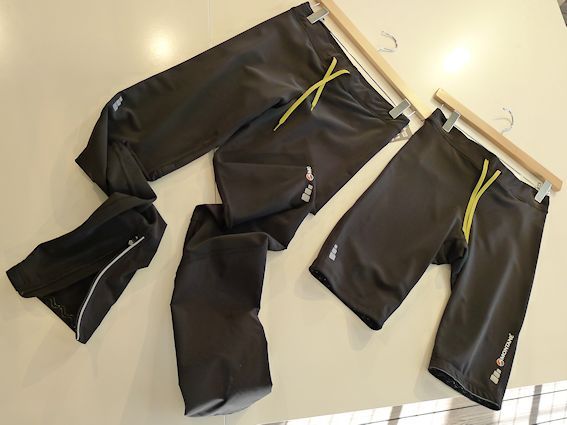 The Sonic Ultra above is nice looking short sleeve baselayer in Dryactiv fabric, but the new Mojave Shirt is what caught my eye the most.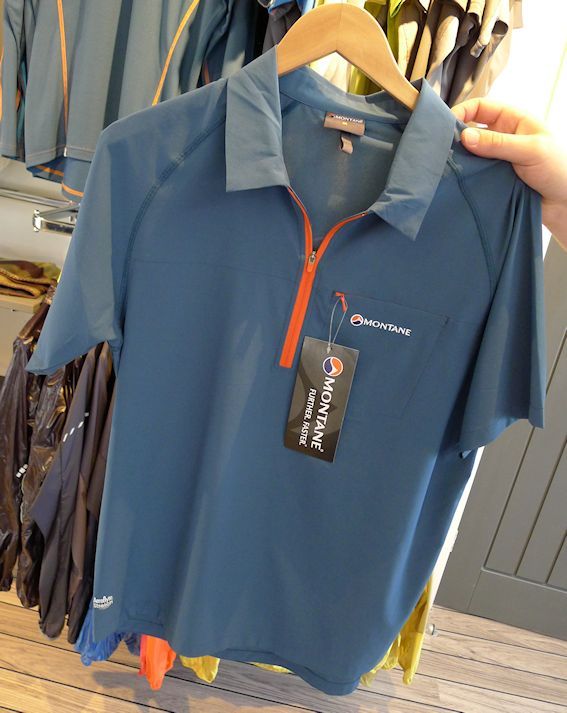 I've worn collared short sleeved shirts and polo shirts into the hills a lot in the past few years and it's a very good layout, you've got venting and a collar for keeping the sun off and the wind out. The Mojave does all that and is in a lovely feeling Aeroflyte Stretch fabric, a polyester/spandex mix.
We liked these, we'd wear them, store buyers won't get it and we'll never seen them again or a shop chain will get them embroidered for uniforms which as we all know know is a death sentence  for any bit of kit.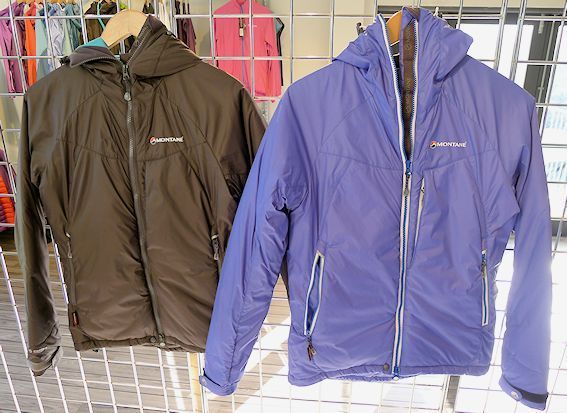 Here's the woman's Flux above, different styling from the blokes and they've kept a chest pocket which is nice. Below is the hood which shows the nice detailing of the microfleece that sits against your ears.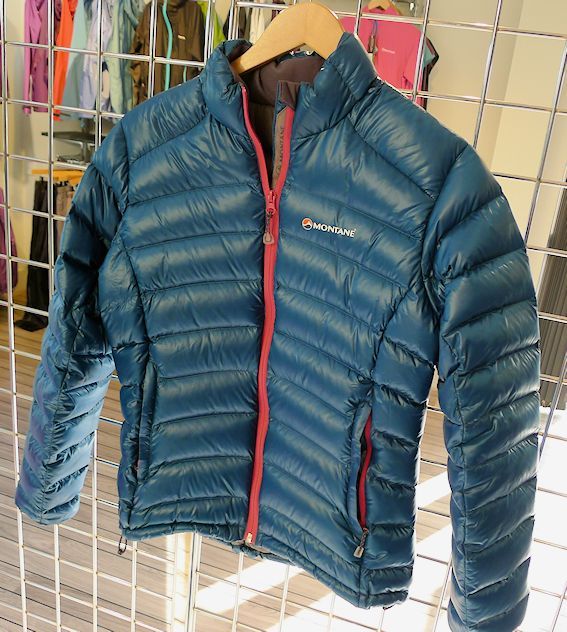 Above and below are the girls Nitro Jackets. 346g with a Freeflow outer shell and 130g of down fill.
The mens Nitro is pretty much the same, just a little heavier at 384g with 150 of down in there. Nice light, packable jackets. The Freeflow fabric has been a Montane regular for ages, it's a nylon ripstop and wears well with a decent DWR.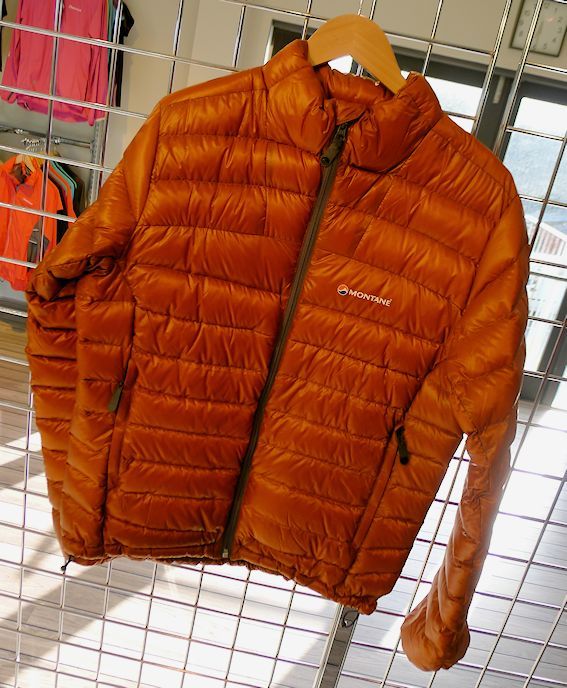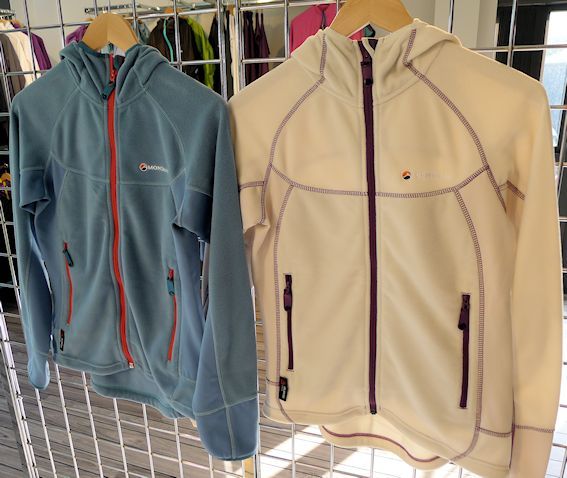 It looks soft and cuddly, but it the woman's Fury Jacket. I reviewed the bloke's a while back and the Fury is a great light midlayer, Polartec's Classic Micro is great on its own and isn't too warm to layer and the hood's a cracker.
The woman's Alpine Stretch is below, same spec as the men's above with a revised pocket layout.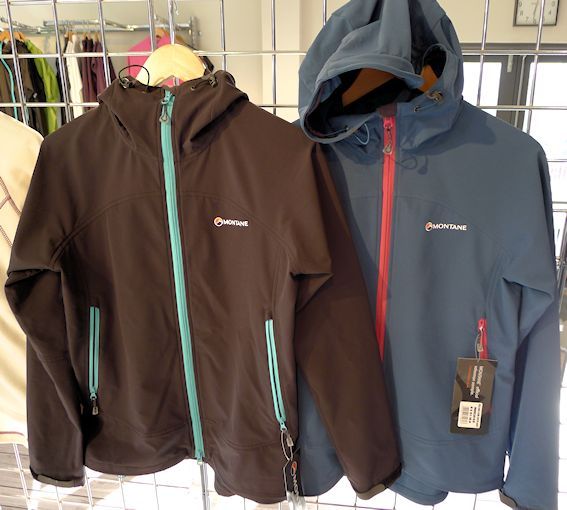 The Pertex Shield Minimus Mountain jacket has its female equivalent above and below the Aeroflyte Mountain Star hoody and Trail Star gets a pastel treatment for the girls.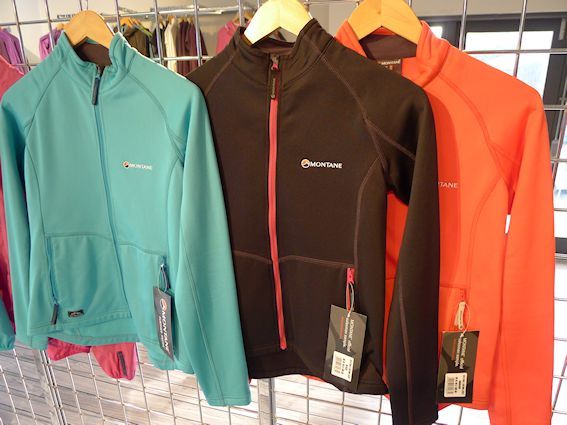 Above is the girls Lightning which is midlayer in Mt Thermo fleece, think own-brand Powerstretch. The Men's Vice below is an a stretch midlayer in Mt Thermo fleece, think own-brand Powerstretch. Interesting combo of full zip and single chest pocket compared the two hand warmers for the ladies equivalent above.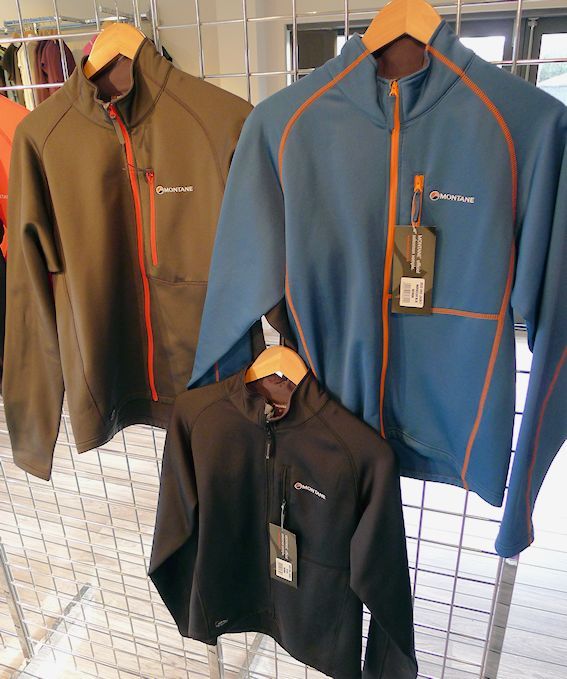 The pack range is growing isn't it?
The Medusa 32 is a go-to pack that'll do day walks, light overnighters and winter routes. The ice axe stow system is really neat as Rob showed us above. It's got a real back system and harness and comes in at 913g which is fine for the capacity and features. Stretch side pockets are a must and it ticks that box too.
The Cobra 25 above is another clean profiled go-to pack. 819g with zipped access and the same proper back system as the Medusa. You get a mix of gear loop and zipped pocket on the hip fins.
Below is the Ultra Tour 22 which is a stripped-down pack with a rolltop closure which goes as shown or flat across the top and cinched down the sides. It's got plenty of pocket including a big mesh one on the front and this should work for anything from bike to mountain. 545g.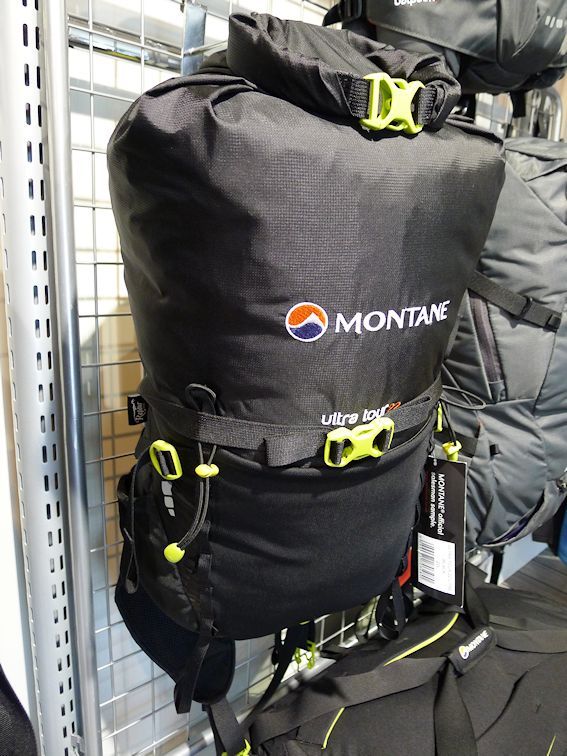 A lot of though has gone into the packs, and not all of it new. Above the "reversed" lid pocket entry is what's on my 60s/70's Karrimor packs, it's a great idea, other folk can get to your kit on the move and your stuff doesn't fall out when you open the lid with the pocket zip open.
The Torque 40 is an alpine pack with a few other neat features. It has a bivi mat which folds out to a good size as you can see below and the whole packs is designed to compress right down so that when you're wearing your rack rather than carrying it the pack stays out the way.
Below is the VertErgo back system which fits into the Torque as an option and another version fits in the Grand Tour with a hip belt/lumbar section. It's plastic with an aluminium strut in the middle to give the pack shape and made load carrying better. It's good to have the option, I've swapped between folded sleepmats and rigid back systems many times and often wished I'd had the opposite on the day.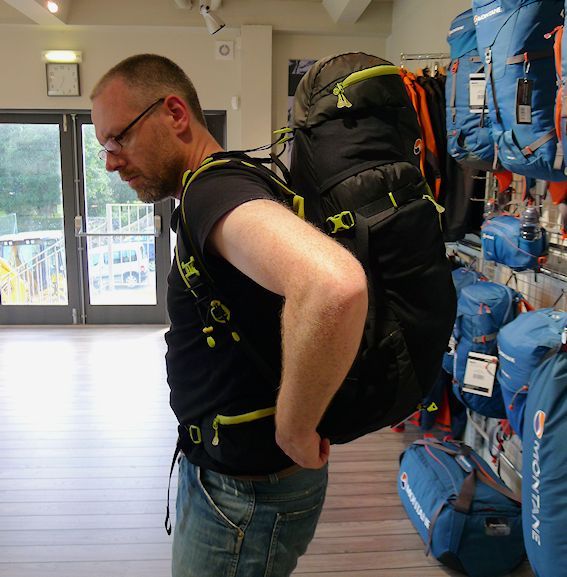 The Grand Tour 55 is a 1300g backpacking sack and has been designed with the experience of thousands of miles on foot. Lovely harness which will put the load where you want it and keep it stable, lots of storage and a clean exterior.
I dialled this into my shape pretty quick and I think it's looking good.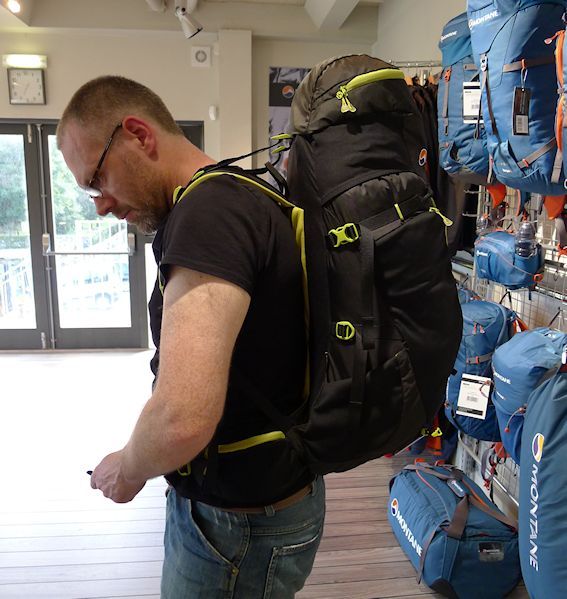 I tried to make it to the door with the Grand Tour but I was distracted by the t-shirts. Cotton, printed with stuff that's nearly as good as skulls. Cool.
That was it. We sat shell shocked and dazed outside a pub in Staveley and had dinner while the sun still shone in the late evening. Oddly it had been the best two days in weeks and Phil and I spent it in a motor or in a building surrounded by outdoor kit. Irony or karma at work there I think.
Still it was a joy, good to see folk and catch up and good to see the kit.
We still had the drive home, but it wasn't without its charms either.