Winter is just around the corner and Montane's new kit is just hitting the shops. I was down at their Lakeland bunker a few weeks back with Craig and Paul showed us what's happening.
The test kit I've got for this winter is here.
I've often mentioned that there's not enough skulls on outdoor gear, so at least the Slipstream Gilet allows you to display your own through its mesh back. It's a quirky piece this, but very useful and I know a few folk who swear by them. A nice bit of Pertex on the torso on the bike at this time of year is probably all you need when you're sweating up the trail.
At the other end of the protection scale is the new North Star down jacket below. I saw this the last time I was at the showroom and was sworn to secrecy. It's a nice bit of kit, great hood, great cut with full body movement. It's got a stitched-through construction, but done in "shapes" that follow the contours of your body. Very light too.
Lightweight softshell is a Montane regular, the beefier Sabretooth that I tested last winter is staying in the range, and next year we'll see the Dyno above. It's hooded, fitted, cut from Pertex Equilibrium and is totally badass.
Montane's waterproofs are now all coming up the standard set last year by the Halo Stretch. The eVent Evolution below is fresh onto the shelves having just buried the aging Super-Fly's body in the woods. And rightly so, it's a better jacket in every way. And I'm saying that without a gun being pointed at my head, that finger isn't loaded.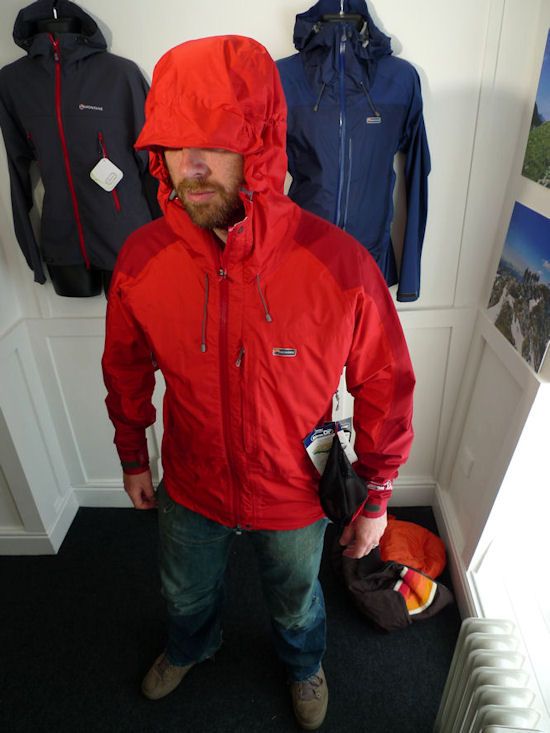 The Meteor DT above is a 350g shell cut from Entrant DT with stretch panels. It's the same slim cut now running through the range, but it's got good length, proper protective hood and still has three pockets. Entrant is a great fabric, and shouldn't be seen as second class. The Entrant jackets are every bit as well thought out and as technical as the eVent ones. You can't say that about all the brands when they use alternative fabrics to their regular Big Name.
Crag's smiling out of the Dragonfly shirt below, it's zoned to let heat out of the upper chest area. I thought about this, and if you're layered up, unzipping your outerlayers to expose this thinner fabric area might let you cool down quicker without unzipping your baselayer as well. Less faff in winter maybe? It's a subtle thing, but folk are thinking at least.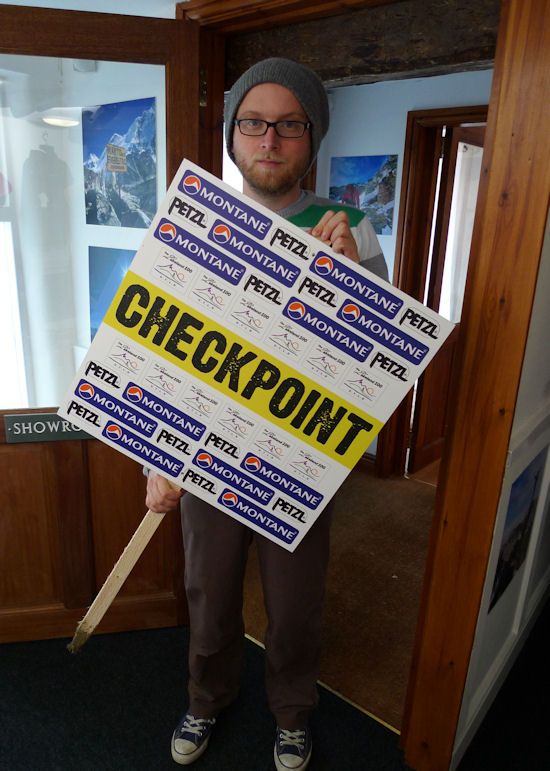 Paul's holding a checkpoint sign from the Lakeland 100 race. He was preventing me from leaving with all the orange kit, but it also shows you how important events are becoming to the manufacturers to show their techy credentials, well the ones that haven't gone all lifestyle anyway.
Below is the wummins Mayfly shirt, a female-cut Dragonfly. Like the Dragonfly, it's two weights of Polartec Powerdry. I've got used to the concept of zoning in recent times, from things like the Montane shirts to the extremes of compression base layers. It's a good idea, and it's interesting to see how different brands approach it, some putting the hot bits where other put the cool bits and the like.
Above is the wummins Dyno for next year, again in Pertex Equilibrium and also recyclable through ECO-Circle. The vivid green is a lovely colour, but it's still a proper technical piece for the mountains. You'll see the new Montane logo on there as well, it's bigger and embroidered, looks all grown-up.
The other good-looker below is the wummins Liberty Jacket in Polartec Classic 200 and Thermal-Pro. Although there's a notion that heavier fleece is dead for technical wear, maybe it's just been that the designs were often baggy horrors with two waist pockets to keep your hands warm while you waited for your dog to have a pee in the park? 
I wore 200 weight Alpiniste fleeces for years without being upset, so given good features maybe we shouldn't overlook fleece. As long as they are good ones. Not those ones the teams have to wear in Bargain Hunt on daytime BBC.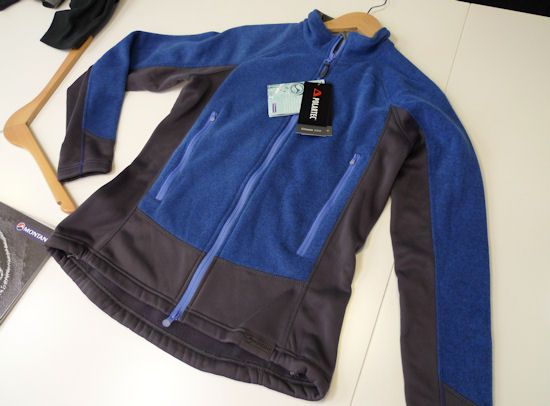 Paul is demonstrating stretch in the Dynamic Stretch Pants below. They're a trekking/general purpose pant with an important feature for Montane, a cargo pocket on the thigh. Just one, but it's a start. Hopefully we'll go onto double pockets if these do well. The fabric is Tactel Dynamic and we did a water spill test, and the big slosh we slipped on it would not penetrate the fabric.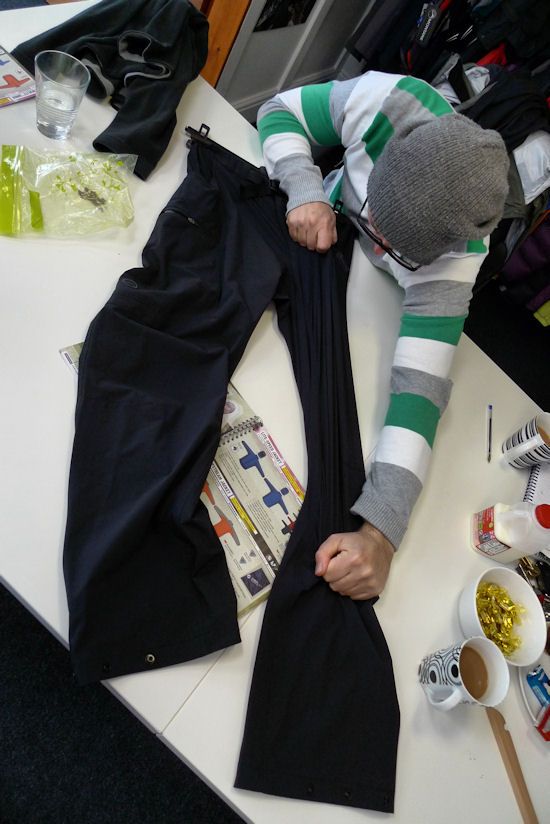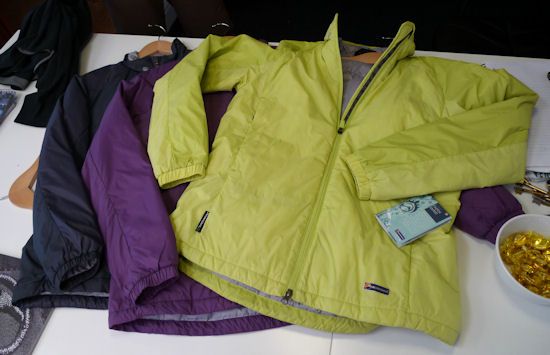 Above are a trio of Firefox jackets, a Pertex and Primaloft lightweight insulation piece. Two handwarmer pockets and a nice high collar.
There's an important point here in that there's no male equivalent, for once we get the peanut Revel and the girls get the Galaxy counter.
Sticking with the girls, below we have the Anti-Freeze Vest and Jacket. They're both nice and light with 800+fillpower down inside and a water resistant Freeflow fabric on the outside.

We've got the girl's Atomic DT's above and below. The restyling on both gender's versions is good, very fresh looking. It's another one of these unsung heroes, lightweight, functional and now with a face you won't be afraid to take home to meet your mother.
 The Atomic DT pants are below, light and will keep the wet and wind out. Why carry heavy shell pants? It's been years since I packed traditional-style shell pants that my jacket. These days with softshell pants and the like, all you need most of the time are lightweight shells for the wettest and coldest of days. Maye for all of the time in the UK?
Above and below are the Atomic 2.0's. Light, simple, slim and technical.
The Meteor DT pants below are a mix of Entrant DT Storm and DT Stretch fabrics, they've got braces, 3/4 length zips, zip fly and still come in at 280g. Winter lightweight there I think.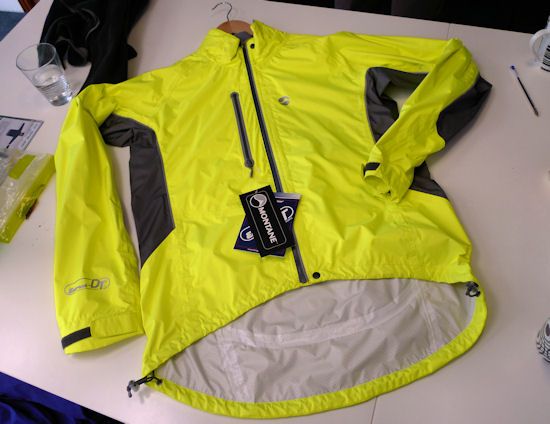 The Velocity DT is in fine eyewatering position above, made for the bike but still good for wet trails on foot as well.
Below is the hilarious and really rather nice Bear Jacket. It's in super-furry Polartec Thermal Pro "High Void" ( I presume this means it has a false ceiling with plenty of room to run building services through…), and comes with thumb loops. Aye, it's not technical, but we couldn't help but like it anyway.
Paul was overcome with happiness when he modelled the Jaguar jacket. I think he was getting sick of looking at us by this point.
There were some old friends on show as well, the Prism 2.0 below has become a wee classic and stays in the range.
It's impossible to show everything, the range is huge (just look behind Paul above), but I picked out the stuff that really caught my eye (that includes the test kit that's through).
I liked the female range, and it's good to be able to show some of that.
As you can see it's a very serious business. The three men above are tired and emotional, having reached the limits of gear endurance.
I like these visits, it's good to see the evolution, the ever changing output of folks design glands.
Like I always say, the manufacturers are trying, blame the stores if you can't get what you want.
Craig and I went for dinner in Ambleside afterwards. It cost about £300 for what you see in the photie there, but luckily the parking was only £66.
Anyway, Montane updates coming soon. It's the weather for it.