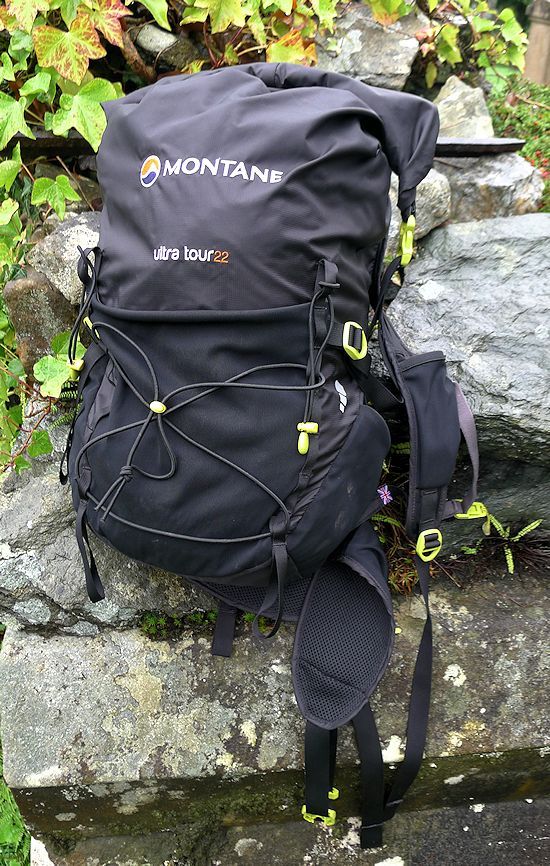 I spoke  a little about this pack at the start of the year, so we're long overdue some conclusions.
Montane's Ultra Tour 22 is a race pack by design, but all that means is its intentions are to be as light and possible and as functional as it can be. Something that we don't have to be dressed in shorts and a numbered bib to appreciate.
It's a roll top entry pack, something I've long championed, it's quick and simple and here it's also adaptable. You've got two choices in how to close the pack, one way is to buckle the rolled closure down the sides giving you good load compression or if you've filled the pack right up you can buckle the roll top onto itself like you would with a stuffsack. This is the way it should be done, it's like having an extendable lid without all the fannying around.
The main compartment is rated at 22 litres, but you'll get more in it than that using the up-top style closure. It's plain and pocketless as there's no lid, but inside you do get a hydration sleeve with a velcro tab and hose exit should you have a mistrust of carrying bottles.
For me the hydration sleeve has another purpose: back support with a sitmat. This pack has seen a lot of use from both me and Joycee and through time the one fault I've found on it became apparent, the (lightly foam padded and channeled for sweat management) back system took a sag in the middle. It's not something you can feel on your back, but you can see it when someone else wears it or indeed points it out when you're wearing it and reach round and stick a hand into the gap.
It doesn't affect stability, it's just annoying. It's not because of the backlength which is fine, amazingly it's plenty long but seems to work perfectly well across a wide range of wearer heights, I think it's like a shoe, it's wearing in at a natural crease point. An easy fix? Hope so, because let me tell you about the rest of it.
The Ultra Tour is a wishlist of usable features made real. On the front panel there's a stretch mesh pocket with an optional bungee web (using daisy chains) across it for quick and varied storage options. Here there's also axe/pole attachments in which I've carried both to good effect, although the bungees at the top should have bigger cordlocks for easier use and better grip on your axes etc.
At the sides we have compression straps which terminate inside the side pockets, don't worry the straps don't interfere with pocket use: others take note. The side pockets are wearer-accessible and will take up to a 700ml-ish size bottle securely.
The harness is quite light, but there's been no signs of twisting or folding like you often get on lightweight packs. It's mostly mesh, tape and stretch paneling but it's secure with a load. I've had ice axe, crampons, stove and the like in there it's been fine.
The shoulder straps have wee extras, on your right strap you have a wee stretch pocket for your glasses race fuel etc and on the left double bungees for holding a bottle, or in my case my lightweight Zipshot tripod.
Length adjustment is all normal stuff but the chest strap is quirky. The buckle is a slide in and pop-out thing which takes a minute to dial into, but is then fine and the strap is elastic which is fine by me as I often wheeze in deep breaths while "enjoying the view" and need the expansion.
The waist belt is a happy place. The closure is the reverse pull type with a central buckle, very comfy and secure. The hip fins are wide mesh with good sized, zipped, stretch-mesh pockets. The whole spec is one that's been made for folk on the move to get their stuff when they need it. That quick access thing doesn't just apply to racers, why would you want to dig around for stuff in your pack when you can just put a hand into a pocket while you're trying to work out who'll get to the summit first, you or that cloud over there.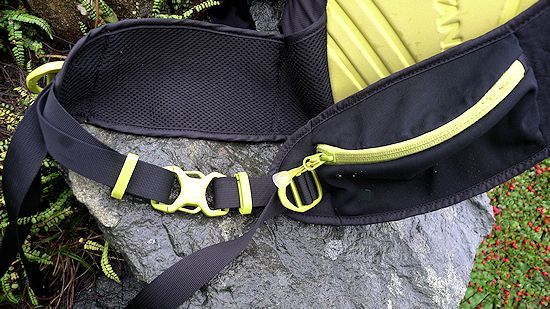 I've used the Ultra Tour as a walking and biking pack. Biking is fine as it compresses down very well, but it's really made its mark as a lightweight hill pack for both Joycee and myself.
I can confidently say longevity is good, from many close encounters with ice, rock, a car boot full of tools, rangering, forest school groups etc. The fabrics aren't the lightest, the pack could easily have been lighter than its XXXg, but instead it sits at that hard to find middle ground where weight, functionality and durability sit down together and one of them doesn't get back up and leave in the huff.
The Ultra Tour 22 is close to being perfect, the back system means it isn't, but it's not stopping it getting used at all. Aye, you can race with it, but you also do whatever the hell you like with it. This one has taken a beating and it's got plenty of life to live yet.