Here's frustration on two legs. I put together some gear pages for a supplement a couple of months back and some of what I got a hold of was what was quickly available, and that meant some UK size mediums which don't fit me, not USA size mediums which do. Dammit.
I'm going to do a few quickies on some of it and first up are the Montane Sabretooth Pants.
These are probably long overdue, the closest they've done that I can recall were the Terra Ice Pants some years ago which were a proper winter pant and the Sabretooth's do fill a gap in the range. I've used the Sabretooth Jacket many times which is a match for the pants in design and fabric and is a crap weather winner, so I'd expect the pants to be the same. That's not a hunch, although I lay on the floor breathing in hard trying to pull these mediums on in vain, the design of the Sabretooths mostly tells us what we need to know.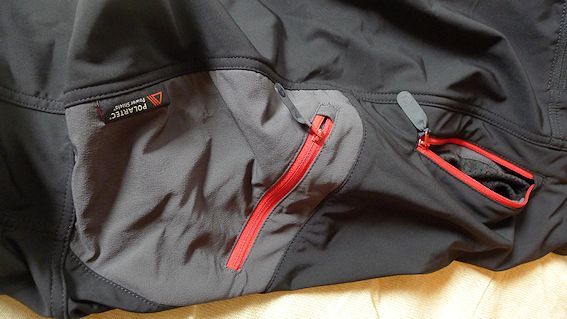 The Polartec Powershield fabric is a good call, wind and water resistant and it's proven tough  as well. It's got enough stretch and along with a good cut, articulation and a diamond crotch, it should be a winner in these pants.
There's plenty detailing, double stitching all over the place for a start. There's a stretchy thigh pocket, two mesh hip pockets and a rear pocket which no one will ever use. The zips are all nicely contrasting red which matches the jacket (my original jacket version is all-black, harrumph) and there's grabable zip puller on there.
The ankles cuffs have some options. There's a zipped gusset to adjust for footwear size and easy on-off, poppers to cinch the ankle in and two ferrules for an underfoot cord as you'll probably not want to wear gaiters with these, so you can still seal the snow out with some DIY bungee.
The waist has a single button closure and zip fly with nice big belt loops for your own belt. There's a set of removeable braces, a feature I love in winter pants, the elastic is soft enough with plenty of length adjustment and a nice patch fillet thing (there'll be a word for it, but I don't know it) on your lower back which is a good idea as pulling braces on in a tent often leads to fankling, and this might help prevent that.
I didn't weigh them, no one needs to know the weight of the trousers they're wearing unless they're a test pilot. Anyway, the look good to me, the inner soft face of the fabric is nice against the skin and the design looks to be right on the money. Damn my size largeness.
Still, all is not lost, it'll be a very Montane winter on here, there's plenty more coming up.