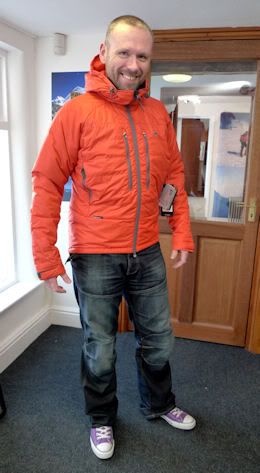 What we see there is a sneaky first look at the revamped Flux for winter, as well as being an outstanding colour there's been some tinkering under the hood.
Paul had to knock me unconscious to get it back off me. The grin says it all as ever.
Most manufacturers ranges shrink for summer, or they suddenly come out with "trekking" gear, shirts and shorts and the like. Montane still have most of the range intact but have added a new group of gear called Live Lite.
It's blend of the technical and the lifestyle, which is maybe a dilemma for Montane s all they want to do is Rock!
But it's made in great fabrics, the fit is still technical and most importantly, the fabrics are recycled and recyclable. It's a bloody good idea that, and it'll all go that way at some point. The early adopters are going to be laughing in a few years, Patagonia are the most obvious example, and the fact that they're sending fabric back to China to get made into new gear shows that it works.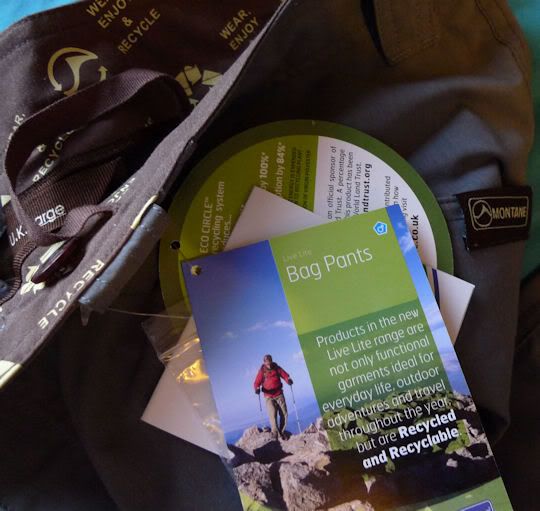 I've got these strides in for test, the Bag Pants (because they're made from recycled Happy Shopper poly bags, not the shredded remains of Rohan). They're a canvasy-looking casual looking pant, a nice loose-ish cut with four pockets and some nice stitch detailing. It's the kind of thing you might expect from Howies, but without the pretention.
I kind like them, it's a fabric that'll take some weather and abuse, but you don't look overdressed for a walk around a country park.
Montane have been lucky with their logo. A bit of biro work and their wee mountain and sky roundel is transformed into a recycling sign.
That logo is from the rear neck of an Infinity T-Shirt, it's soft, it's very orange and looks good with the pants. My face is way too weatherbeaten for it though.
The fleeces are nice, the windshells have a silky smooth fabric and I love the colours across the Live Lite models.
I wonder how it'll do? In terms of design and fabric it's new ground, the ideas behind it means it deserves to succeed so we can get the same eco fabrics on the technical gear sooner rather than later.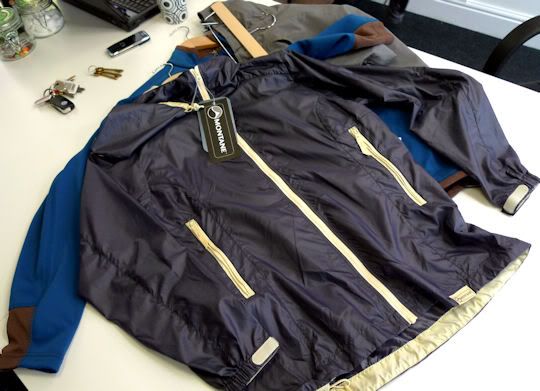 But, it was going through the technical range, the updated Halo, the Atomic DT and the winter models that you can see the glint in Montane's eye.
The Sabretooth that I reviewed recently? They made it because they all wanted one. Aren't they lucky that folk like it?
I was trying on the Extreme Smock, which I'll test in winter, another quiet classic that folk can't get enough of.
Montane seem to quietly churn the best of gear, where others are shouting in your ear about it. Maybe this has let them grow at their own pace, maybe it's just a British thing?
Whatever, good lads, carry on.
Updates. In a bit.